Sylvie von Duuglas-Ittu
Creating Muay Thai articles, Documentary Videos and Fights from
Select a membership level
Patron Supporter - Minimum
The suggested pledge is $5, but as little as $1 will get you access to some of the very best of Patreon support. 
* You will have immediate access to the 5 most recent entries of the "Preserve the Legacy" Muay Thai Library documentary project. These are long form training videos with legends, around 1 hour in length, accompanied by my commentary and analysis. Read about these videos here. Watch new sessions as they are published each month.
* Access to the much beloved Muay Thai Bones podcast for iTunes or any other subscription service. Hours long discussion of everything involved in the Muay Thai life, the most in-depth topics  taken on. The podcast involves audio versions of the Muay Thai Library are well.
* I write regularly on my blog 8limbs.us, but patrons are able to read articles written for my only patrons, what I'm calling my Patreon Magazine, in-depth stories of my experiences and perspectives as a fighter in Thailand.
Suggested Pledge $5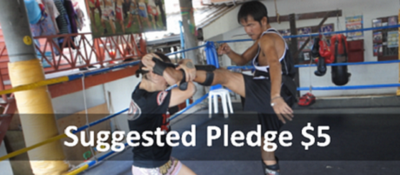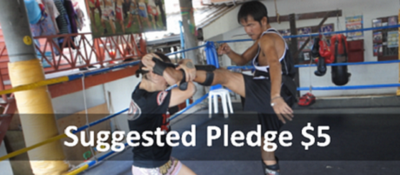 $5
is the suggested pledge amount, going to support the documentation of the techniques of legends in the Preserve the Legacy project documenting the great men and techniques of Thailand,
read about that here
.
A $5 pledge gives you access to the last 15 published sessions in the Library, and also gives you access to bonus session material, long form sessions not included in the Muay Thai Library. This totals over 20 hours of commentary documentary video.
It also gives access to my new Muay Thai Burnout fitness videos.  
Know that you are also actively supporting me as a fighter as I pursue an unheard of 450 fights in Thailand, and all my work as a writer at 8limbs.us.
All lower pledge rewards included.
Full Muay Thai Library Access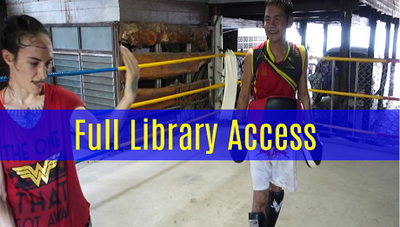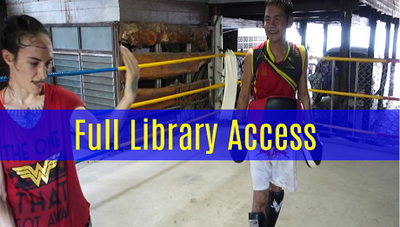 A supportive pledge of $10 not only lifts up this project to new levels, it gives access to the full Muay Thai Library beyond the 15 most recent videos, and all the bonus videos. Everyone month more than 1 session is added so the full archive you have access to will grow. The aim is to have 100s of hours of documentary sessions in the Library. 
All lower level rewards included.
About Sylvie von Duuglas-Ittu
Become a patron to
Unlock 277 exclusive posts
Connect via private message
Recent posts by Sylvie von Duuglas-Ittu