Sylvie von Duuglas-Ittu 
is creating Muay Thai articles, Documentary Videos and Fights from Thailand
Patron Supporter - Minimum
$1 or more per month

∙ patrons
The suggested pledge is $5, but as little as $1 will get you access to some of the very best of Patreon support. 
* You will have immediate access to the 5 most recent entries of the "Preserve the Legacy" Muay Thai Library documentary project. These are long form training videos with legends, around 1 hour in length, accompanied by my commentary and analysis. Read about these videos here. Watch new sessions as they are published each month.
* I write regularly on my blog 8limbs.us, but patrons are able to read articles written for my only patrons twice a month, in-depth stories of my experiences and perspectives as a fighter in Thailand.
* Watch full fight videos with my commentary for patron-only, sharing not only my experiences, but a discussion of the techniques, tactics and strategy I engage. 
* Join the my supporter only Closed Group Facebook which posts supporter only content. Here we discuss any of the long form training videos, I answer questions and share inside news of my fighting with exclusive vlogs and updates. Be the first to know.
Suggested Pledge $5
$5 or more per month

∙ patrons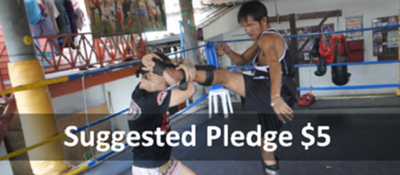 $5
is the suggested pledge amount, going to support the documentation of the techniques of legends in the Preserve the Legacy project documenting the great men and techniques of Thailand,
read about that here
.
A $5 pledge gives you access to the last 15 published sessions in the Library, and also gives you access to bonus session material, long form sessions not included in the Muay Thai Library. This totals over 20 hours of commentary documentary video.
It also gives access to my new Muay Thai Burnout fitness videos.  
Know that you are also actively supporting me as a fighter as I pursue an unheard of 450 fights in Thailand, and all my work as a writer at 8limbs.us.
All lower pledge rewards included.
Full Muay Thai Library Access
$10 or more per month

∙ patrons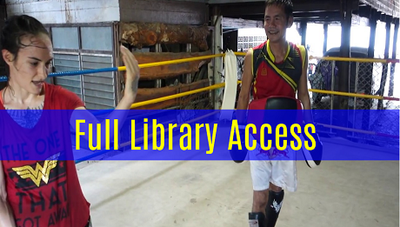 A supportive pledge of $10 not only lifts up this project to new levels, it gives access to the full Muay Thai Library beyond the 15 most recent videos, and all the bonus videos. Everyone month more than 1 session is added so the full archive you have access to will grow. The aim is to have 100s of hours of documentary sessions in the Library. 
All lower level rewards included.
Big Time Sylvie Supporter
$15 or more per month

∙ patrons
You are a big supporter of my fighting and writing, going a long way to aid me in my quest to break the 90 year old record for the most documented professional fights ever, surpassing Len Wickwar's 470
and win both an Olympic Gold and a Lumpinee Belt
, and to be able to write on both 8limbs.us and sylviestudy.com. Not only are you sending significant support my way, you also
get significant discounts
on video purchases in my Vimeo On Demand
Sylvie Study content
. You can see those
long form commentary videos here
. I'm building additional materials for $15 patrons including a Muay Thai Library interview series, and raw footage of a documentary on me currently being put together.
Ultimate Sylvie Supporter - Signed Sylvie Portrait
$35 or more per month

∙ patrons
At this tier, your pledge commits to every aspect of what it takes to do what I do and create the content I create; whether that's fighting, writing, filming, recording, interviewing, traveling to reach a legend or opponent, etc. All of this is made possible by my patron supporters and at this level of support you are making a powerful contribution toward all of it. 
As an Ultimate Sylvie Supporter you will receive a signed photo portrait from me. This is my favorite photo taken of me ever, by the photographer Robert Cohen - you can read about the photo here - and I offer a personalized dedication option, just let me know what you'd like.
Your name will be added to the 8limbs.us website as a supporter. 
Sponsor of "Preserve the Legacy" Muay Thai Library Documentary Project
$90 or more per month

∙ patrons
With a pledge of $90 a month you can become an official sponsor of the Preserve the Legacy Muay Thai Library project. You'll get a logo lead in on every long form video published, an exit logo on all shorter Facebook Book social media Preserve the Legacy clips, and social media call outs on all sharing of Preserve the Legacy shares. You'd be taking a stake in this project. Each prospective official sponsor will not conflict with the industry purview of current sponsors, so there is some review.
This requires a 6 month commitment.
Official Fight Sponsor of Me as a Fighter and 8limbs.Us
$250 or more per month

∙ patrons
Become a Official Sponsor
of me and 
8limbs.us
. This will give you a sponsor position on
8limbs.us
pages, and hopefully start a lasting mutual relationship between us, in which we help each other. I'll have a fight top made with your logo, and fight exclusively in it as long as rules allow, as well as make our relationship a presence in my sharing, call outs on my biggest events, as well as a logo lead or exit on all my newly uploaded, edited, general public
YouTube videos
(there are already more than 3,000 videos there, I post frequently) and edited Facebook videos  (excluding Preserve the Legacy content). You will be a major reason 8limbs.us thrives, and that I am able to fight at historic levels now perusing a
historic 450 fights
 - this is something to celebrate. This requires a 6 month commitment.