Taima
is creating d&d, homebrew, art, stories and games
Select a membership level
Vermin Slayer
You get:
Access to Patreon Only Content
Early Access
Access to Polls and Suggestions - Make your opinion heard!
Access to Patreon Discord Server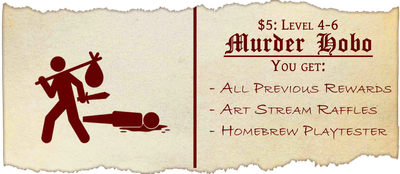 Murder Hobo
You get all earlier rewards and:
Livestream Art Raffles - Where you have a chance to win an art request live!
Potential to join one of my D&D playtest games, testing out some of my homebrew material live!
True Adventurer
 You get all earlier rewards and: 
Access to the VIP-servers in Discord
Automatic Partaking in Monthly Raffles!  (You can win art, postcards, etc...)
Your name (or choosen social media url) mentioned in the "Thank You"-notes in my published Homebrew Content!
About Taima
Born and raised in a small town in the deep forests of Sweden, maybe it's no surprise that my imagination ran wild even from young age.
I've been told that I've been drawing ever since I could hold a pen in my hand, although at the time my quite expressive artwork over the walls at home wasn't much appreciated... And as for stories, I've been telling them since I could comprehend a coherent sentence. More often than not, telling anyone who wanted to listen about magical fairies who live in the forest.
Nowadays, I live in Karlskrona with two roomies by the south-east coast of Blekinge. I moved here after my graduation at Blekinge Technical University, taking a Bachelor Degree in Game Design off in Karlshamn... But age and level of maturity (for the most part, either way) aside, I'm much the same person I was then, who would sit outside, draw and sing as I tell my friends about fairies.
I live for my creative outlets, for watching ideas formed inside my head bloom and turn into something you can touch as I write and draw it down, and even more - to watch others reactions as they are allowed to take part... Watching as those around me grow along with me and how I can affect them.
I want to create things with a meaning. Things that influence people.
Whether that means making them smile on a bad day, or making their mind blow up with thoughts, imagination and (or) ideas...
Supporting me on Patreon means supporting me, my dreams, my visions, and helping me move forward.
Thank you!
When I reach 10 patrons I will host my first patron-only stream with art requests!
1 of 1