Tajlyn
is creating Entertaining Music, Concerts, Travel Documentaries & Tutorials
Select a membership level
Precious Patrons
Precious Patrons Will Get Access to the Following Rewards:  


•  Thank You Postcard! Team Tajlyn travels quite often & finds ourself in unique places.  When you become a Patron, we will pick out a postcard from our current location & mail it to you with a nice little Thank You Note & some doodles.  *One postcard per Patron. 
• Patron Only Posts! The Almost Daily Check-In (TADCI): Only Patrons will get to read about & see what Team Tajlyn has been working on behind the scenes.
• Early Access / VIP Status! Patrons will always get access to new music, videos (Tajlyn Travels episodes & music videos), & merchandise before we release them to everyone else!  Once we are back to performing out in the world, Patrons will get VIP Status if they attend our live shows.  Please contact us ahead of time to let us know you will be coming to a show.  This way we can plan for your attendance! :)
• Patron Only Concerts & Videos! Once a month we will put on a concert just for our Patrons.  For now, it will be via Google Meet.  We may change platforms in the future.  The concerts will be recorded for you to watch later on our Patreon page whenever you would like. 
• Monthly Gift Box Drawings! On the first of every month, all Patrons will have their names entered into the Gift Box Drawing. Gift Boxes will include an assortment of goodies from Team Tajlyn.
• Your Name in Video Credits! Your first name with last name initial will be written in the credits of our videos produced each month you are a Tajlyn Patron.
Example: Casandra C.

 If you're concerned about going over your budget, there's an easy way to set a monthly maximum for yourself when you're entering your payment info.


 Just remember, this does not exclude the fact that you can hire Tajlyn to perform at your event without becoming a Patron or you can just drop us a one time donation.


Thank You!
Cheers,  
Team Tajlyn

Melomaniacs
Hello Melomaniacs!  We know you absolutely love music so we are giving you access to sooooo much music!  Join the Melomaniacs Tier and you will get to watch many videos of Tajlyn & Casandra performing live shows, practices (where you can watch Tajlyn compose her tunes), extras and behind the scenes at live shows.  The sound quality is great!  Plus you get everything listed in the Precious Patrons Tier!
Learner
Learner Patrons Will Get Access to the Following Rewards:


• Learner Access Only Tutorial Videos! Get access to all Tajlyn Tutorial Videos! Learn a bunch of Tajlyn's Tricks & Tips on many topics. Including how to circular breathe, guitar techniques, beneficial stretches for musicians along with a variety of other random, beneficial teachings for all walks of life.

• PLUS EVERYTHING LISTED IN THE PRECIOUS PATRONS TIER!

Thank You!
Cheers,
Team Tajlyn

About Tajlyn
Welcome to the Tajlyn Patreon Page
Where You Can Become A Part of The Team & A Part of The Journey
Thank You So Much for Your Support!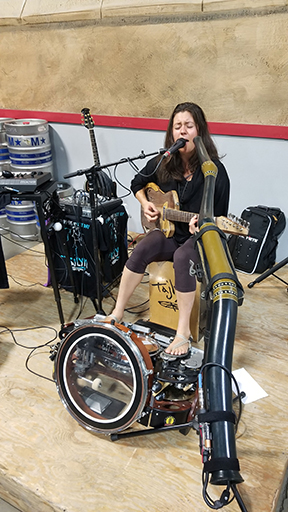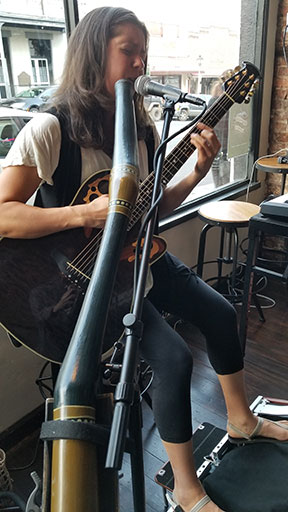 Hello!  My name is Casandra, keyboardist, designer, booker & then some on Team Tajlyn.  Tajlyn became my sister when she was born over three decades ago.  We have been evolving as humans, growing together as a family & building our music business over the past 30 years.  We recently added the talented & charming William Lane to the team as our booker, photographer, videographer & social media marketer.  We look forward to working as Team Tajlyn with love & creativity so we can bring you & yours this musical & adventurous journey! 
You can become a part of Team Tajlyn & become a part of the journey too...... 

What is this musical & adventurous journey you can become a part of?
This Musical & Adventurous Journey consists of the following:
    •  Tajlyn Travels Video Documentary Series ~ The Chronicles of a Traveling Musician
(Available to Everyone, Early Access for Patrons)
    •  New Music & Albums Composed by Tajlyn
(Available to Everyone, Early Access for Patrons)
    •  Professional Quality Produced & Filmed Concerts of Tajlyn & Friends <<< We want these to be about an hour long & released once a week
(For Patrons Only)
    •  Musical Tutorial Videos by Tajlyn
(Available to Everyone, Early Access for Patrons)
    •  Concert Tours
(Available For All to Attend ... Patrons Receive Discounts & Free Access*         *Discounts and Freebies vary per show/event)
  We will do our best to add venue(s) to our tours that Patrons can attend within 45 minutes of their hometown. 
By becoming a part of the Tajlyn Team through Patreon, you become a Patron.  With the help of our Patrons monthly donations (starting at $2 per month), we will be able to continue, evolve & expand the creative works we do as Team Tajlyn.  With your donations, we will be able to tour around & rock out more often, spend more time in the studio producing music for your ears, create a continuous flow of entertaining & educational videos for all to enjoy! 
Patrons Will Get Really Cool Rewards For Being The Awesome Patrons They Are.
Please Check Out the Rewards You Can Get for Being a Tajlyn Patron.
Let me explain to you a little more what Patreon is & what it means to be a Patron.  Patreon is the best way for creators to earn ongoing revenue directly from their fans.  Patreon.com is a crowdfunding website that is similar to Kickstarter or Indiegogo.  
Additional explanatory text directly from Patreon:
For creators, Patreon is a way to get paid for creating the things you're already creating (webcomics, videos, songs, whatevs). Fans pay a few bucks per month OR per post you release, and then you get paid every month, or every time you release something new.
For patrons, Patreon is a way to join your favorite creator's community and pay them for making the stuff you love. Instead of literally throwing money at your screen (trust us, that doesn't work), you can now pay a few bucks per month or per post that a creator makes. For example, if you pay $2 per video, and the creator releases 3 videos in February, then your card gets charged a total of $6 that month. This means the creator gets paid regularly (every time she releases something new), and you become a bonafide, real-life patron of the arts. That's right--Imagine you, in a long frilly white wig, painted on a 10-foot canvas on the wall of a Victorian mansion. And imagine your favorite creators making a living doing what they do best… because of you.
If you're concerned about going over your budget, there's an easy way to set a monthly maximum for yourself when you're entering your payment info.
>>> More of your questions answered:
Do I have to pay in US Dollars? NO - Pay in any currency!
As this is US based website, everything is written in Dollars, but you can use any currency and it will be automatically converted.
I don't have much money, can I still become a Patron? Yes, please only sign up to donate what you can easily afford. Even $1 per month will make a huge difference & would be greatly appreciated. 
Can I stop donating in the future if I can't afford it? Yes of course! If you can't afford to donate in the future, or you need to donate less that's absolutely fine. You can just log in to change or cancel the account whenever you want.

Thank you!
Cheers,
Team Tajlyn
$24.71 of $3,000
per month
When we reach $3,000 we will be make the March 2020 Tour happen!  Check out the route and venues below:



We will also be able to cover the following expences:
1 of 3
By becoming a patron, you'll instantly unlock access to 76 exclusive posts
By becoming a patron, you'll instantly unlock access to 76 exclusive posts
How it works
Get started in 2 minutes