Andrew Misisco
is creating fantasy comics
Select a membership level
Wyrdling
You've taken your first step into the world of Aclion! THANK YOU! As an official patron, you'll have access to my patron-only feed where I will share things like sketches, in-progress work, and process breakdowns as well as project updates and convention appearances.
Hedge Mage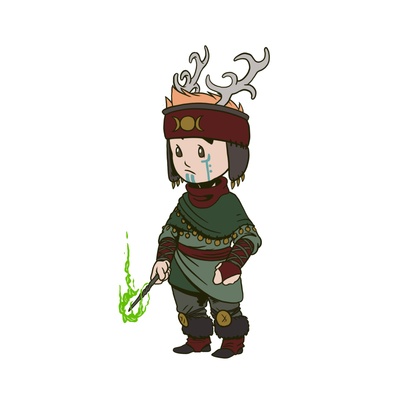 The Veil has been lifted! You'll get PDFs of all completed comics as soon as I complete them, plus all previous rewards.
Apprentice
Travel the world and see what wonders Aclion has to offer! You'll get a new desktop wallpaper every month that will showcase one of Aclion's unique locales, plus all previous rewards.
About
Hello! I'm Andrew Misisco and I'm an illustrator, writer, and world builder. I'm working on a series of short comics that explore Aclion, a fantasy world that I've been working on for a number of years now. Most of the stories that I tell take place on the continent of Tyr where the old ways of magic clash with the new ways of civilization. 
As of now, I have completed three comics, Solace, Legends, and Ear Worm, that are part of the Tales From Tyr series. These short stories are vignettes, slice of life tales, that are meant to color the world of Aclion. I have a long running webcomic called Graveborn that follows a necromancer's minion, abandoned by their master, as they seek out who they were before in life. I have many more ideas that I wish to explore and I am so very excited to share them all with you. My vision with this series is to eventually complete at minimum 10 short comics with that will be compiled in to an anthology accompanied with lore, maps and other secrets from Aclion. These stories will help establish a colorful world of magic and adventure that will give depth to Graveborn and those comics yet to come.
Current Projects:

Graveborn
Lost and forgotten, reanimated then discarded, the dead sometime crave the mysteries of the past and this revenant's one goal is to discover who they were in life. Graveborn follows the revenant as they travel Tyr before the creation of the Rhodic Empire as they discover clues to a mystery that is far greater than expected. 
A Touch of Magic
A troop of imperial soldiers are heading home after completing their tour when they come across a village ravaged by magic. They must decide whether to go get help or deal with a situation they are not entirely equipped to face. A Touch of Magic deals with how the average citizen of Rhodes views magic and those who wield it.
A storyteller is nothing without their community. I love telling these stories, but in the end, it wouldn't be anything without all of you to share them with. I want to thank you now for your interest in my work and I want to make sure that being part of this community is worth your time. 
I have set up a number of tiers with rewards for those who want to donate. I am also interested in your suggestions as to what you would like to see as new tiers and rewards in the future. I want this page to be a place where we can talk about Tyr and Aclion and explore all its wonders and secrets together.
You can find most of my work on my website 
here
.
If I am making $200/month, I can free up some of my time to work on a Choose-Your-Own-Adventure comic that would be available only here on my Patreon page. It would be available to read to all $10+ patrons and $15+ patrons can vote to see what happens next for each page/chapter.
1 of 2
By becoming a patron, you'll instantly unlock access to 140 exclusive posts
By becoming a patron, you'll instantly unlock access to 140 exclusive posts
Recent posts by Andrew Misisco