Michael J. Tresca
is creating 5E D&D Monsters, Novels, Comics, Reviews, and Actual Plays
Select a membership level
40+ D&D Foes, Webcomic, Novel & More!
Upon joining you get the following.  I add to this list all the time, as you can see by the "date added" below: 
120+ D&D Foes, Webcomic, Novel & More!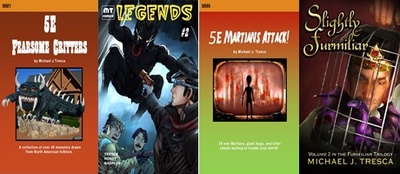 All of Tier 1 benefits plus:
70 D&D Foes, Adventure, Webcomic, Novel!
All of Tier 1 and 2 benefits plus:
Adventure (5E): Cake Castle (07/2019): An adventure for 1st-3rd level characters for 5E rules (download)
Cards (5E): Artifacts Deck (12/2019): 80+ post-apocalyptic artifacts for 5E D&D (download)
Cards (5E): Diplomat's Pack (06/2020): 17 equipment cards for 5E D&D (download)
Cards (5E): Explorer's Pack (05/2020): 26 equipment cards for 5E D&D (download)
Comic (Legends #3): The Nosferatu (04/2019): In this PDF file, Kestrel discovers the downside to horror movies -- they bite! (download)
Monsters (5E): Lovecraftian Horrors (07/2019): 70 monsters from horror movies and Lovecraftian fiction for 5E rules (download)  
Novel: Unfurmiliar (04/2020): The third volume in the Furmiliar series set in Welstar, my decades-old fantasy campaign (Coming Soon!)
About
If you're just dropping by and saw my posts elsewhere:
I add content to each one of these tiers all the time, so look for more to be added next month!

Longer Version:
I've written over a 1,000
reviews for Amazon
, over 2,500 articles as
National Sci-Fi Movie Examiner
and
National RPG Examiner
, one non-fiction book on the
history of role-playing games
, 
three
fiction
novels, 
three
web
comics
, and a
bunch of stuff
for 3.5
Dungeons & Dragons
including AEG, MonkeyGod Enterprises, Goodman Games, Otherworld Creations, Privateer Press, RPGObjects and Ronin Arts. My articles and reviews have appeared in
Allgame.com
, D20 Filtered, Dragon Magazine,
Gamers.com
,
Pyramid
,
RPG.net
, and
Sharktopus
. I have participated in panels about electronic and tabletop role-playing games at
ConnectiCon
,
Dragon*Con
, and
I-Con
.
It's thanks to patrons like you that I was able to create
5E Armies of the Christmas War, 5E Fearsome Critters, 
5E Gammapedia
, 5E Heaven & Hell, 5E Lovecraftian Horrors, 5E Martians Attack!,
and
 5E Nightmares Before Christmas.
Thank you!
All of the above, and I will now produce one comic a year (approximately $600 total) or several pieces of artwork added to my existing products -- Tier 3 patrons get those products for free.

3 of 6
By becoming a patron, you'll instantly unlock access to 289 exclusive posts
By becoming a patron, you'll instantly unlock access to 289 exclusive posts
Recent posts by Michael J. Tresca