Tanner Bingaman
is creating Folkmush
Select a membership level
DuckRabbit
For the folks back home (and those far off) that just want to follow along!
This pledge includes access to all posts! (recordings, videos, poetry, photography, essays, etc.) without the added merchandise bonuses.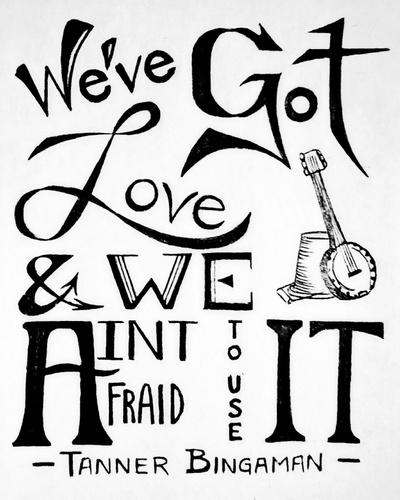 "We've got love and we ain't afraid to use it" Reusable Bottles!
A
reusable bottle
from me to you as exclusive merchandise! Take care of this bottle and it will take care of your hydration needs time and time again while making the ol' Pachamama smile (that's Quechuan for "earth mother").
Pledging for this tier not only gets you a bottle, but first digital access to all music, poetry, and think-tank type material.
CD mongrel!
This pledge gives you access to
all previously outlined rewards
as well as:
A signed copy of the Family Matters CD
or
A signed copy of the Folkmush Volume I: Fernville Blues CD
and
An electable extra reusable bottle to share with a friend!
About Tanner Bingaman
From Urban Dictionary, courtesy of Cactus Flea:
Folkmush: An inclusive musical genera that combines themes and influences from traditional folk music, blues, bluegrass, contemporary moral issues, and soul-cleansing silliness, originated by a Pennsylvania farmer.
My name is Tanner Bingaman and I produce Folkmush. Give me your patronage and I'll give you exclusive (and mushy) recordings, poetry, and occasional educational material. Your patronage quite literally keeps me going; it helps pay the bills, cure the ills, and gives me some monetary means of producing proper creations. There are some rad merchandise options within each tier and, to sweeten up the deal, I'm enough of a social-justice-veggie-loading-marxist-ecofreak that I donate a portion of every patron's dollar to environmental justice projects. Sauce!
How to use Folkmush in a conversation you ask?
Gavin: "Dude, what is that?"
Dan: "What, that smell? Sorry..."
Gavin: "No! That song! It's so dope!"
Dan: "Ohhh yeah that's from the new Folkmush album. It's this new genera that you've probably never heard of. I'll send you the link to the Patreon site where you can get all the new downloads and merch!"
Gavin: "Thanks man! But also, what's that smell?"
#Folkmush
I thank you and I love you,
tan
When I reach 100 patrons I will begin dedicating 15% every patron's subscription to a rad environmental movement/ group/ educational organization/ general cause. Y'all are invited to not only invite your friends to become patrons, but to help brainstorm ideas of organizations for us to give back to.
1 of 1
Recent posts by Tanner Bingaman
By becoming a patron, you'll instantly unlock access to 36 exclusive posts
By becoming a patron, you'll instantly unlock access to 36 exclusive posts