Tansy Rodgers
is creating Anti-Inflammatory Nutrition, Stress-Less, and Mobility Exercises
Select a membership level
Official Wild Flower Tribe
Welcome to the tribe — Never doubt the effect a nugget of support can have! This means you'll get: 
Easy shopping list of anti-inflammatory foods to help you slash inflammation

My undying gratitude and loyalty

Access to my patreon-only feed, where I dish out more private, behind the scenes info that I share nowhere else
Wild Flowers Grow
Who knew that a ten could give you so much value back!
Plus all the rewards from previous tiers!

Early access to all ebooks and publications as they come out

Behind the scenes access to cooking tricks, exercise routines, and other ways to maximize your life
Wild Flowers Bud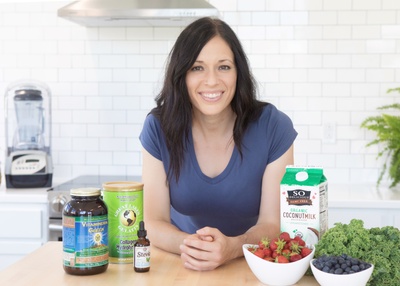 This is where the real change begins, my friend!
Weekly shopping list with 3 recipes

Plus all the rewards from previous tiers!

Access to 10% off all online digital and physical products (excludes 1:1 coaching and group coaching programs)
About
Every woman is worthy of health and to feel confident in her own skin! This vibrates deep into the depths of my soul. And it is my vision for every woman walking this planet to learn how to allow her health to pour out of her each and every day. More about that in my mission below...

My name is Tansy Rodgers and I am beU Complete — Body, Energy, Unity: Complete coaching for the woman entering different phases of her life with uncertainty and new health challenges. I am a Functional Nutritional Therapy Practitioner (FNTP), Health and Lifestyle Coach, Personal Trainer, Fitness Instructor, Physical Therapist Assistant, and a public speaker. Health and wellness is my passion — I preach it, I live it, I breathe it!

I specialize in inflammation and mobility through nutrition, fitness, and mindset work. My creative outlet for bringing you all the latest and greatest is through "Wild Flowers Grow," my blog and YouTube where I geek out on health and wellness topics that I know my followers struggle with! I also like to dabble into my spiritual side, so you will experience some metaphysical and energy balancing chats. Super fun and growth producing!


The Mission...
When I was growing up, I struggled immensely with feeling inadequate, unworthy, and beautiful in my own skin. Depression and anxiety and unhealthy relationships with food and exercise plagued me. It wasn't until I started to listen to other women around me struggle silently — they were screaming for help but not actually speaking any words! That was when my ears started to perk up. I was already on the other side of the proverbial mountain and I KNEW that I could help these women not struggle as hard on their journeys. My mission was to give them the support that I felt I never really had in my own life. And then I moved into the physical therapy world...where inflammation and pain and recovery and lack of mobility were out of control. I couldn't stand idly by anymore and feel peace in my heart at the same time!

I originally started beU Complete as a way to increase the exposure of how to live a truly harmonized life and to impact as many people in my community and beyond as I can. It has since grown and I am now impacting people all over the world through my social media content and my personalized coaching and programs.


About My Coaching Style...
For those of you who have either exhausted the many online resources or are frustrated because they are not working for you, I offer email and video one-to-one coaching. My coaching style can best be described as having a friend and confidant to help encourage and support and educate you all along the way. I have levels of coaching that can either allow you to dive deep into your personal nutritional deficits and/or to help give you personalized guidance around your life's sticking points with accountability to help pull you out of the trenches and get you back on track. My role as a FNTP and a coach is to facilitate that process by providing the best information available.


What People Are Saying...
"I had a really great time working with you this year and definitely saw a lot of improvement. I feel better about myself and am continuing to work out, mostly thanks to you!" ~ Elena, New York

"Although I'd worked out for years, I made little progress and too often suffered injuries. One of those injuries sent me to physical therapy, where I encountered Tansy Rodgers. Her close attention to positioning and careful monitoring impressed me. When I learned she was also a trainer, I thought she would be exactly the person to guide me to avoid reinjuring myself.
I was right. Tansy is very conscious of my strengths and weaknesses, and her programs are tailored perfectly to me. She is creative and flexible; when I am having trouble with something, she will always find a way to adapt it for my needs. Above all, she is encouraging, and that alone has helped me progress and keep going more than anything. Thanks, Tansy!" ~ Kathleen, Lancaster PA

"Tansy has the ability to convey information about nutrition, exercise, and the human body in a fun, clear and concise manner. I feel so fortunate to have as a resource to reach my personal goals!" ~ Wendy, Philadelphia PA

"I had the opportunity to meet Tansy and hear her speak at an all-day wellness retreat sponsored by my employer. It was an incredible and mind expanding day, to say the least! Tansy provided great information on personal wellness related to foods, the environment, exercise, nutrition, and being mindful. I took a lot of notes, and immediately started making positive changes in my life starting with looking at the contents of all the foods I eat. I am buying organic fruits and sprouted grain organic bread! I was never really educated on the benefits of organic and natural foods. I can feel such a difference in my body and am more energetic! I carry my journal in my purse every day and refer to it often for inspiration and guidance, and to add to it when I get inspired!" ~ Michelle, Lebanon PA

"Gosh, where to begin? Tansy was for me the perfect bridge between physical therapy and general fitness training. After a year and a half, I can't imagine not working with her — inexhaustible fund of great work-outs, always fully attentive to the client (she must have a great attention span), creative invention of workouts for my specific needs. Great listener, good communicator. Patient! Inventive! Positive! Cheerful! Tansy is an example of someone who has clearly landed in the right profession for her talents and interests. I'm impressed by her knowledge of human anatomy and her flexibility in designing work to suit individual needs and limitations. She pushes me exactly the right amount." ~ Cecile, Lancaster PA


What You Will Get...
You will get realness and authenticity! You will get recipes and cooking demos and nutritional hacks. You will get live Q&A's and chat sessions. You will get surprise gifts when I want to express my gratitude. You will get workouts and mobility tips and ways to brain dump your stress. Ultimately, you will get my best content to help motivate and give you ideas, all while keeping you accountable. And, whatever else I can think of that will bring you value! I value a positive online relationship and an uplifting tribe of women to connect with authentically — you will get tons of positivity and support!


Thank You!
Thank you for considering supporting me and beU Complete. I will keep doing my very best to be an effective voice for decoding the confusing world of health. Much love to you and all my thanks!

When I reach 300 patrons, I'll hire an editor to help me release 2 videos per week of exercise routines and topics of your request!
1 of 1
How it works
Get started in 2 minutes