I'm Rikki Simons.
I'm mostly known for the work I did on 
Invader ZIM
.
I was the 
voice of GIR
.
But I'm also an writer and artist (I painted 700 backgrounds on
ZIM
).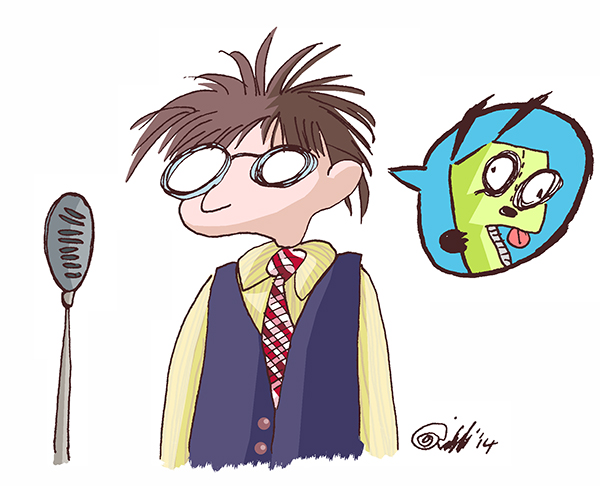 My voice sounds like this: 
Rikki Simons' VO Demo Early 2000s
Some of the backgrounds that I painted on
ZIM
 looked like this: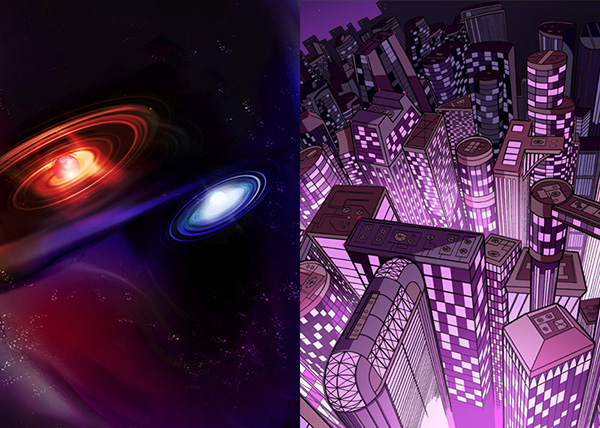 And my personal art looks like this: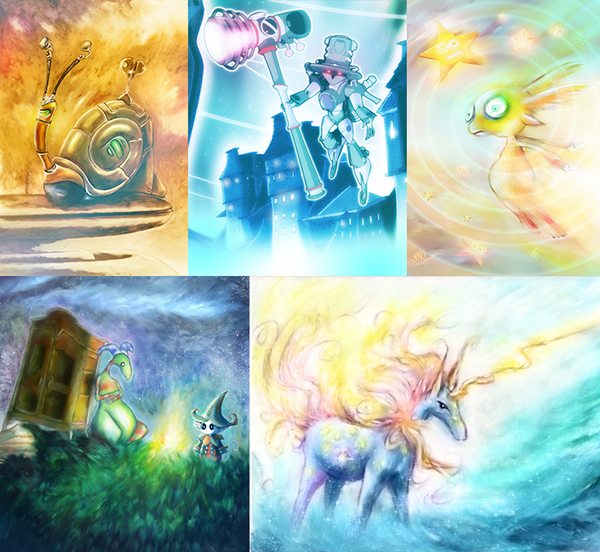 Here's my partner: 
Tavisha Wolfgarth-Simons.
Tavisha is an illustrator of comics and books. Her art has been published by Nickelodeon, SLG Publishing, Tokyopop and many others.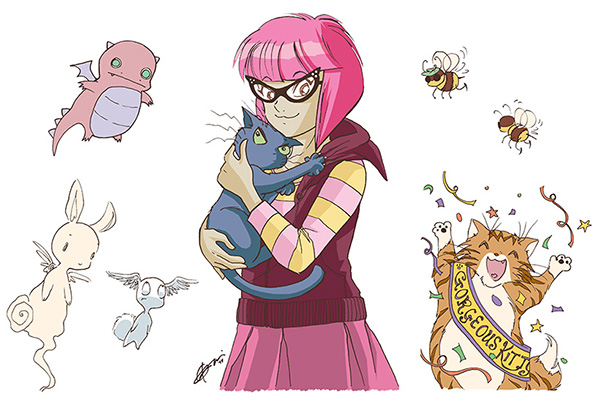 Here's a small sample of Tavisha's art: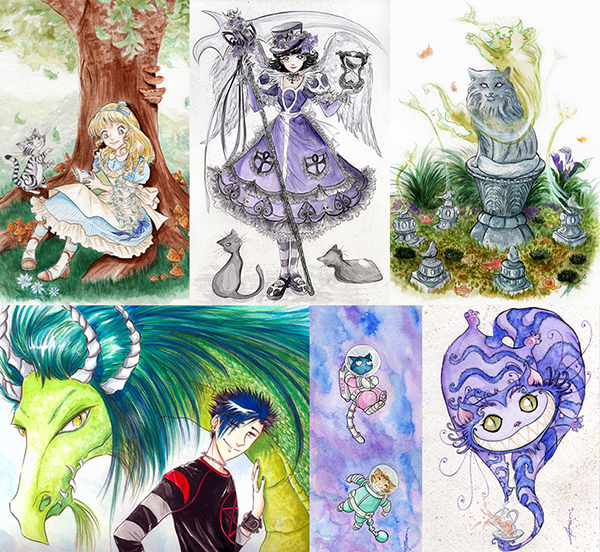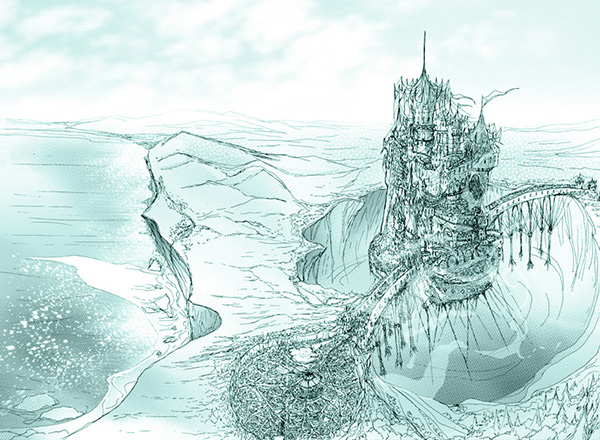 Together we are Rikkitikki Tavicat!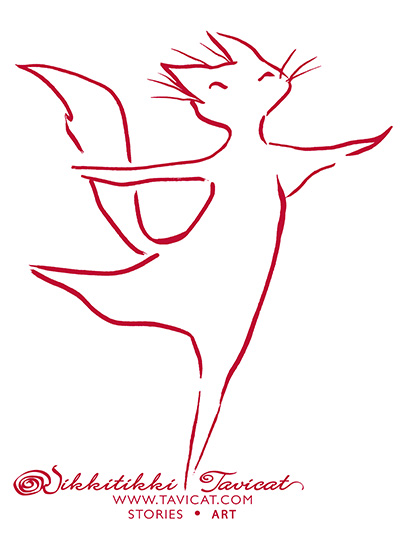 We have created and published books and comics together since we met at Disneyland in 1990.
Here are just 3 of our titles: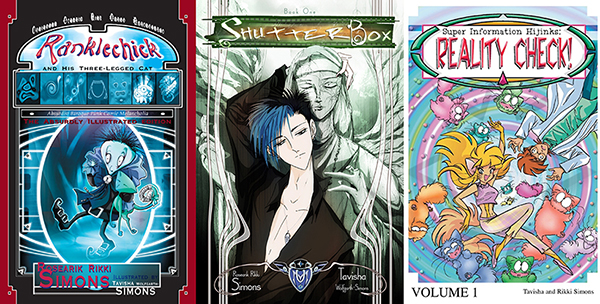 Ranklechick and His Three-Legged Cat

(Illustrated Hybrid Novel, 336 Pages)
Super Information Hijinks: Reality Check! Vol 1

(Graphic Novel Collection of Comic Series, 160 Pages)
Super Information Hijinks: Reality Check! Vol 2
(Graphic Novel Collection of Comic Series, 160 Pages)
ShutterBox Books 1, 2, 3, 4, & 5

(Graphic Novel Series, 150 to 192 Pages Each)
Hitherto A Lion

(Prose Novel, 280 Pages)
Now, 26 years later, there are more stories we'd like to tell.
We have
3 projects
we are currently working on.
One is a weekly webcomic about our cats, called
@Tavicat
. We've published this one online for about 4 years: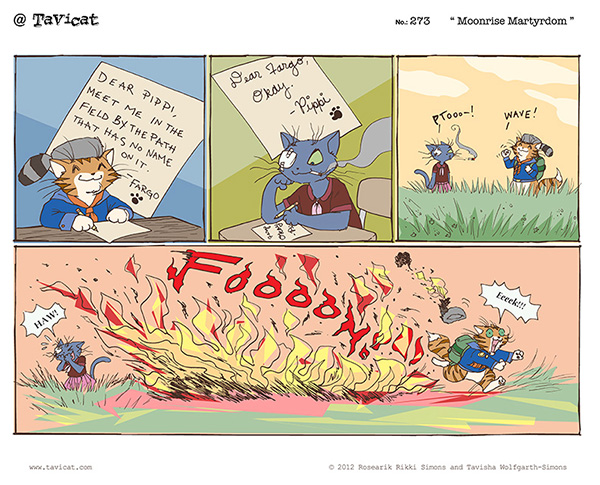 Another project is an existential fantasy for all ages called 
The Trinkkits of The Sad Circus by the Sea
: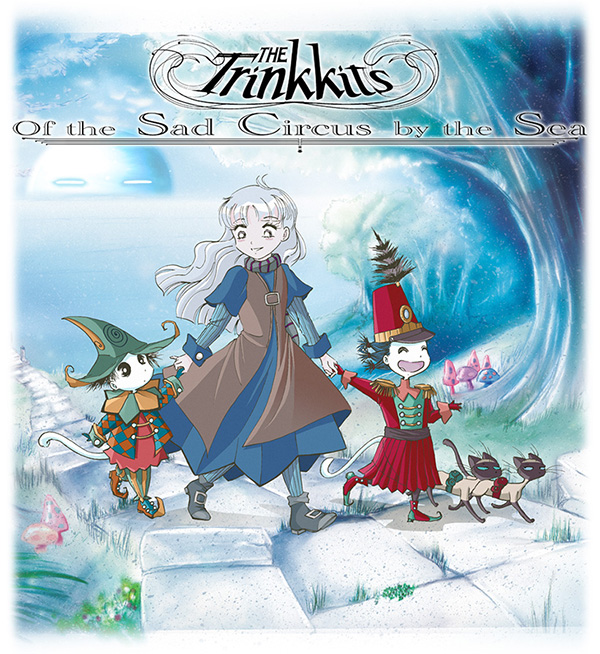 The Trinkkits
is a story of existential dread for children. It tells the story of two small, starry-eyed creatures, the astronomer Pihtzee and her scholarly brother Poosh. Poosh and Pihtzee are Trinkkits. They live on an island in a lake the size of a sea on top of a mountain that lies within a treasure box on the head of a Cosmic Bison who walks the ice rings of a sentient planet. Together, they wonder about their absurd Universe and try to live in peace.
In
The Sad Circus by the Sea
, Pihtzee, who is usually so logical, has seemingly gone crazy when she decides to turn her friends into a Circus. Together, with her brother, she finds a audience who will help them save their strange World from a Greater Dread.
A novel called
Pihtzee Lives with Unicorns
has also been written, and over the next few months we will be editing and illustrating it and prepping it for release.
Finally, we are also making an audio book, with sound effects and music, about our absurdist science fiction novel
Ranklechick and His Three-Legged Cat
. Here's the first chapter:
Ranklechick Chapter 000
Sorry to spring so much information you! We feel it's important that you know where we've been and where we plan on going.
What will a Patron of Rikkitikki Tavicat be Supporting?
The 3 projects listed above,
@Tavicat
,
Trinkkits
, and the
Ranklechick
audio book, will get a boost from our patrons, that is for certain. Making these projects is all consuming and rapturous for us, and we are free-lancers for life. We've been married for 21 years but we never had kids because the art is what matters most of all to us (though we still think kids are pretty cool people). We look at our blank pages and we try to make the art worth living for, and despite my voice acting and Tavisha's illustrating, we still work very hard to keep up with the expense of living quiet, modest lives. Over the past two decades we've often thought how great it would be to have a patron, someone who believed in our work and wanted to see us make more of it.
Here we go. Makin' stuff.
We'd like you to enjoy it with us.