Taxiderby
is creating dev tips and Once More, a game about cute friends and crying
Select a membership level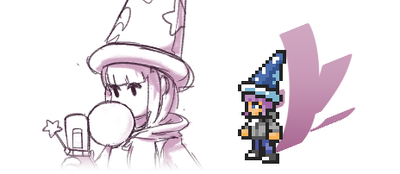 Casual Conjurer
Magic is mostly a hobby for you. You haven't gotten around to casting a fireball yet, but you probably could if you really tried. Gives access to the Patron-only discord.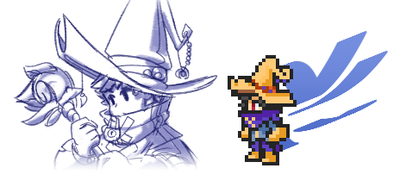 Enthused Thaumaturge
You've got the urge to 'turge!! Thaumaturges will have access to exclusive concept art. Cast a real good spell for me, buster.
Off-White Mage
You've acquired your own EMPLOYMENT CRYSTAL and have been promoted from Thaumaturge to Thaumamage!! In addition to access to all dev and tutorial posts, Off-White Mages have multiple benefits, including:
• Getting to vote on and suggest upcoming tutorials
• Early access to playable content (like Puro)
• Getting your name in the credits of Puro/Once More
• Getting any smaller project released during development for free
Show those 'turges how to cast a REAL spell.
About Taxiderby
I'm going to make games inspired by them because they won't
Also I want to help other people learn to make games because I love it and I want other people to find what they love that's important too
third bullet point
But it turns just making a game and putting it out for free isn't a good business model, because while it impresses the people at the electric company they are still threatening to cut off power to my house (where I live) unless I give them actual money, so perhaps you could help me with that????
OKAY WHAT'S IN DEVELOPMENT


ONCE MORE,
a 2D RPG-Maker-esque title with a character-driven plot and a focus on puzzles, character bonding, and trust.

PURO
(on hold), a 2.5D puzzle-platformer in the style of PSX/N64-era titles such as Klonoa and Kirby 64, with inspiration taken from various sources. Losing her voice due to an unknown cause, a robot girl travels to a remote ancient factory in hopes of finding a cure, meeting all sorts of curious folks on the way.
 ALL THIS COULD BE YOURS
ACCESS TO TUTORIALS AND DEV TOOLS FOR UNITY

A lot of these are tools I developed specifically for my own projects, with occasional extra requested features!


ACCESS TO THE OFFICIAL DISCORD

Any pledge is enough! Access is permanent (unless you get banned so don't cause a ruckus!!)

BEHIND THE SCENES W/ CONCEPT ART AND DEV POSTS
Learn the secrets to my incredibly chaotic dev process
GET YOUR NAME IN THE CREDITS

It's you! Impress your friends! Upset your enemies!!
GET ANY RELEASED PROJECTS FOR FREE

Yup! Yeah!! You must be a $5+ patron BEFORE the month of release to be eligible.
GET A CUSTOM NPC IN ONCE MORE

This is a high-tier reward, but it's for real!!
If this goal is reached, I'll begin regularly contracting others for assets to make games PRETTIER and do it FASTER, most notably a musician/sound designer. I am bad at making good noises wow. Music and sound effects.
6 of 8
Recent posts by Taxiderby