Taste Before You Waste Amsterdam
is creating Consciousness and community by rescuing food together!
Select a membership level
Power to the people!
The strength is in the masses!
If all our current followers donate €1,- we will reach all of our goals mentioned below. We are eternally grateful for your contribution AND as a bonus you get to feel good about yourself that for the price of half a coffee you are supporting an organisation whose work you value.

Food heroes!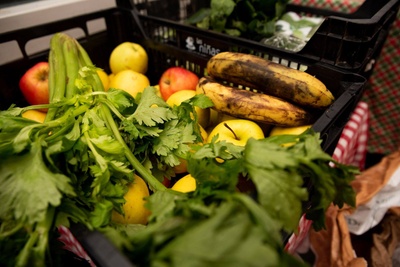 Thanks so much for chipping in!
Thanks to you the wheels keep rolling and we get to rent the electric carrier bike that helps us save so much food from going to waste!
You get:
A special thanks at our next community dinner. 
Changemakers!
Thank you!
You are the reason we have a roof above our head! Thanks to your contribution we get to rent the café-area and a storage for all our stuff.
For your generous patronage you will get:
A TBYW postcard sent to your house
A shout-out on our Social Media
The possibility to publish your favourite (food waste) recipe on our website!
And all the previous rewards 
About
What do you think of when you hear the phrase 'food waste'? It is not only the actual food that is being wasted, it is also all the water, energy and soil that the food soaks up while in the making and on the road. So food production puts high pressure on our habitat, only for around 40% to go to waste. As if that isn't bad enough, the food that was wasted, then gets thrown on landfills where it is left to rot and expel methane, one of the main greenhouse gases driving climate change.

Taste Before You Waste is a foundation, based in Amsterdam, with the mission to reduce consumer food waste by providing citizens with the inspiration, knowledge and opportunity for responsible and waste-free consumption. We create a welcoming international community of foodies by hosting donation-based events such as foodcycle markets, wasteless dinners, educational workshops, event caterings and presentations, showcasing that the food that is currently regarded as waste is actually delicious and valuable. By raising awareness and empowering citizens, Taste Before You Waste contributes to a social movement that pushes for a fairer and more sustainable food system.




All of our income comes from donations at our activities. We receive no funding from the municipality or businesses. This way we are completely independent and have full decision-making power as to how we invest our time and resources. However over the last couple of years we noticed that in our decision of keeping all of our events donation-based in order to be as inclusive as possible we are constantly putting a financial strain on ourselves. Based on our current donations we can just about pay for our operating costs but give us one set-back and we are counting pennies again. Our bikes have been in a really bad state for a very long time and we still haven't managed to save up the money to invest in new ones… Then came the COVID-19 pandemic and a 100% of our income stopped when our activities had to stop. Yet the costs continued. We are truly unsure whether we will reach the end of the year if the donations don't pick up soon. This situation has made us come up with a way in which we can ensure our financial sustainability and hopefully even start thinking about growth. Patreon seemed like a great solution.

We want to make an impact in the enormous issue that is the food waste problem - this is your chance to show your support!

As a local grass-roots organisation we are able to allocate our funds exactly where they are most needed and you can rest assured that every last penny will be well spend.

So what are you waiting for? You can even get some amazing rewards! Be a food hero and become our patron now!
E-Bike
This enables us to maintain the rent of our DOCKR Electric carrier bike and keep up our collection of surplus food!
1 of 7
By becoming a patron, you'll instantly unlock access to 1 exclusive post
By becoming a patron, you'll instantly unlock access to 1 exclusive post
Recent posts by Taste Before You Waste Amsterdam