Ted Rall
is creating Political Cartoons, Graphic Novels and Columns That Kick Ass
Select a membership level
Get It First
Pledge $5/month, and you'll receive everything I draw and write, including political cartoons and freelance illustrations, opinion writing, interviews, and long-form essays.
Monthly Zoomers
Every month, I'll conduct a Patreon live Zoom salon/Q&A/chat about current events with all  $20+ patrons, in addition to the previous rewards.
Grab Some Swag
I will send you one piece of original cartoon line art every 12 months (I'll cover shipping costs within the USA), plus all previous rewards. Which, of course, I will sign to you.

About Ted Rall
KEEP TED RALL DRAWING AMERICA'S SMARTEST
(and possibly meanest)  POLITICAL CARTOONS!


Tired of boring mainstream political cartoons and commentary?
Me too! That's why I began doing this stuff in the first place.
Your patronage
helps me to keep taking risks: questioning the system, poking fun at Democrats as well as Republicans without worrying about some editor firing me as a favor to his golfing buddy. You probably don't buy a print daily newspaper anymore — so please use the extra money to
support the cool work
they never had the guts to run!
I'm Ted Rall. I am arguably America's
most controversial political cartoonist
. I have no interest in offending people – but I'm here to tell the truth and make people think, and sometimes the price you pay for that is making people upset. In addition to the three cartoons I draw every week for syndication, I also draw cartoons on a freelance basis for outlets as diverse as
Forbes.com
and
SputnikNews.com
.
Here are some of my cartoons: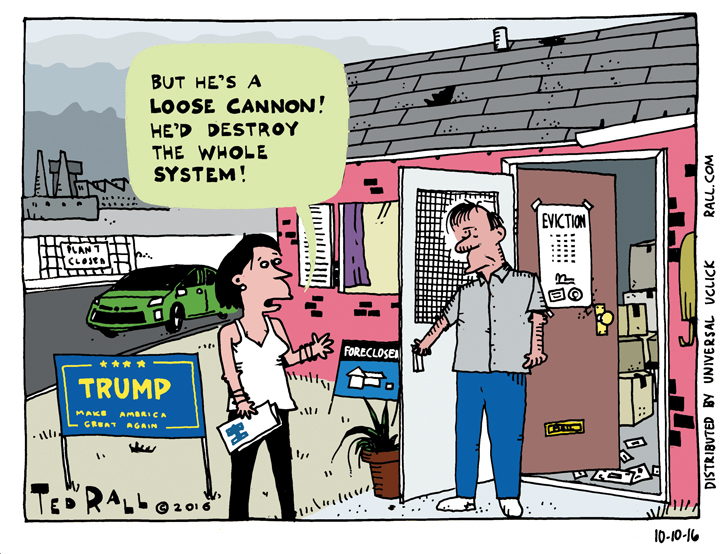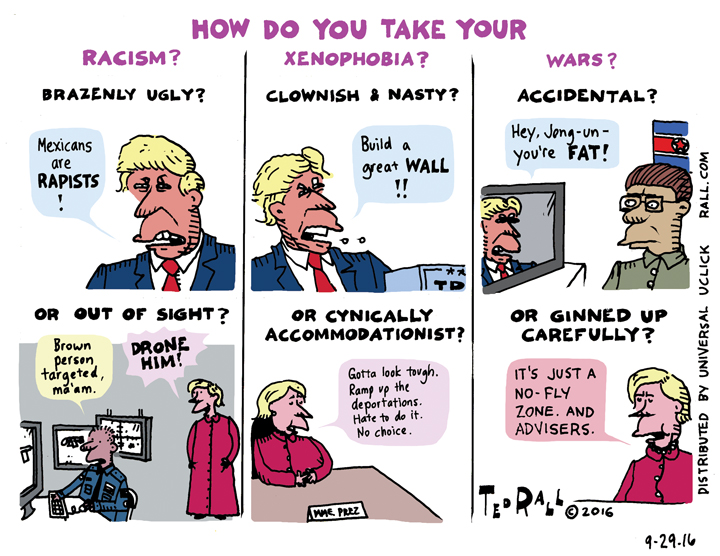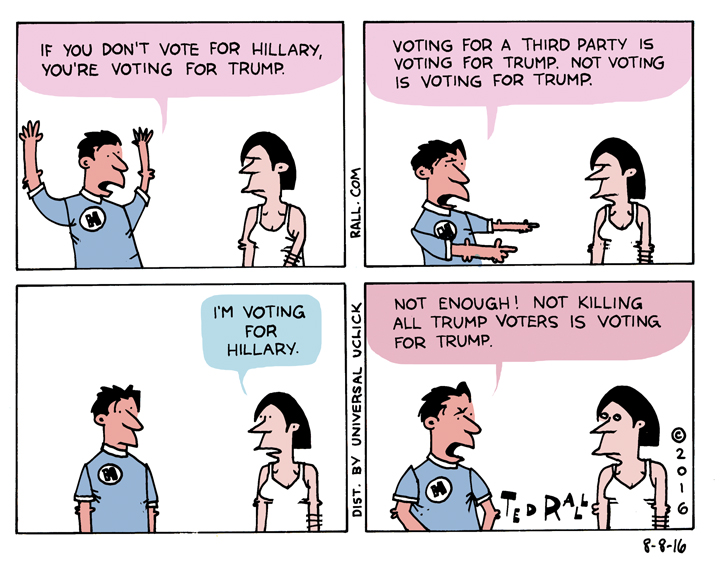 I also write a weekly opinion column for
Creators Syndicate
. That's my place for detailed analysis of the news and politics of the week.
I'm also the author of 20
books
. These include political polemics, cartoon collections, graphic novels, and, most recently, a lot of comics journalism and "graphic biographies" of such figures as Edward Snowden, Bernie Sanders and Donald Trump. I'm best known for the '90s Gen X manifesto
Revenge of the Latchkey Kids,
the bestselling first book about the US invasion of Afghanistan
To Afghanistan and Back
and the comix journalism tome
After We Kill You We Will Welcome You Back As Honored Guests: Unembedded in Afghanistan.
Why I Need Your Help


Even in the best of times, speaking truth to power and questioning authority can be dangerous. Ask my colleagues at Charlie Hebdo. I've gotten more threats of bodily harm and even death than I can count, mostly from right wingers but also from some self-identified lefties. But terrorists and thugs aren't the biggest danger to hard-hitting political cartoon and commentary.
Economics are.
As you know, journalism is facing a serious economic crisis. The demise of print has lead to a loss of funding for journalists, cartoonists, photographers, and political analysts like me. Thanks to the Internet, I have a bigger audience than ever before. But online outlets haven't figured out how to pay for good journalism or political cartooning – which is why people like me are coming to people like you to ask for your support. If you value professional, independent political cartoon and analysis like I do, you will have to help support it or it will simply vanish. All that would leave behind is the bleak landscape of corporate media and the bland establishmentarian content that it produces.
Here's a clip of me mixing it up with FOXNews host Sean Hannity:
And here's one of the many interviews I've given, this one about Edward Snowden and the NSA:
Why It Matters


If you believe in democracy, and in a better future, as I do, you know it's important to get behind the social and political critics who are helping to pave the way to that future. People like me have trouble gaining access to mainstream media. Don't get me wrong – I've had a lot of luck, appearing in places like the
Los Angeles Times
,
New York Times
,
Village Voice
,
Rolling Stone
magazine,
The Nation
,
Esquire
, you name it. 20 or 30 years ago, the kind of career that I've had – the kind of career that I'm having – would have generated an income that would have been very comfortable to live on, even thrive. But outlets have shrunk, especially paid outlets. Pay rates have plummeted. Budget cuts have led to newspapers canceling their syndicated comic strips. Because they're so scared, it's harder to find editors willing to publish anything that questions the basic underpinnings of the American system: the two-party duopoly, free-market capitalism, endless warfare.
Some outlets have even been corrupted. Last summer, for example, the LA Times fired and smeared me as a favor to the chief of the Los Angeles Police Department. The reason seems obvious: the LAPD pension fund was the number one shareholder of the parent company of the LA Times. I'm
suing
them.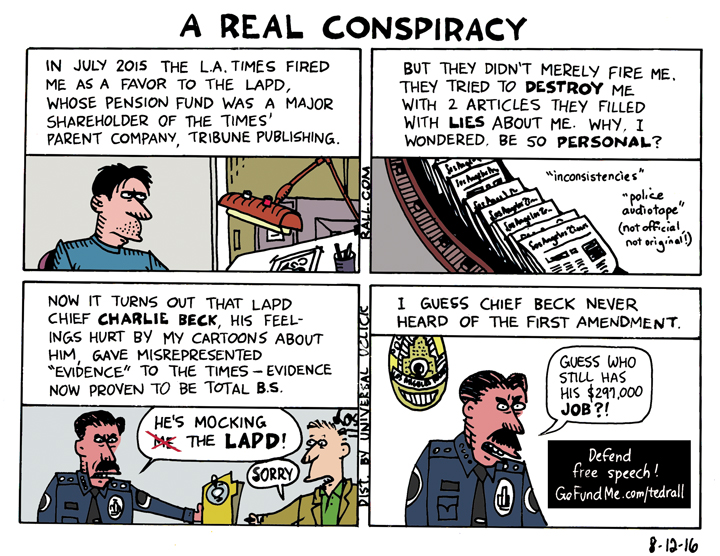 The Bottom Line


I'm asking you to support my work because I don't take my marching orders from any organization or political group. I don't receive or use talking points. I think for myself. My concern is for you and for the people of the United States and for the citizens of the world.
P.S. EXTRAS — In addition to my 3x/week comic strips, Patreon supporters will get access to freelance projects, interviews, reviews, multi-page pieces, and sneak peeks at future projects like the two new graphic novels I'm working on now.
$876.42 of $2,500
per month
When I hit $2500 a month,

1 of 2
By becoming a patron, you'll instantly unlock access to 137 exclusive posts
By becoming a patron, you'll instantly unlock access to 137 exclusive posts
How it works
Get started in 2 minutes