TENIME Art Studios
is creating digital art, prints, children's books, comic books, and novels
Select a membership level
MERCI BEAUCOUP!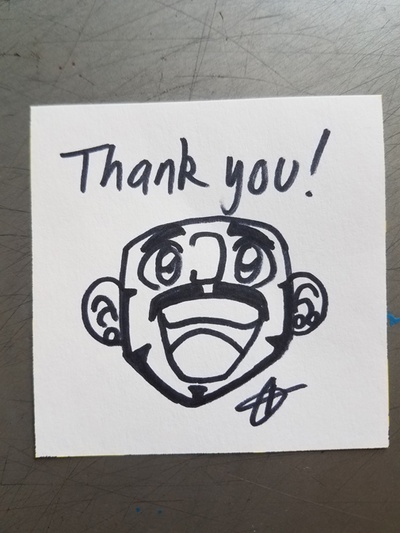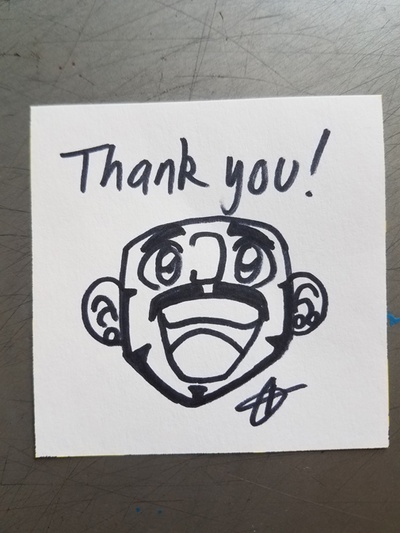 Haven't you ever wanted to go the mailbox, find a letter, open it up, and find a Post-It of my face in Sharpie, giving you a personal thank you inside? Of course you have! And you can have one with this tier! How cool is that!?
One-time Thank You Post-It
(The password, is "Bacon"...)
Wanna watch my process? With this tier, you get secret access to the behind the scenes of my works in progress: layouts, sketches, pencils, inks, colors, special effects! And not just photos, either! Sometimes I do time lapse videos! So you can literally watch me draw! Did I mention you still get the Thank You Post-It, too?
One-time Thank You Post-It
Monthly Work in Progress Updates
PRINT SUBSCRIPTION (SM)
Would you like to collect all my post cards? Well, you can!
One-time Thank You Post-It
Monthly Work in Progress Updates
One Monthly 4.25"x6.25" full color digital print quality post card chosen at random 
About TENIME Art Studios
WHO AM I?
I grew up in the suburbs of Chicago in the latter half of the 1980's & the first half of the 1990's. My mother likes to brag that I "drew a recognizable stick figure at 18 months old."
I began creating my own comics early on, though usually the characters were very similar to the Marvel & DC characters of which I was such a fan. But as I grew older and experimented with different art styles, I began to create more and more original characters. Eventually, in my mid-teens, I began to develop the Japanese anime style I use to this day (which I'm still honing, even in my late-thirties).
I have battled with arthritis over the last decade, which makes traditional art somewhat painful, but have found second life (and vastly improved my skills even for traditional "ink & paper") with ProCreate for the iPad, and have done more new & varied artwork in the past 6 years of owning an iPad, than I had in the 10 years prior to discovering it. (Don't judge me on my choice of tablet, though, anti-Apple people, it's just what I was taught on & got used to, haha.)
I have done everything from portraits to wedding invitations, both digitally & traditionally; all in my distinctive cartoony style.
And yes, the name rhymes with "anime."
WHAT HAVE I DONE?
I have illustrated a children's book, currently on sale for Amazon Kindle and am working with the author to try to get physical copies made; I have contributed a pin-up/chapter heading for an upcoming independent graphic novel about a fellow artist's struggle with cancer; and I do fan art of everyone's (& my) favorite pre-established characters.
WHAT DO I WANT TO DO?
I have been refining my own multiple comic book series with my own original stories & characters for over 20 years, as well as some picture-less novels, all of which I would love to begin sharing with the public, instead of apprehensively keeping them a secret.
Though I never stopped drawing, and still did commissions here & there in my younger years, I have only been pursuing this the past four years since discovering smaller conventions, where I've sold prints of my fan art; but the goal is definitely to do some of the bigger shows, not even just Midwest, but to be able to travel to others as well.
HOW CAN YOU HELP?
Every successful person started from somewhere, and they were able to get where they are with the support of others. Backers can assist in the creation of more artwork and more opportunities for artwork. The ideal situation is to do this for a living, to not only be able to pay bills & do fun stuff, but also to accomplish a dream I've had since childhood (and how many of our childhood dreams even make sense now that we're old enough to pursue them? "You're human; you could never be a dinosaur"). And you can help me tell fun, exciting, scary, funny, colorful stories.
You can help me be a dinosaur.
- Chris
When I reach 50 patrons, I'll start a subscription for some original work: novel and/or comic!
1 of 2
By becoming a patron, you'll instantly unlock access to 769 exclusive posts
By becoming a patron, you'll instantly unlock access to 769 exclusive posts
Recent posts by TENIME Art Studios
How it works
Get started in 2 minutes