The Armourer's Bench
is creating Videos
Select a membership level
Help Us Grow!
If you enjoy our content and just want to help us keep making videos this is the option for you. We really appreciate any and all support you can give! 

You'll get:
 
Sneak peeks (photos & videos) at upcoming content 
A special 'thank you' postcard featuring a unique design featuring the H&K G11's internals!


$5 and Up!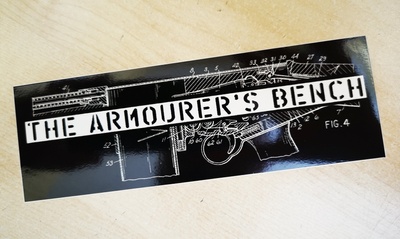 If you'd like to give us a little more support we really appreciate it!

At this level you will also get access to: 
 A cool TAB logo sticker!  
Sneak peeks (photos & videos) at upcoming content 
Suggest topics and firearms you'd like us to cover 
The special 'thank you' postcard featuring a unique design featuring the H&K G11's internals!
About
Welcome to The Armourer's Bench's Patreon Page

The Armourer's Bench is a collaborative effort bringing together the knowledge and experience of two British small arms historians; Vic Tuff and Matthew Moss. The Armourer's Bench is a multimedia project using both video and written content to showcase the history of some of the most interesting and important firearms from around the world. We delve into their history, use and operation to give you an insight into small arms history.  We aim to bring you weekly videos on all sorts of small arms and other interesting military history topics.
This project is a labour of love but we're passionate about the history behind small arms and want to bring you the most interesting content we can so we really appreciate your support!
________________
Who are we?
Vic Tuff is a small arms historian and during the late 1970's and 80's was the armourer for a well known firearms dealer. In addition to being an authority on a number of weapons systems including the AR-10, FAL and the Beretta BM-59, Vic has over 30 years of hands on experience as both an armourer and a dealer. He has a wealth of stories and anecdotes and the knowledge to back them up. He has attended a number of armourer's courses on IMI, Colt, FN, and other manufacturer's products. In 2016, he dabbled with a gun related video history blog
Inside The Pattern Room
. He has been a contributor for several small arms related publications for
Collector Grade Publications
including:
The Black Rifle - M16 Retrospective & The Armalite AR-10: World's Finest Battle Rifle.
Matthew Moss is a military historian with degrees from the Universities of Liverpool and Chester. In 2013, he established
www.historicalfirearms.info
, a website that looks at the history, development and use of firearms, as well as wider military history. He has written for numerous publications including
Small Arms Review, The Armourer, Popular Mechanics, History of War
and
Task & Purpose
. Matthews first book, on the Sterling Submachine Gun, was recently published - he currently working on his second.
________________
Thanks for taking the time to check out our Patreon page, thank you for your support, we really appreciate it! You can find out more about us at our website:
www.armourersbench.com
We travel to collections all over Europe so your patronage helps a great deal to enable us to pay for transport costs, accommodation and equipment!
1 of 1
By becoming a patron, you'll instantly unlock access to 101 exclusive posts
By becoming a patron, you'll instantly unlock access to 101 exclusive posts
Recent posts by The Armourer's Bench