Brad Meyers
is creating illustrations & art videos
Select a membership level
Support my sarsaparilla habit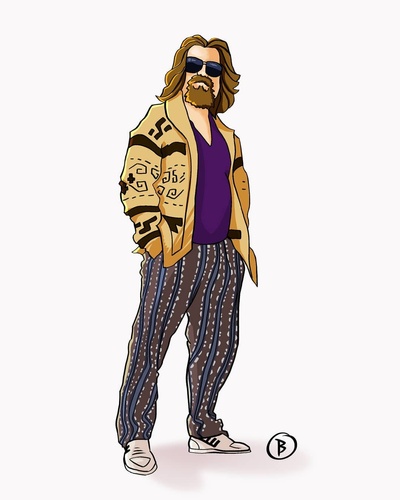 He's gotta feed the monkey, man!

Includes:

◘ Receive a one-time autographed postcard of my art with a hand-written thank you message. 


◘ Fan Recognition! All supporters of this tier and up will get their name credited on all of my future Instagram artwork posts and credited at the end of videos! (unless you prefer anonymity)   


◘ Your account featured on my Instagram story every week! Usually Friday.


◘ Digital Wallpaper Downloads


◘ First looks at sketches, WIP's, finished pieces, GIFs.


◘ I will think fondly of you when I eat egg salad sandwiches.  


◘ My eternal love and gratitude. 


Thank you so much for your support! It means the world to me and every little bit helps on this journey. 🖤

Obviously, you're not a golfer
You're Lebowski. I'm The Dude.  


✴️STICKER CLUB!


The first rule of Sticker Club is to tell everyone about Sticker Club!

Includes:

◘ Sticker Club! You get a monthly sticker of one of my favorite art pieces!
 

◘ 10% off all art purchases.  


◘ All previous rewards.


◘ My eternal love and gratitude.  


 Thank you so much for you generosity!  

Nice Marmot
What are you a park ranger now?


✴️ MONTHLY POSTCARD

Includes:

◘ Monthly postcard of my artwork.


◘ 20% off all art purchases. 


◘ All previous rewards. 


◘ My eternal love and gratitude.   


 Thank you so much for you generosity!  

About
Hey everybody! I'm Brad. 
OK, so let's jump right into the good stuff! 
What do you get and how does it work?

1-7 days after pledges are processed, I make a post with the link to download your digital goodies!
Print Rewards, Postcards & Stickers will also be sent out during this time frame. 
Discounts! Any artwork that you see here or on instagram or on a store site, you are eligible for discounts! Please contact me directly before making any purchases for the discount Thank you! 
Fan Recognition: For all tiers! You will be recognized as the amazing individual you are, by name, at the end of each video made and tagged on every artwork posted to Instagram, for your awesome support.
Story Features: Instagram story features will be for all members of the tribe, they will be weekly (usually Friday), and only if you want to be featured. I will choose a photo from your account and brag on you! For all tiers! 
Postcards: The postcard is a one-time gift that everyone receives $1 and up. It includes a hand-written thank you message and the postcard is a piece of my art! And MONTHLY on the $10 and up tiers! 
For the top tier! This is a limited space tier. You get everything! INCLUDING a full character painting, after first payment processed, and another one every 3 months after that for as long as you are in the tribe. That's 4 personalized paintings a year!
Egg Salad Sandwiches: I will think fondly of you while I eat egg salad sandwiches. Can you see the smile you put on my face? You gave that to me!
Now the boring stuff 😜
I am a self taught artist working hard to do what I love. My mission is to connect and grow with all of you by sharing my artwork, tutorials, tips & tricks, WIP's, creative thoughts/processes, glimpses into my personal life, and all the good times.
Also, I'm a pretty big "
Big Lebowski
" fan, if you can't tell by my tiers.
"Are you surprised by my TIERS, sir?"
Patreon, sharing/teaching, and sneak peeks into my personal work & life are pretty new things to me, so this should be fun! 
Tiers are billed once at the beginning of each month and the rewards are mailed out after the payments are processed!
Find me on the inter-webs:
Instagram
YouTube

Facebook

It's all about growth, right?
#amirite #oramirite
$114.59 of $125
per month
NEW GOAL! We hit our last one. So awesome! This one wouldn't take much more to achieve ($125 a month). Once we hit this I will do a special gift for everyone in the group! I'm thinking a special Patreon Exclusive sticker, but open to suggestions! Thank you all so much. (UPDATE: The votes are in and Fridge Magnet wins by a commanding lead) 
1 of 1
By becoming a patron, you'll instantly unlock access to 217 exclusive posts
By becoming a patron, you'll instantly unlock access to 217 exclusive posts
Recent posts by Brad Meyers