Linda Adair
is creating Theatrical Oil Paintings and Drawings
Select a membership level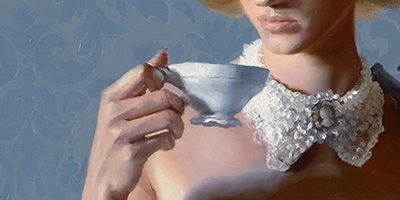 Teacups
Thank you for supporting me! Every teacup counts! You are directly helping me to create these paintings. Thank you.
Feathers
A huge Thank You for choosing this reward! With this you can see ...
Behind-the-scenes photos from the model sessions/studio
One video a month of my painting progress on my Theatre of Duelists series
Early Works In Progress not shown elsewhere online
Masques
Wow! Thank you so much! With this you get all the previous reward tier
PLUS
more videos of time lapses and step-by-step photos of ...
Painting process creating one of my Theatre of Duelists paintings 
Behind the scenes in the studio
A sketchbook walk-through
About Linda Adair
Hi there! Welcome to my Patreon!

Here I'm creating this series of figurative oil paintings in a theatrical setting called
Theatre of Duelists
. Thank you for believing in my work enough to support me!
A little about me...
I am a contemporary representational painter from Canada based in Germany. 
This series of works are inspired by histories of actual female duels, I then expounded on that idea by imagining these would be set as a re-telling for a theatre play or opera. What has typically been regarded as a masculine art, I was fascinated to find the actual recorded events of female duels, some rather famous and spectacular. Including one famous one between a princess and a duchess where they both fought topless. There are also tales of women dueling men which I may explore as well.
Why Should You Become A Supporter?

You will be able to receive exclusive access to my working process and see the work as it is created, and gain a greater understanding of what goes into creating a painting. 
I want to share with you more than just first glimpses at the new work I am creating, but I hope to share insight into more of my thought processes behind these ideas as well as share other aspects of my life as an artist from my creative inspiration, to running an art business, as well as technical tricks and materials.


Videos
One of the things I have wanted to do is to make time lapse and other videos for you of my painting process. This has been tricky for me as I am rather new to working while filming and can be awkward to paint with a camera in front of me. I am excited to start, and with this Patreon, I want to create videos for you. I'd love to be able to share a more in-depth view of some of my processes.
Another benefit of being a patron will be access to some of the raw sketches and stages of my painting. As an artist on social media, I find I am reluctant to post all stages of the painting process. Most of what we show on Facebook or Instagram is viewed not only by artists, but by potential clients, galleries, and publishers. As such, I tend to show less of the painting process especially when a painting is in "the ugly phase" or those less than photogenic steps that nevertheless might reveal a lot about the thought process and decisions that go into the creation. With this Patreon I would like to take you behind the scenes and show you the work as it's being created.  
Other ways to support my work
Thanks for stopping by!
--Linda
Thank you! When I reach 100 patrons I'll be able to get a set of wigs made and add a few props for the dueling models.

1 of 4
Recent posts by Linda Adair