THE AVATAR CLICKS
is creating Super Conscious Breakthrough Videos
Select a membership level
SEVA
Offering Pratyaksha Pada Puja
"The highest wealth you can acquire, while you are in the human body is Embodied States of Consciousness, Bhava Samadhi. 
Embodying Consciousness means your length, breadth, depth, is filled by that one Bhava. Your length, breadth, depth radiates, vibrates with that one Consciousness – sometimes bhakti (devotion), love, sometimes Sadashivoham (I am Sadashiva); sometimes the Shuddhadvaita Anubhuti (cognitive experience of Pure Oneness with everything). When you embody Consciousness, that becomes reality. 
Puja is embodying bhakti consciousness, chit gana anubhava samadhi of bhakti, surrender, devotion, dropping all the incompletions from the head. The embodying different states of consciousness is the purpose of all the spiritual practices." 
Pada Puja is a unique celebration of expressing overflowing deep gratitude to The Avatar and our beloved Guru, Paramahamsa Nithyananda. 
The word 'pada' means 'sacred feet' in Sanskrit; Pāda Puja means to honor the Guru in loving devotion and gratitude at his lotus feet. 
Attend Programs and Offer Sevas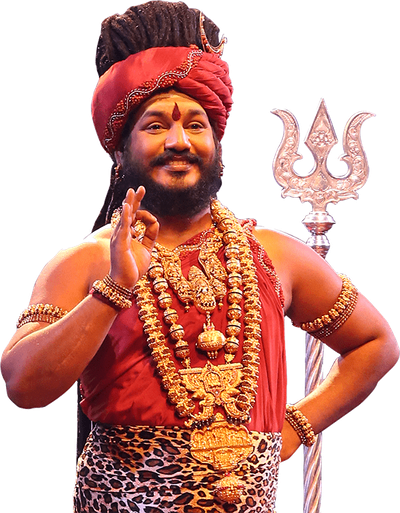 About
Support Us with your Love and Blessings and get the Highest blessings from Paramashiva by making these offerings and Sevas. Spread the word - The Avatar is Here and humanity needs not to be worried.
The highest form of revival is happening for humanity for the ultimate super-conscious breakthrough of entire humanity.
Visit
http://programs.nithyananda.org/
&
http://gateway.nithyananda.org/
to attend the Super conscious breakthrough programs and make unconditional offerings to Earn Punya (highest form of blessings from Shiva) and get Karma breakthrough.
Understand the very purpose of your life. This is the future you want. This is what your being wants. Support us by enriching and contributing, so we can spread to your locality and make this 3rd eye Authentic Vedic Science of Super Conscious Breakthrough available to each and every one of you.