Select a membership level
Students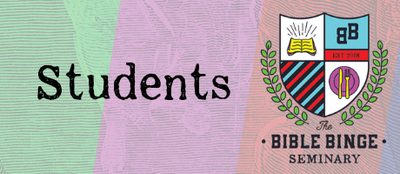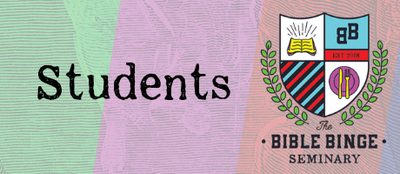 "Learning is for Lot and life." Dax Shepard


📣 Faith Adjacent Book Club where we read books but also may invite a real-life archeologist to join us and talk about ancient bathroom practices.

📣 Mini-Favored or Forsaken Episode three times a month!

📣 Monthly Please Advise from Resident Bible Scholar Erin Moon.

📣  Weekly Discussion Board Posts where we harness the power of this community with a weekly question!

📣 Monthly Sacred Cinema Devotionals that help you find God in the Marvel Universe as well as our own.

About The Bible Binge
Welcome to The Bible Binge Seminary! We launched this fake-but-feels-real Seminary in the Summer of 2019 with one idea propelling us forward: We felt like there were a lot of people like us, not academics or theologians, but yet super interested in talking about the Bible in a way that is less Bible Scholar and more every person. And our hunch was confirmed in the incredible community of listeners that's grown around the show.
On the main feed of The Bible Binge we have all the old favorites that you love like the Bible Binge classics, Favored or Forsaken, and Sacred Cinema in addition to a new favorite: SWDGISS (or Stuff We Didn't Get in Sunday School). But for you here at The Bible Binge Seminary, this is where we get to take things a step further to really dive into the community aspect that a Patreon Seminary can provide. We want to make this community as simple as possible while obviously providing significant value in return for your support: One tier, at a set support amount of $5. And for those cash monies, you get the following:
Faith Adjacent Book Club where we pick a popular book with faith implications and discuss it monthly in a video call.
Mini-Favored or Forsaken Episode where three weeks each month Knox, Jamie, and Erin (with the occasional drop-in from Evan) will review the latest in faith headlines and decide if it's good or bad for the Christians.
Please Advise where each month you will share your spiritual conundrum, and Erin will help you solve it.
Sacred Cinema Devotionals: Do you want a 5-day devotional for your favorite Marvel movies? You're gonna get it each month.
Weekly Discussion Boards where we're going to harness the power of this community with a weekly question. Imagine a group think therapy session on Patreon where we help each other with tricky questions and resource needs.
Final word:
Asking you for monies is something we take very seriously. We know it's no small thing to commit your financial resources to us and we deeply respect even your consideration of such a thing. But know that our commitment to you and this community is always to pursue a return on investment that greatly exceeds $5 each month. 
Become a patron to
Unlock 323 exclusive posts
Connect via private message
Recent posts by The Bible Binge
How it works
Get started in 2 minutes