The Bible Binge
is creating content
Select a membership level
Students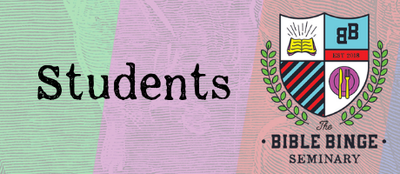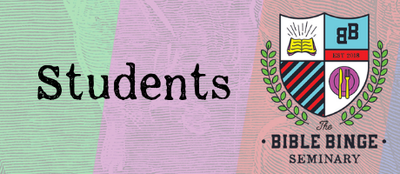 "Learning is for Lot and life." Dax Shepard


📣 Extended Gentle Rebukes in the ad-free episode for Seminary students with the whole crew live.

📣 Monthly Sacred Cinema Series - all three of us gather and dissect a popular movie from a faith perspective

📣 Monthly Bible Scholar QTNAs - Bible Scholar Erin answers your questions that need an answer.

📣  Faith Adjacent Book Club

About The Bible Binge
The Bible Binge is a year old and in that time, we've had an incredible time rediscovering stories and characters within the Bible. One thing we've noticed is we have the desire to extend those conversations in ways our episodes just don't allow. Which is why we wanted to start this community.
To be sure, one of the biggest motivations behind The Bible Binge in the first place was because we felt like there were a lot of people like us: not academics or theologians, but yet super interested in talking about the Bible in a way that is less Bible Scholar and more every person. And our hunch was confirmed in the incredible community of listeners that's grown around the show.
This is why we're excited to unveil our plans to help widen the potential for that growing community.
Listen, we know that merging conversation and content about the Bible / faith elements with monetization can be TRICKY. Understanding that, we're actively running away from a tip jar structure that offers vague value beyond good vibes and digital high fives.
Therefore we want to make this community as simple as possible while obviously providing significant value in return for your support: One tier, at a set support amount of $5. And for those cash monies, you get the following:
An Extended Gentle Rebuke in the episode exclusively for Seminary students.
You will also receive your own secret podcast feed where we will deliver Ad-Free Bible Binge Episodes.

In layman's terms, we have a separate podcast pipeline (RSS Feed) reserved just for our supporters that acts exactly like our free Bible Binge RSS feed.
On this feed, you'll receive ad-free versions of our regular episodes.
A Monthly QTNA (Questions That Needs Answers) with Bible Scholar Erin Moon where she fields your questions and responds in her patented thoughtful manner.
Monthly Sacred Cinema Series where we break down movies.
Faith Adjacent Book Club where we pick a popular book with faith implications and discuss it monthly in a video call.
Final word:
Asking you for monies is something we take very seriously. We know it's no small thing to commit your financial resources to us and we deeply respect even your consideration of such a thing. But know that our commitment to you and this community is always to pursue a return on investment that greatly exceeds $5 each month.
Become a patron to
Unlock 180 exclusive posts
Connect via private message
Recent posts by The Bible Binge
How it works
Get started in 2 minutes