The Five Wits
is creating worlds, stories, tea, and treasure
Select a membership level
Sneak Peek
You get access to the patron-only feed—keep up with our projects and get special previews! You also get first dibs on certain handmade products Ruth creates. All higher patron levels also include the rewards from this tier. 
Such Whimsy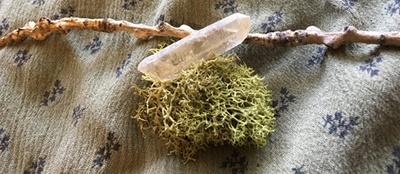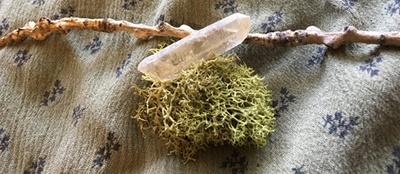 Access to Sneak Peek, and:
Ruth compulsively collects and curates odd and whimsical objects. You might have seen little bottles, stones, porcupine quills, fish scales, and other oddments for sale at our booth. Now you can get a tiny mailing of these treasures once a month--a little touch of inspiration! (Or if you send us the address of a friend, you can gift them with whimsy.)
The Blackfeather Chronicles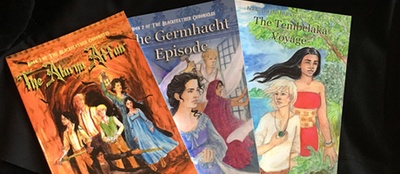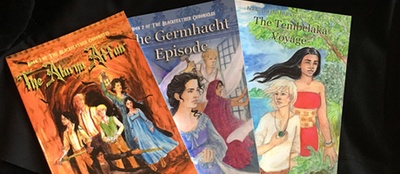 Access to Sneak Peek, and:
Get a pdf each month of one of the completed books in The Blackfeather Chronicles series. Three books are currently available: The Alarna Affair, The Germhacht Episode, and The Tembelaka Voyage. You will also get a pdf of each new Five Wits Press book as it comes out. 
About The Five Wits
WHO WE ARE:
We at the
Five Wits Press
are a found family of collaborative storytellers and artists. The family you're born with can be great, but it's the travelers you meet, get stuck with, fall in love with, and adventure with who make the best unexpected communities.
Together we create worlds and share them in multiple mediums, including novels, webcomics, art, and even tea blends. As we create worlds and pass them back and forth, both we and our worlds grow. Seeing what you love all over again through new eyes is startling but important— seeing why others love what they do, and appreciating it all more. 
A story shared is a story grown. We believe that opening up our constellate family of disparate strangers to the wider world will encourage greater collaboration, and the kind of shared inspiration that makes creative communities bloom. Time after time, it's people like you who make our lives and stories possible, whether you've put a dollar toward a Kickstarter, bought a box or a bottle from our small business, or encouraged us with your passion for stories or artwork.
We want to share so much more. We want you to be part of what we're creating, to let you in on the behind-the-scenes worldbuilding and planning, as well as our day to day adventures. Drink our tea and listen to our stories. Let's adventure together.
ABOUT EACH OF US:
Ruth Lampi
is a writer and an artist in multiple mediums. Besides illustrating her own and other's stories, she also creates sculptures, pottery, linoleum block prints, and little mixed-media fairy creatures. She's recently started mixing
nerdy tea blends
! Ruth always has a new project in mind, and can be counted on to popcorn out endless ideas in brainstorming sessions. Her current major project is writing and illustrating the middle grade fantasy adventure series 
The Blackfeather Chronicles
, of which the first three books are currently available, both as ebooks (
Book 1
,
Book 2
, and
Book 3
) and as
paperbacks
.
A few of Ruth's past credits include:
Jessica Van Oort
is a writer and editor, and the social media coordinator for the Press. Besides writing SF and producing work for the gaming industry, she also has academic writing and editing credentials. Jessica has a lot of experience as a DM/GM for tabletop roleplaying, and she loves the interactive storytelling involved in running games. She's the one who keeps the other members of the press on target and on deadline. She also does the taxes. Her current major project is writing the
Orphaned Gods
epic fantasy series, of which the first book,
Beasts and Hunters
, is in the beta reader stage.
A few of Jessica's past credits include:
S.A. Hannon
, or
Birdy
, is an artist who cares a lot about telling stories, building worlds, designing creatures, creating mythologies, and making OCs kiss. Birdy's hobbies are crying about stories, crying about birds, and interneting. Forever. She is the one who always has her sketchbook out to jot down ideas and make drawings of interesting things she sees, both in the real world and her many created ones. Birdy's handwriting, and her initial thumbnail sketches, are incredibly tiny. You wouldn't believe how tiny. Birdy's current major project is the high fantasy webcomic
The Genesis Sword
, which is currently updating on Thursdays.
ALSO!
We all live together in a house with four cats named Harana (after an OC), Wheatley, Navi, and Midna.
There are lots of ways to keep up with what we're doing. You can follow us on
Instagram
,
Twitter
, or
Facebook
, visit
our press website
and 
our shop
, or sign up for
our newsletter
. Or, of course, become a patron right here!
Jessica will post writing advice columns twice a month, and all patrons will get first access to them here.
2 of 5
By becoming a patron, you'll instantly unlock access to 26 exclusive posts
By becoming a patron, you'll instantly unlock access to 26 exclusive posts
Recent posts by The Five Wits
How it works
Get started in 2 minutes