THE FRENCH INSTINCT
is creating unique resources to help you learn everyday French in context
Select a membership level
Un peu French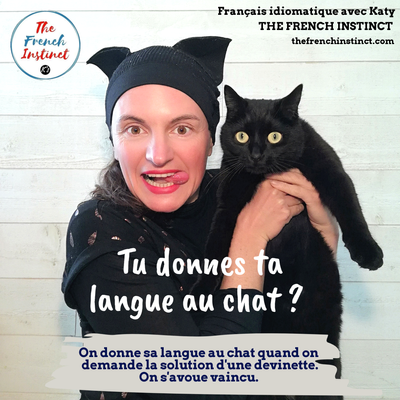 Super !
Every penny counts. To thank you and welcome you as an Official Member of the French Instinct, I'll give you the answer to my Youtube new "Langue au chat" videos. These will be videos where you'll have to guess what I'm talking about. Now that you're a Premium member you'll get a video answer with explanations on Patreon.
"Langue au chat" video answer
Beaucoup French
C'est vraiment super chouette !
"Un peu French" benefits
+ to thank you for your great support, I'll share with you my Work-in-progress updates through posts and video stories on Patreon. A good way for you to get exclusive information about my creative work.

Work-in-progress updates (digital)

"Langue au chat" video answer
Passionnément French
C'est vraiment génial!
"Beaucoup French" benefits
+ To thank you for your amazing contribution, you'll have access to exclusive podcast episodes and videos from The French Instinct for intermediate / advanced French speakers. If you love my podcast and my videos, you'll be really happy to discover my creative work just for you. I can't wait to share it with you. 


Work-in-progress updates (digital)

"Langue au chat" video answer
About
"Parle, pense, vis en français et découvre d'autres horizons". Hello, I'm Katy Beauvais, a native French as a Foreign Language Instructor. I create lots of unique and original resources in French tailored mainly for intermediate and advanced speakers, such as podcasts, videos, articles, stories, visual aids.
Anyone can learn a new language at any age. Unfortunatly many people think they are bad at languages just because they've only used traditional methods or boring resources. Learning a language is not memorizing grammar rules and vocabulary lists, using flashcard and repetitive apps. Language is communication. And to acquire it properly, you need to get involved emotionaly, using content you love and interacting with people you like on topics that you find interesting and meaningful. It's also really sad to find out that many French students are incapable of understanding a real conversations because they've only learned very formal French, which is hardly ever spoken in everyday situations. You need to learn authentic and everyday French, the one which is actually spoken by French people.
What I offer is very different from what you can find to learn French. Thanks to my resources, French learners can immerse themselves in authentic French and improve their language skills in context, through comprehensible input, in a practical, concrete and yet enjoyable, creative, inspiring and fun way. You'll learn more intuitivaly and boost your French Instinct while avoiding clichés. I'll show you everyday life in France, I'll help you acquire French language and understand our culture but also become a better language learner.
I hold two Master's Degrees, one specializing in teaching French as a secong language and another one in Spanish. I feel passionate about languages and I speak 5 languages fluently (French, Spanish, English, Potuguese, Italian). Teaching has always been a deep vocation, but I realized very soon that traditional school methods didn't work for me, so I decided to create my own learning community. I've been teaching for 15 years and as a language learner myself I know what can be useful and relevant to help you improve your French.
I'd like to create more beautiful and interesting resources for you. Your patronage would enable me to cover hosting costs for my website and podcast, as well as equiment costs (camera, microphone, software) and to spend more time creating these resources. If you enjoy what I do, if you too believe there's another way of learning languages and if you can support my work as a creative French Instructor, become a member of The French Instinct here and help me create our journey together. Every penny counts ! Even the smallest contribution is helpful.
To see all the unique resources I create for you, check and subscribe on:
-
My website
-
My youtube channel
-
My podcast
-
My Instagram
If you want to get in touch with me and to get more information don't hesitate to
email me
.
How it works
Get started in 2 minutes