Caitlin Doughty
is creating Death Positive Content
Select a membership level
Eternally Yours
Access to our Patreon – exclusive posts and updates from Caitlin and The Order of the Good Death – as well as our immortal (literally undying) gratitude. 
The Deathling Den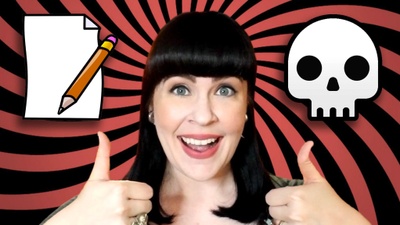 Exclusive access to The Deathling Den, a private Facebook group where The Order team posts weekly extras and hosts activities and events. Think of it as your death positive club house! 
Plus: 
All previous benefits
Caitlin's Corpse Cavern
Access to our SECRET Instagram account where Caitlin answers questions, shares what she's reading and watching, and posts photos & mini-videos on a variety of death positive topics. (Embarrassing high school photos have been known to make an appearance...) 
NOTE: Message me with your Instagram name, and I'll send you the account info. 
Plus: 
All previous benefits
About
Greetings Deathlings,


Caitlin here – your mortician and death educator– welcoming you to The Order of the Good Death Patreon page!


When you support us through Patreon, you're not only supporting the creation of death videos, but you're also supporting ALL of the resources, blogs, and community programming The Order of the Good Death creates.


So how does all of this work? Glad you asked! Here are the basics:


First things first, what is Patreon?


Unlike a Kickstarter (where you donate a one-time amount of money to one big project), Patreon is ongoing. It's easy to sign up. We operate on a monthly pledge model, so you just pick a donation level- $2, $5, $10, etc, to be charged once a month.

For example, if you choose to pledge $5, you only ever get charged $5 each month. No surprises.

(You can also pledge custom amounts! $8, $12, $32, the choice is yours.)


Rewards and Pledge Levels


Each pledge level has rewards associated with it, everything from bonus online content to physical items EXCLUSIVELY for our Patrons!

Even if you cannot pledge anything, just sharing the content we create (all of which is free) helps spread the death positive message and educate people on their options. Sharing death positivity is more than enough.


THANK YOU from all of us at The Order of the Good Death,


Caitlin, Sarah, and Louise

When we hit FIVE THOUSAND Patrons, Team Death will do the most ICONIC of Iconic Corpse videos: The Incredible Iconic Corpse Journey. Multiple locations, a long-awaited Iconic Corpse, crossing the country in pursuit of death history!
10 of 10
By becoming a patron, you'll instantly unlock access to 243 exclusive posts
By becoming a patron, you'll instantly unlock access to 243 exclusive posts
Recent posts by Caitlin Doughty