A buck on his way to becoming a knight!
The Hayseed Knight is an indie visual novel created by a single person (yo!
SandraMJ
, Sandra Molina Juan, whatever you wanna call me) that follows the adventures of Ader, the one eyed deer, while he desperately tries to stay on track to fulfill his dream: becoming a knight. On a meta sense, the player is The Narrator, a character hellbent on finding out what truly happened to Ader and his friends, who are little more than legendary characters at this point. The development started officially in May 2017,
and you can download the fully voice acted first demo here!
You'll have all the resources of a narrator to help you with the story: an encyclopaedia with character and lore notes, backtracking, and revising the story once it's complete to find out just how one can mess the story up so badly as to make Ader end up kicked out of the city, walking the streets, locked forever in a dungeon, and a whole lot of other endings with varying degrees of plausibility!
Discover the motivations and backstory of a large cast of characters, forming Ader's own background in the process!
Find love! Or not! Totally up to you (and your skill, of course)
Ruin Ader's life!
Ruin someone else's life without meaning to!
Ruin your own life just as well!
Have the narrator questioning your most questionable choices as we all wonder why would anyone ever do any such thing!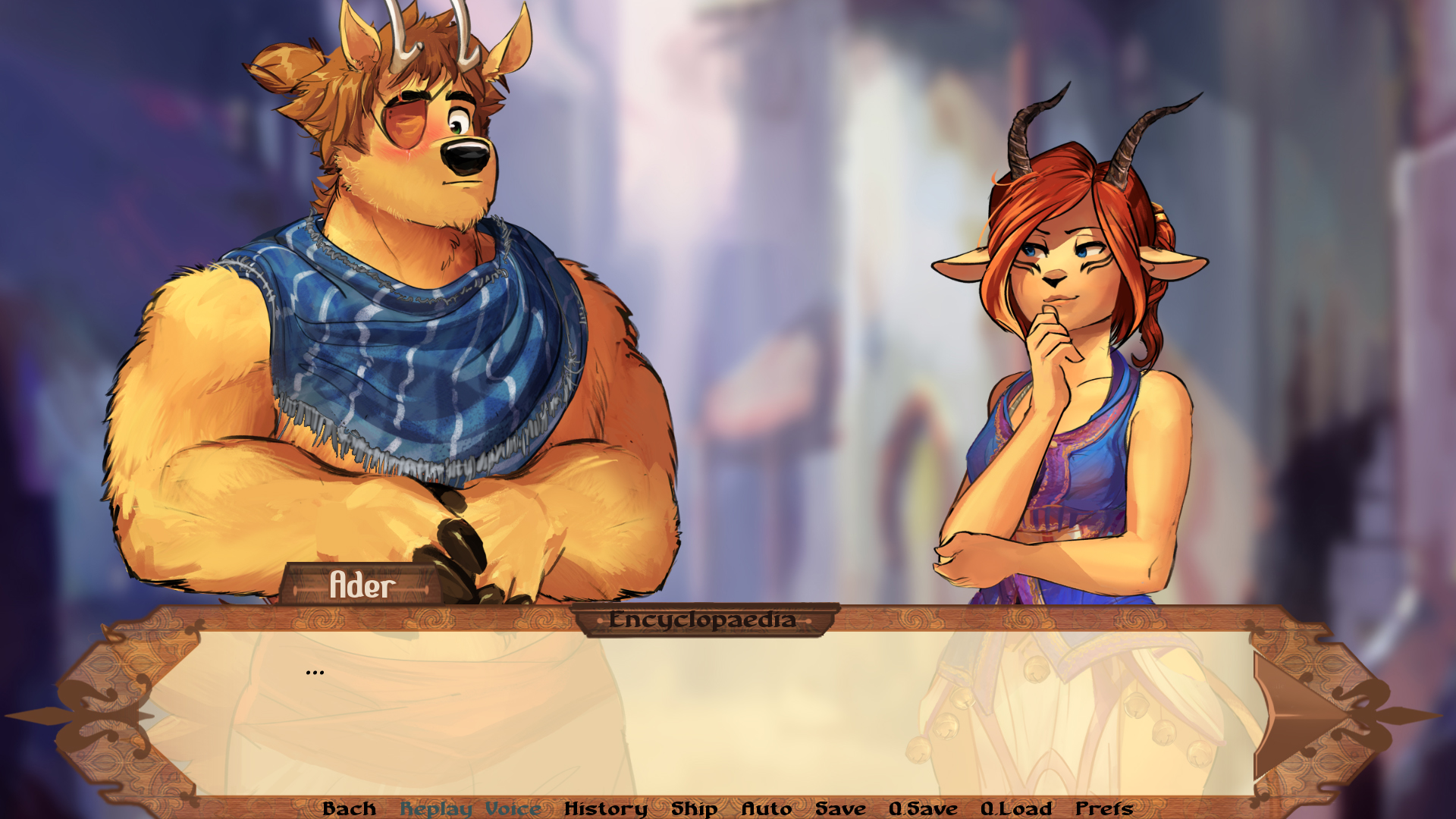 Playing as a perpetually embarrassed giant buck is always a plus right? Right?
WHY SUPPORT?
I'm crazy about this project! I devote every second I have to it, taking care of writing, programming and all the art as well! ...But every other expense, like music, voice acting, web hosting and advertising comes directly out of my pocket. The same pocket that pays for rent and food and healthcare expenses every month.
In June 2017 I suffered a wrist lession that made drawing extremely painful (believed to be a chronic tendonitis that, due to the small circumference of my wrist, causes Carpian Tunnel Syndrome-like symptoms).
It never healed properly, so I've been rendered basically income-less since I can't keep up with big companies' deadlines anymore.
I think
voice actors
are what really makes a character-driven story shine. They're bringing the characters to life after all, and I want to make sure to properly thank them for their job! VAs need more recognition!
The same goes for
music
! I could paint the brightest picture, and, with the right picture, make it look like the bleakest scene. That's just so cool! Art alone could never achieve that.
With your support...
I could afford to continue paying the absolutely amazing team of VAs and musician! 
Devote myself full time to the VN
Go to cons to let others know about this project! Share the LOVE! MAKE MERCHANDISE!
Hire someone that can actually make that battle minigame work
(
Due to my wrist injury, however, I can't offer much in the way of art rewards anymore)


So help me help you help everyone's favorite deer husbando as he makes his way from the city slums to the top! A story full of adorable characters, snarky comments, great voice acting, flowery language, and... love?! Nah, more snark.