SandraMJ
is creating The Hayseed Knight
Select a membership level
SQUIRE!
I can go buy some lunch with this!
Get access to patreon exclusive content once the VN is complete!
Get the Squire role on Discord!
KNIGHT IN SHINING ARMOR!!
You're helping me complete this game like a true knight!
Get access to patreon exclusive content once the VN is complete!
Free digital THK artbook once it's released!
Your name in the credits!
Get the Knight role on Discord!
About SandraMJ

Hey there! My name is Sandra Molina Juan, but the internet knows me better as
SandraMJ
.
I'm a 23-year-old Spanish non-binary retired freelance colorist. I used to be quite successful at my job, working for clients such as Blizzard and DC Comics, but I had to quit after a bad wrist injury that never healed properly in 2017.
I'm switching careers towards Voice Direction, but in the meantime I'm working exclusively developing
The Hayseed Knight
all on my own!

The Hayseed Knight
is a
free, fully voice acted
indie visual novel that follows the adventures of Ader, a one eyed deer hustling desperately to fulfill his dream: becoming a knight. On a meta sense, the player is The Narrator, a character hellbent on finding out what truly happened to Ader and his friends, who are little more than legendary characters at this point.
Development for the visual novel started officially in May 2017. As of August 2019, there are
two chapters
currently available with a
third one
coming soon! I've been working on this for quite a while now!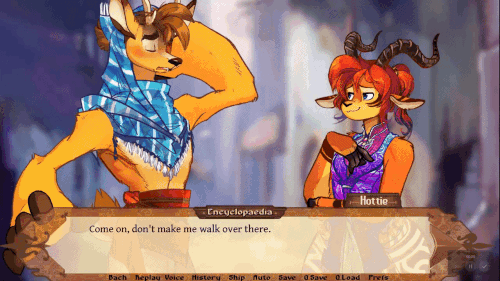 Playing as a perpetually embarrassed giant buck is always a plus right? Right?

Well, I'm crazy about this project! I devote every second I have to it, as I'm THK's sole writer, artist, voice director, programmer, audio engineer, Spanish translator—
Everything.
I do everything on my own.
That lets me work on such a high profile project quite frugally... but I still need
A Lot of Money
to make this game because I want to pay my
voice actors
and occasional
musicians
fairly, even if the game is completely free. But this same pocket that believes in paying everyone else is the one that pays for
rent and food and healthcare expenses every month.
Since I'm currently caught between careers while I find more work as a Voice Director, Patreon is the one thing keeping me afloat. If I can't secure enough funds, I'll have to stop making THK altogether after years of hard work.
TL;DR, with your support...
I could afford to continue paying the absolutely amazing team of VAs and musician! 
Devote myself full time to the VN without worrying about dying!
Go to cons to let others know about this project! Share the LOVE! MAKE MERCHANDISE!
Hire someone that can actually make that battle minigame work!

So help me help you help everyone's favorite buck make his way from the city slums to the top! A story full of adorable characters, snarky comments, great voice acting, flowery language, and... love?! Nah, more snark.
$435.72 of $500
per month
This covers completely the rent for the new appartment I'll be moving to! With that out of the way, I can focus more of my time on the VN!
I'd still have to take gigs to save for voice acting, but at least I won't starve!

1 of 4
By becoming a patron, you'll instantly unlock access to 10 exclusive posts
By becoming a patron, you'll instantly unlock access to 10 exclusive posts
How it works
Get started in 2 minutes