The Huichol Center for Cultural Survival and Traditional Arts
is creating gardens to prevent covid19 food shortages in Huichol region
Select a membership level
Seeds of Hope: Germinators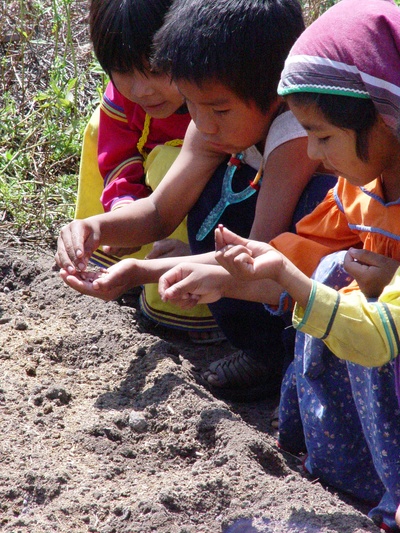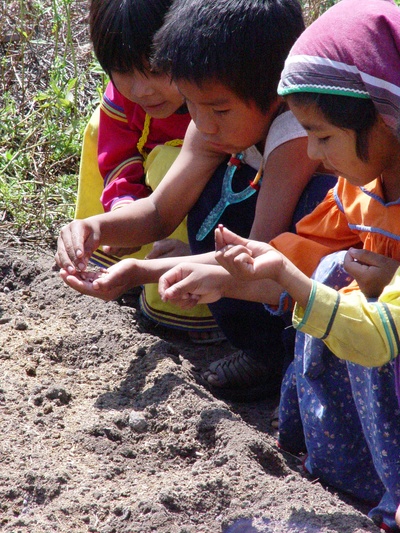 Our Mother Fertile Earth, "
Tah tay Utu anáka",
is ready to receive the baby seeds. Your donation will help purchase seed packets, as we expand our community Permaculture Demo Site, and teach Huichols to create and sustain their own gardens. In the spirit of gratitude, we will provide you with
A monthly update with photos about the status of the project
Invitations to monthly Zoom calls with Huichol Center participants and other Patreon sponsors
Seeds of Growth: Regenerators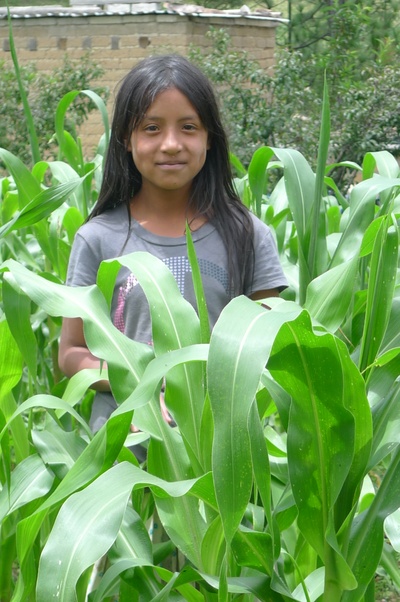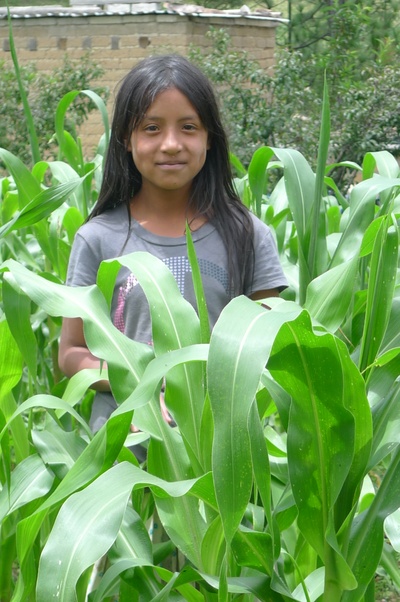 The Wixárika people give thanks to the regenerative forces of nature, such as Mother Fertile Earth ( "Tah-tay-Yurie-ahnah ka"),  Father Sun (
"Tah cau yeh"
) the rain mothers (
"Tah tay tay mah")
and Great Grandmother Growth ("
Tacutsi Nakawe")
who transform the baby seeds into thriving plants. Your donation will help purchase irrigation supplies for watering the gardens and trees. In the spirit of gratitude, we will provide you with
Everything in the previous tier
 Exclusive downloadable coloring pages of Huichol art
A monthly downloadable photo from the Huichol Center's private art collection
Seeds of Enlightenment: Lightworkers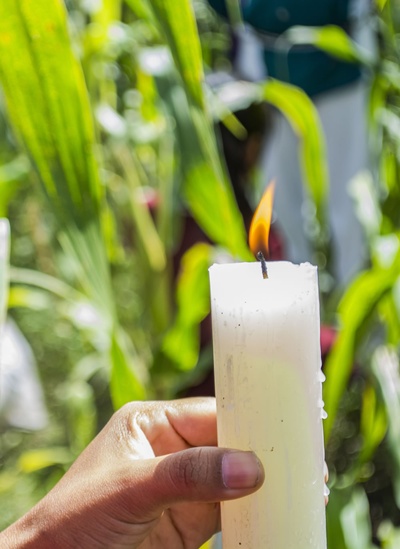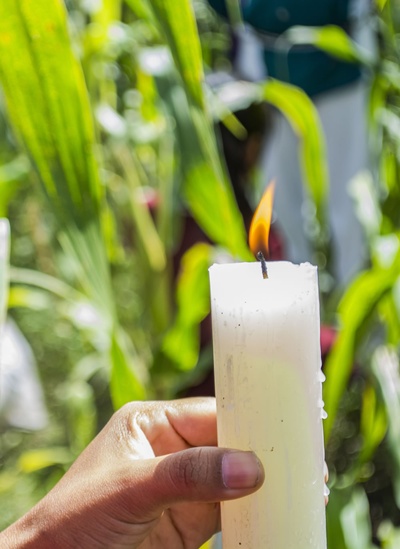 The enlightened tradition keepers,
"mara-káh.mays",
perform rituals to invoke the spirits of the land and venerate the life-giving forces of nature for plentiful crops and abundance. Your donation will help purchase garden tools for Wixárika people as they learn to create and sustain their own gardens, while honoring Mother Nature.  With appreciation, we will provide you with
Everything in the previous tiers
A personalized thank you email from a Huichol young person, written in their native language and translated into English or Spanish
Downloads of exclusive photographs from the Huichol Center's "Ethnographic Archive" of medicine men and women practicing rituals 
About The Huichol Center for Cultural Survival and Traditional Arts
Huichol Center Emergency Gardens to Feed Families During the Pandemic
"From Sewing Beads to Sowing Seeds"
The Huichol Center for Cultural Survival and Traditional Arts was created in 1993 by anthropologist Susana Valadez (a Nobel Peace Prize nominee in 2019) to provide assistance to the endangered Huichol, also known as the Wixárika indigenous culture of Mexico. This ancient Uto-Aztecan tribe, is struggling for survival in the modern world. They have long resisted assimilation into the dominant culture, but intense pressure from the modern industrial society has caused them to lose many traditions and survival skills. Brutal poverty abounds in their remote mountain communities, where they previously lived undisturbed for millennia. Even so, their medicine people still pass down the indigenous wisdom, oral traditions and tribal ways of their beautiful culture. Wixárika people are especially vulnerable to this virus as poor diets and living conditions have people fearful for the wellbeing of their families, and especially the elders, who are the guardians of their ancient knowledge. The Huichol Center, a non-governmental, non-denominational organization is a well-loved grassroots humanitarian institution in Huejuquilla el Alto, Jalisco that is responding to this call for immediate action.
For years, the Huichol Center has been a formidable foe against mal-nutrition and the destructive forces of poverty that are disintegrating the core of the age-old Wixárika tribe and their profoundly spiritual way of life. Up until the impact of the corona virus recently caused our economic collapse, the innovative strategies implemented by the Huichol Center were thriving as we accompany the Wixárika people in their fight to sustain their families, culture and legacy. But now, many of our programs have succumbed to the loss of our income stream that depended on the production and sale of their exquisite artwork. The Huichol Center is no longer in the position to support most of the projects that provided livelihood and aid for so many people, young and old. Programs described on our website (
https://www.thehuicholcenter.org
) such as the Huichol Center Native Language School, the "Handcrafts, not Handouts" skill training programs in the arts, Medical Assistance, the Ethnographic Archive, and Support for the Tradition Keepers have been suspended indefinitely. The good news is that the Permaculture Demo Site where people learn how to grow their own food is still up and running, and a valuable resource during these unprecedented times.
The Huichol Center Permaculture Demonstration Site project, established in 2010, is presently in a race against time to feed families in crisis. As the coronavirus famine is fast approaching our remote region, we at the Huichol Center take solace in knowing that our programs had the foresight to teach eco-friendly techniques for creating sustainable organic gardens, orchards and farms. This preparedness is now working to the advantage of the Wixárka people because the on-going permaculture project has already laid the groundwork for the new gardens and crops that are now urgently needed to increase food production yields. For many years the Huichol Center has been demonstrating how to end hunger by teaching permaculture and other low–cost agricultural practices to impoverished adults and school children. These techniques are compatible with their traditional practices and relationships to the spirit of the land, which is of utmost importance. The eco-technologies practiced at this community demonstration site for food sovereignty include water conservation, small animal husbandry, aquaponics, organic gardens and orchards, seed banking, composting, soil rebuilding, worm farming and much more. In order to avert the potentially catastrophic effects of covid19, it is a critical time for them to put these skills to use. The artists have made the transition from "sewing beads to sowing seeds," as they await the uncertain ending of this global crisis. The providers are now growing healthy organic food to ward off the wave of starvation on the horizon. Good food and good eating habits will sustain their families until they can rebound from the devastating blow to their economic self-sufficiency.
Expanding food production on the farm with more gardens, fields and fish ponds will both grow food and stimulate economic growth in this destitute population. Farm to table surpluses can be bartered or sold to create new income streams. While the Huichol Center will use existing infra-structure to launch the project, it still requires funding to get it off the ground and sustain it. Donations will allow us to purchase seeds, irrigation hoses, garden tools, manure for the compost, feed for animals and fish, gasoline for garden trucks and to pump water, salaries for garden personnel, and money to pay monthly bills (i.e. electricity, phone, internet, rents, etc.). In addition, Huichol Center staff and participants (including teachers, administrative personnel, artists, cooks, maintenance and groundskeepers and others) are volunteering in the gardens in exchange for food. Now that the Huichol Center has lost its economic anchor during this storm surge of hardship, it has not been possible to pay salaries. Therefore, monthly funds are also needed to subsidize their purchases of basic non-garden food staples from stores, as well as to help them to pay their rents and monthly bills as we weather the storm together.
Your tax deductible donations will breathe life back into the Huichol Center. Please help us to not only teach people to grow their own food, but in the process, to plant seeds of hope, healing and unity needed to sustain their lives and cultural legacy. We may have lost our income, but we continue to keep our faith in the future. Once our organization is back on its feet, the Huichol Center will stand strong and continue to help this ancient tribe prevail over the obstacles that threaten their continued existence in today's tumultuous world.
By becoming a patron, you'll instantly unlock access to 9 exclusive posts
By becoming a patron, you'll instantly unlock access to 9 exclusive posts
Recent posts by The Huichol Center for Cultural Survival and Traditional Arts
How it works
Get started in 2 minutes