Basil Rosewater
is creating The Joyspiracy Theory
Select a membership level
Get exclusive patron-only merch
Bonus Content and Shoutout!
We all know TJT loves pets, AND PETS LOVE TJT! Give your pet the greatest gift of all; For a $5 a month gift I will shout out to your furry (or feathered, or scaly) friend on the show so they will truly know the depth of your love and appreciation for them!
Also you will get access to a private RSS feed where you will have access to BONUS MATERIAL delivered right to your phone! WHAT WHAT?!

Bonus content will include:

Special TJT shorts where Basil will share whats on his heart

Special Unreleased Interviews

Deleted exerpts
TJT Musical Musing by Basil
And more!
Joyspiracy Agent Transmission
Do you have a message you want to get out to the world? A Shout out to friends or family? A word of encouragement?

Now you can! At this level of support I will read a message from you on the podcast (up to 100 words) Here's your chance!
.................................................................................
(to give you an Idea of 50 words, everything above the dotted line! and remember, keep it clean and keep it cool,  no bummers!)

KITTEN EXPLOSION!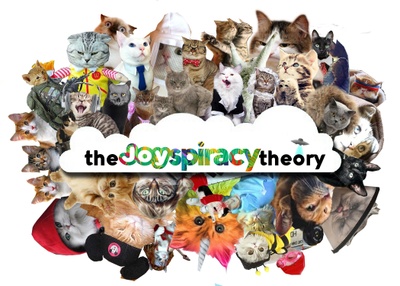 This tier is explosion of cats! It gets you the exclusive mug that features a bunch of cats that have been featured on TJT episode art work! There are so many cats...Can you scope them all!? 
An EXPLOSION OF CATS that've been featured on TJT ep. art!
TJT KITTY NUKE POSTER!
HERE'S THE POSTER YOU'VE BEEN WAITING FOR! Cats, so many cats! This poster is 12" by 18" and includes a TON of the cats that have been used on TJT artwork through the years! Can you match the cats to the episodes? You can spend hours scoping these fury friends and remembering the wonderful moments on the podcast! AND if you ever see me (Basil) at a conference, on a plane, or in the bathroom at the ballpark, I would love to sign it for you! 
This poster proudly presents 70+ cats from TJT episodes!
About
Hey Gang!
If you're reading this than you probably know about all the trouble the world is in. Nasty international banks, a handful of families controlling the world economic system for generations, black budgets, mind control programs, social engineering, chemtrails, manufactured wars, media and governmental corruption, NOT TO MENTION NEPHILIM, THE FLAT EARTH, OR INTERDIMENSIONAL BEINGS HARVESTING OUR ORGANS IN ORDER TO CORRUPT OUR GOD GIVEN DNA! 

Whether you believe in all of these, none of them, or...you know...something in between, the world can be a very stressful place. 

As Co-Host of Canary Cry Radio (with my good buddy Gonz) I've spent years researching these topics, interviewing experts, and fully immersing  myself in the stuff. 

SURPRISE! It can really start get you down. It only took a couple months before I started becoming frustrated, hopeless, and down right depressed at all the non-sense of this world. Many of you know what I'm talking about! 

Those of you who listen to the Canary Cry Radio podcast may notice that I'm quite chipper (most of the time.) Well those who have been listening since the beginning know that I wasn't always that way. 

It came to a point where I had to make a change. And after years of working through the emotional muck and the mire, I'm ready to start sharing what I've learned!

I'm going to start a PODCAST channel completely devoted to spreading of Joy that can be found (YES ITS TRUE!) amidst all the nasties of this world. We're called to be a light in the darkness, so lets get together and let our lights shine!

The project is called "The Joyspiracy Theory"  ...need I say more?

So whether you're a "Truther," a "seeker," a "conspiracy nut," a "prepper," or a "troll," get some rest and respite and a whole lotta joy from "The Joyspiracy Theory"

So nows the part where I ask for money..... hoooorrraaayyyyy.......

I feel very passionate that this sort of project is EXACTLY what our community needs. And I believe that deep down you know it too! Thats right...those dumb ol' bills gotta get paid.  But if "The Joyspiracy Theory" can garner enough support from people who love it as much as I do, I hope to someday make "The Joyspiracy Theory" a full time job/ministry. 

So please consider helping spread the Joyspiracy!
$236.12 of $500
per month
Wahoo! Reaching this goal will insure that episodes of The Joyspiracay Theory come out consistently. Don't you just hate when your favorite podcast is late? Like....6 months late? Well if we can reach this goal it will free up enough of that pesky thing we call "time" to make sure that podcasts get recorded, edited and published on time!

1 of 1
Become a patron to
Unlock 16 exclusive posts
Connect via private message
Recent posts by Basil Rosewater