Neil Cole
is creating The Museum of Classic Sci- Fi
Select a membership level
Space Cadet
Welcome aboard Space Cadet! The Space Marshall is extremely grateful to have you on board as you embark upon the adventures of the Starcruiser 'Museum of Classic Sci-Fi'! All crew are important and valued members on this ship!
Your cadet-issue kit bag for your exciting journey includes the following:
Your name etched in the ship's dwarf alloy hull* (a shout out on both the museum website and Facebook pages)
Communications update from the Captain (a quarterly, beautifully designed, printable pdf newsletter)
Access to the ship's intergalactic genetic specimen archive (Special, Free Museum Entry ticket voucher every four months).
Your ship's uniform insignia (as part of our 'thank you!' to you, after four months you will receive your 'Space Cadet' metal badge - exclusive to fellow cadets!)
Absolutely exclusive online content - museum updates - insider/behind the scenes posts direct to the Museum Patreon page....only viewable by patrons!
Exclusive offers
*Please note 'The Museum of Classic Sci-Fi' is not actually a starcruiser but a 300 year old Georgian cellar….with pieces of spaceship in it....
Free Museum Entry Vouchers

Metal 'Space Cadet' Badge

Quarterly - Printable PDF Newsletter Ideal for Printing & Collecting

Exclusive Behind the Scenes Online Information and Updates!
Starship Trooper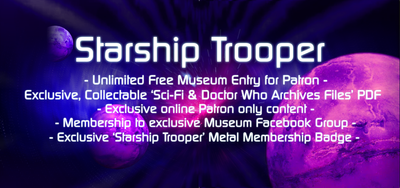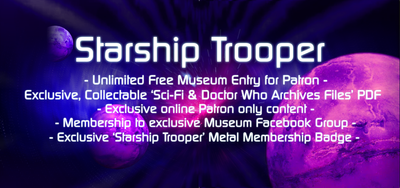 Hang on to your space armour trooper! As we pass the orbit of Pluto, to head into deep space, the ship is docking with a trading freighter for supplies... You are about to get an upgrade!
As part of your new improved trooper detail expect the following:
All previous tier benefits plus:
Unlimited access to the ship's genetic specimen archive (free unlimited entry to the museum for the patron)
Access to the ship's Alien Artefact Records:PDF copy of 'The Museum of Classic Sci-Fi Archive Files':  a collectable, series of visually stunning booklets, each looking at an exhibit in the museum archive in great detail with new, exclusive photographs and researched text. Designed to build into TWO unique collections of both classic era 'Doctor Who' and classic SF aliens and artefacts. We will be producing a special and exclusive binder to purchase in which you can collect all the Archive Files!  IMPORTANT:  At 'Starship Trooper' level The Archive File' is sent as a PDF - to obtain and collect a professionally printed and bound copy either UPGRADE to 'Space Guild Navigator' or higher tiers!  We will also sell issues separately for members who don't want to commit to a higher tier. 
Access to the ship's central com link (Membership to the exclusive, private museum facebook group - only accessible by patrons at 'Starship Trooper' level and above!)
Your ship's uniform insignia (your 'Starship Trooper' metal badge - exclusive to your fellow Galactic Mobile Infantry...and of course as you have risen from cadet level you will also receive a 'Space Cadet' badge as well!)
Exclusive online content - updates (only for patrons!) on the dedicated museum Patreon web page!
Unlimited Free Entry for Patron

Exclusive online posts and updates - patron only content!

Membership of Private Museum Facebook Group

Metal 'Starship Trooper' & 'Space Cadet' Badges

Professionally Printed & Posted Museum Archive Series - Exclusive Collectable Factfile
Space Guild Navigator
So...you're now 'folding space'... navigating and sailing the gravitational obstacles of space-time...your days of 'old-school' nuclear fusion and antimatter space travel are well and truly over!
Time to ditch the trooper armour and space helmet for some new equipment! Your space-time surfing gear is as follows:
All previous tier benefits plus:
INCREASED access to the ship's Alien Artefact Records:  Professionally printed copy of'The Museum of Classic Sci-Fi Archive Files': delivered to your door!  A collectable, series of full colour, visually stunning booklet/magazines, each looking at an exhibit in the museum archive in great detail with new, exclusive photographs and researched text. Designed to build into TWO unique collections of both classic era 'Doctor Who' and classic SF aliens and artefacts. We will be producing a special and exclusive binder to purchase in which you can collect all the Archive Files!  IMPORTANT: At 'Space Guild Navigator ' level and above, each issue of  'The Museum Archive File' will be posted to you in all  its glossy glory direct to your door!
Unlimited family access to the ship's genetic specimen archive (free unlimited entry family ticket to the museum for patron and another adult with accompanying children)
Regular crew meetings with the Captain via ship com-link (quarterly online group sci-fi discussions and Q&A with museum creator Neil Cole)
Incoming deep space video transmissions (exclusive video updates on current restoration projects)
Your ship's uniform insignia (your 'Space Guild Navigator' metal badge - exclusive to your fellow timespace bending colleagues -  and...as you've gone through the ranks we'll include 'Space Cadet' and 'Starship Trooper' badges as well!)
Metal 'Space Guild Navigator', 'Space Cadet' and 'Starship Trooper' Badges

Free, Unlimited Family ticket Entry to the Museum

Exclusive Online Group Meetings/Chats with Museum Curator Neil Cole

Exclusive Exhibit Restoration Videos

Professionally Printed & Posted Museum Archive Series - Exclusive Collectable Factfile
About Neil Cole
Greetings Earthlings!!!  Nestled within the beautiful landscape of the North Pennines
(Area of Outstanding Natural Beauty and World Heritage Site)
in Northumberland sits
the UK's only permanent, dedicated Science Fiction History Museum
; committed to telling both the story of this phenomenal genre and the classic era of the UK's premiere SF television icon 'Doctor Who'.  The museum illustrates its narratives through an extensive range of original, unique screen-used props, costumes, production material, published artwork and bespoke miniatures.
The Core Aims of the museum:
Enabling shared public access to the collection and the preservation of cultural heritage for future generations.  The mission: to ensure fans have a science fiction destination to visit all year round.  The museum is a special place enabling fans to connect first hand with our shared artistic SF heritage:  original, surviving artefacts that formed an essential part of our childhoods and shaped our understanding of the 'real' world about us.
The conservation of cultural heritage for future generations. Museum creator, curator and artist Neil Cole has collected and researched surviving props and costumes from the classic years of 'Doctor Who' for nearly three decades. His patience and life experience acquiring skills in multiple arts media have enabled him to rescue and save many unique monsters and creations from the worlds of television and movie history. The museum now houses several unique monsters that were abandoned by the BBC (and other other production companies) and that are now in a stable and safe condition, on display for everyone to visit and experience.  It is Neil's goal to continue to run and curate the museum for so long as he draws breath... and enable you continued access to these wonderful exhibits.
Promoting The North Pennines and  Northumberland as a wonderful destination for travellers and helping our local rural economy.  Neil is proud to have been born and to live in his home county of Northumberland. The museum is situated in the stunning Allen Valley within a welcoming village market place, surrounded by dramatic walks and historic features. Visitors to the museum will not only experience a significant archive of classic science-fiction artefacts but a breathtaking, historic landscape: the perfect location to unwind and have a break.     
The Inspiration for 'The Museum of Classic Sci-Fi' with its creator Neil Cole.The 20th Century:
   When I was six years old
(in 1975/6)
, I visited the original BBC Blackpool 'Doctor Who' Exhibition. The borderline between reality and fiction blurred as I left a sunny seaside street to descend into the darkened realm of my favourite television programme. I was transfixed: The sheer thrill of seeing the actual props from 'Doctor Who' direct from the screen, first hand, could not be underestimated. I swore that one day I would try and recreate a similar experience myself. 
The 21st Century:
   The beloved 'Blackpool Doctor Who Museum' closed its doors in 2009 and I was crestfallen. In 2010 the BBC sold off its stock of remaining classic era 'Doctor Who' monsters from the museum and I knew that most would end up in private collectors' rooms never to be seen again except perhaps on collectors' web pages.  I was determined to secure at least some of these classic exhibits and to one day return them to public display. 
Having saved and sold anything I could, I managed to acquire several monsters from the famous 2010 auction
(all requiring restoration)
.  Alongside my increasingly extensive collection
(from over 20 years of collecting)
 I felt that I could finally create something memorable for fans. In addition I knew it was important to expand the scope of the museum to include other popular franchises such as 'Star Wars', 'Star Trek', 'Alien' and the 'Marvel' universe. However, before I could begin I needed to overcome a
massive
obstacle - finding somewhere to house and become the museum!
So began a personal five year odyssey to recreate the magic of that Blackpool exhibition way back in 1975. It's been one hell of a journey, with stops along the way including the 3-year restoration of the dilapidated, flooded ground floor of a Georgian Townhouse, painstakingly restoring childhood monsters, filming with NETFLIX
('Amazing Interiors' Episode 3)  
https://g.co/kgs/yZoU92
, opening the museum with Doctor Who's own Sergeant Benton
(actor John Levene)
https://m.youtube.com/watch?v=EXCM541zvwM&t=45s
and appearances world wide
(including on the BBC's satirical show  'Have I Got News For You')
as part of our mega-battle with our County Council for daring to stand a 'Dalek' outside our museum! 
'The Museum of Classic Sci-Fi' stands as a testament to my own determination and that of my family and some dear friends to create something special and unique, despite the obstacles we faced.  The museum has now been open for two years
(although it was shut for six months during the UK's full COVID lockdown)
. It has attracted over 3,000 visitors to the North Pennines from all over the UK and even abroad helping our local, rural economy.  My childhood promise to create a permanent place for science fiction enthusiasts to be able to visit all year round has well and truly begun!
Patreon and The Museum of Classic Sci-Fi:
After a great deal of consideration
(and including requests from overseas followers of the museum project)
we have decided to launch the museum on Patreon. For one thing, we have been asked repeatedly for a type of 'season ticket' for multiple visits and Patreon gives us the option to provide this and it also gives supporters some extra value to boot.
At its core, the museum has been very much a deeply personal journey. On a daily basis, I work single handedly on all aspects of the museum including prop conservation/restoration, display construction, artwork, prop research, plaque design, building maintenance, cleaning, correspondence and web based work
(managing the museum web and facebook pages
).  What I quickly discovered was that beyond the idea and subsequent realisation of 'creating a museum'
(quite a job in itself!)
there is a raft of essential work required to ensure the museum remains vital and...stays open!  
Unlike many larger institutions, 'The Museum of Classic Sci-Fi' receives no government or charitable funding and as such we reluctantly operate with an entrance fee. We seriously considered launching the project as a charity as it is, in many aspects, a 'not for profit' project. The reason we decided not to go down this path was that I had a strong artistic vision of what I wanted to achieve...and just wanted to 'get on with it'! To create a charity or 'not for profit' organisation involved multiple, time consuming and costly steps: setting up 'a board of directors' and a succession of legal hoops through which to jump.  All of these would have complicated and hindered the process of myself actually creating the museum as I knew it should be
(and just 'getting on with it'!)
.  I do feel I made the correct choice: the museum's inherent creative freedom ultimately makes it so unique - unfettered by 'design by committee'.
How you will help by becoming a 'Museum of Classic Sci-Fi' Patreon
Clearly the museum costs money to keep going!  As it is very much a small family business, we pay for the upkeep and running costs of the museum which are as follows:
Building Running Costs. The museum building is the ground floor cellar of a listed, 300 year old stone Georgian Townhouse- by its very nature cool...and damp!  On the plus side, the temperature is consistent (great for preserving rubber!) on the down side - the increased damp is extremely bad news for many materials used in the exhibits (such as certain fabrics, rubber and paper objects).  Following our extensive three year restoration of the stonework, drainage and repairing of the cellar, the humidity is controlled by a small army of dehumidifiers that run throughout the cellar night and day.  This enables us to protect both the heritage inherent within the museum collection and the heritage building it is housed within- and is essential in allowing the public to be able to experience both.  Beyond the dehumidification costs we have the multitude of screens, lights and heating to also factor in. Income from Patreon will help with the fundamental costs of heating, lighting and environmental stability such as dehumidification and temperature. 
Manning the museum.  I have been a school teacher for 25 years in which time I have always placed my own artistic endeavors on hold and dedicated the majority of my waking hours to the pupils under my care. In my mid-forties, I decided that if I was ever to fulfil this life-long dream of creating a small SF/Doctor Who museum I would need to steadily devote more time to it.  Not possessing the substantial finances required to pay a multitude of professionals to construct the museum for me (such as stoneworkers, prop restorers, specialist joiners and electricians) I knew to get the project off the ground, I would have to do most aspects of the work myself.  What I needed most was time. Gradually over the last five years I began to reduce my teaching hours to construct the museum and allow myself to man the museum (and open an extra day per week). I also knew I was going to need time to evolve underdeveloped aspects of the project (such as writing publications and restoring new exhibits).   The negative side of this was that less money was now coming into the family home from teaching.  With the museum depending upon visitors and entrance fees for income, the first two years of the museum have been substantially supported by my teaching.  In any artistic pursuit there is always a 'tipping point' where (unless you are extremely fortunate and independently wealthy) the artist must 'step off the precipice' and sacrifice secure income in order to fully realise the art. I realised I had reached this point this year and with family support reduced my teaching hours significantly to two days so I could finally give the majority of each week's working hours to the museum. Ultimately in the museum there are days when there are no visitors, especially in the winter months.  Income from Patreon will help me keep the museum open throughout the year and whilst it is quiet, prepare new exhibits, artworks and develop new strands to the museum such as a regular Podcast.
Museum Exhibits and Conservation/Restoration Work.  The museum exhibits are costly items.  However I have been able to make substantial savings in building the museum collection by performing my own restoration and preservation work whilst also constructing bespoke displays.  Despite these savings, restoration/conservation work and the associated costs in terms of materials and the time, still remain.  Patreon income will help massively with these costs helping the creation of new exhibits for visitors and the conservation of popular cultural heritage that would otherwise simply not happen.
Become part of the journey...
By becoming a patreon of the Museum of Classic Sci-Fi you are joining us on our journey. We will ensure you are very much a part of it. As a museum patron we have a multitude of special benefits to take you with us including free entry to the museum, guided tours, original artwork
(made especially for you by Neil)
 and even a collectable, printable museum fact-file that will build into a comprehensive archive of the museum collection- a must for SF enthusiasts!  Patrons will be able to access a wealth of specially prepared virtual tours, museum watch parties and live discussions.  The upcoming Museum podcast and video vlog will have extra bonus content made especially for patrons alongside some new, unique merchandise.  We are wanting to help build our museum community.  We want our patrons to feel truly connected with, and have access to, the project. We are all enthusiasts, passionate about this most wonderful genre. At the museum we are custodians of some incredible pieces of genre history and it is our duty to ensure these can by enjoyed by everyone, not the lucky few! 
We look forward to welcoming you on our shared journey together!
Neil Cole:  'The Museum of Classic Sci-Fi'  -  Allendale, Northumberland, UK.   
By becoming a patron, you'll instantly unlock access to 43 exclusive posts
By becoming a patron, you'll instantly unlock access to 43 exclusive posts
Recent posts by Neil Cole
How it works
Get started in 2 minutes