Select a membership level
You, The ZombieNation, have kept The Nearly Deads..... Alive! It has been a decade now since our very first release and the virus of (Rock, Live Music, Pop Culture, Positivity and Love for one another) spread amongst all of you across the world. Through your support we have been able to continue to create music and videos for all these years. This tier is an entrance fee into the ZombieNation and a demonstration of your continued interest in our cherished project. Every $1 means the world to us and helps keep this machine running. It's donations like these that enable us to continue to make content and share our time and talents with you all. Again, from the bottom of our oozing, smelly, decomposing hearts; thank you for being a part of our lives!
Ultimate FRAND Club!!!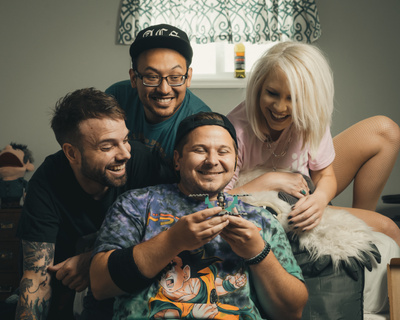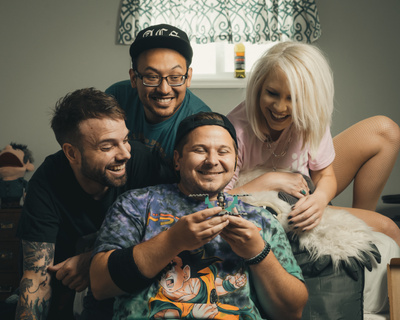 This is it! The one stop shop for everything Nearly Deads! ONE TIER TO RULE THEM ALL!

Our goal is to make it streamlined and simple for all of our Frands (Friend Fans) out there who want to show your support and gain direct access to us as a group and individuals. We are not here to nickel and dime our fans or make things complicated. Content requires funding, this much is true, but the process should be fun and stress free as well. The way we see it, if you're willing to contribute $5 monthly of your hard earned money to our project, then you should get it all! We can't guarantee how often the content will come, but we can guarantee that you, as a member of the club, will receive every bit of content (Music, videos, photos) for free, early access to this content, a look behind the scenes, exclusives, discounts on merchandise and more. If we are offering it, you get it! You are greatly appreciated and we could not continue this journey without our Frands helping along the way

Early Access to Content and Tickets

Behind-the-scenes content
About The Nearly Deads
Who are The Nearly Deads?
If you were to google search "
The Nearly Deads
", you would probably find descriptions of us as an "Alternative Rock Band based out of
Nashville TN
, made up of vocalist and pianist
Theresa Jeane
, guitarist
Steven Tobi
, guitarist
Javier Garza Jr
and drummer
Josh Perrone
." While true at face value,
The Nearly Deads
are so much more. We are a community, an experience, a safe haven and outlet. Alternatively dubbed by our beloved
Frands
, we are the
Zombie Nation
!
So what is the Zombie Nation?
If you are like any one of us in the band or the many
Zombies
already a part of this community, you have probably experienced moments in your life where you've felt excluded or out of place; maybe lost or at a
Point of No Return
; you've been made to believe you're quirky, a nerd or loser to name a few. Well here in the
Zombie Nation
, these are qualities we embrace and believe make each one of us
Special
! We know that life can get tough sometimes and thats why it's important to have positive people around to
Watch Your Back
and help each other stay 
Brave
. Our goal in the
Zombie Nation
is to use Music, Videos, Live Streams, Gaming, Online Community and Gatherings to help Inspire, Build Up and Challenge each other toward better selves and a brighter future. We not only want you to feel more deeply connected to us as a band, but also find fellowship amongst each other. When you're part of the
Zombie Nation
, you're never alone. We are all part of this
Freak Show
and we'll
Never Look Back! 



How Can You Share in the Community?




Since you're on this page and reading this, we can assume you are aware of Patreon and how it works; so we won't bore you with the tech talk, business gibberish and stuff you don't care about :) Our
Zombies
might be undead, but ya'll aren't brain dead!
Basically, this band and community cannot function without the generous donations from incredible people such as yourself. How much you'd like to contribute, we leave entirely up to you and we have created a variety of exclusive content to make your contributions feel appreciated. For example: you can become a member for as little as $1 a month, $5 or if you have so many bundles of cold hard cash lying around and cluttering your house that it's making you sick, you could contribute $1000 a month! We would be happy to do you the favor and put it to good use :) Speaking of good use, I'm sure you're wondering where these donations go? It's very simple! All the music you hear, videos you watch, merchandise, streams you view, games you play with us, or prizes you receive, all require a monetary cost to create, run and maintain.  As an independent band, our only source of financial backing comes from our personal incomes and the overly generous members of this community. Therefore, from the bottom of our hearts, we sincerely thank you for choosing to invest your hard-earned time, support, and money into our beloved project! We hope that you enjoy getting to know us on a deeper level and we look forward to growing into the future with all of you!
Our goal is to release an Acoustic Album and Brand new full length this year! It's a lofty goal, we know, but we have tricks. To make this obtainable, its best to target small goals along the way and that's where you come in. See, we are already putting you to work :)

GOAL #2 - Lets surpass the heights of our previous patron community and grow the new and improved ZombieNation to 150 Patrons! To show our gratitude, we will be giving all $3 and up patrons a free download of our very first, never release Demo!!! Talk about exclusive prizes :)
1 of 1
Become a patron to
Unlock 195 exclusive posts
Get discounts to an online store
Connect via private message
Recent posts by The Nearly Deads