Hey there!
Thanks for making your way to The New Family's Patreon page. I'm Brandie Weikle, creator of this site and podcast, and I'm excited to tell you what we're all about and why we've launched this campaign.
I believe that family is up to us to define.
I'm a long-time parenting journalist (
Canadian Family, The Toronto Star, Today's Parent
, etc.) and a member of a family that many would describe as "non-traditional." I live
next door to the father of my children
and his second wife.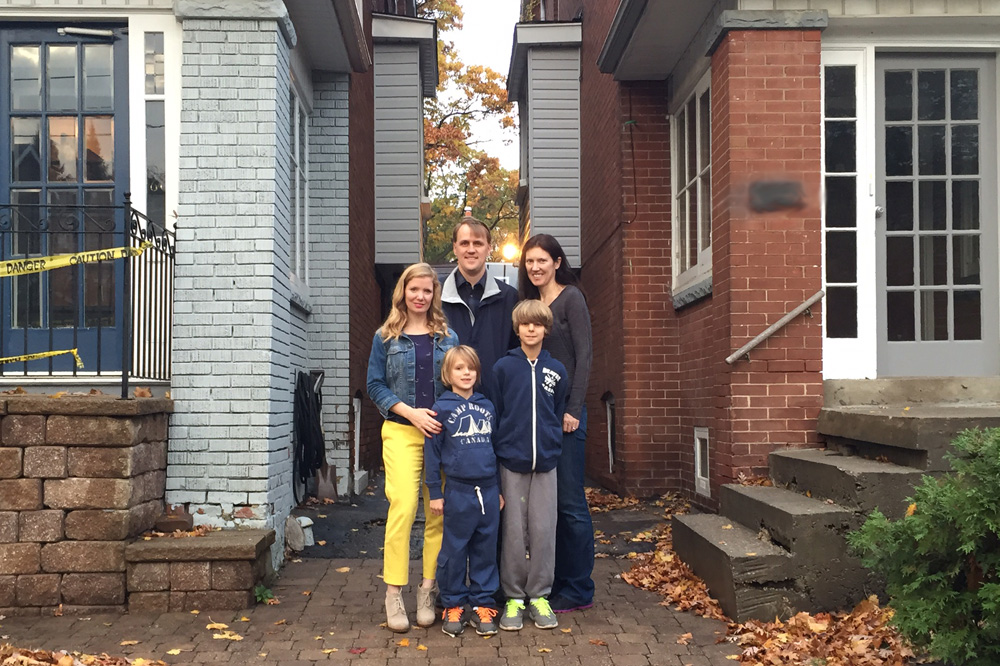 I decided to launch a
website
and
podcast
dedicated to exploring and celebrating the many forms that family takes today. That's because I'd observed that much of parenting media operates from a default position that assumes all families look like this: a married mom and dad, a couple of kids, and maybe a golden retriever. And if your family
doesn't
— because you're in a same-sex relationship, embarking on parenthood alone, sharing a home with a friend, getting a divorce — it can feel a little excluding.
The 1,000 Families Project
Our site's guest blog series, the 1,000 Families Project — also known as "I bet we can find a thousand ways to be a family" — immediately touched a nerve. People wrote to say they found the posts validating because, until they discovered the project, they'd felt like maybe their family life didn't quite measure up. Others said that even though they aren't parents, they read the series loyally because it offers an interesting glimpse into the human condition simply by showing all the different ways that people form families. The site won Best Blog at the Canadian Online Publishing Awards in 2015 and is — I'm humbled to share — a finalist in three categories this year!
The New Family Podcast
A year after launching, we expanded our offerings with a top-rated podcast bringing these stories to life through the power of audio. Twice a week, I interview some of the most compelling people whose stories represent the changing face of family. And I speak to parenting experts with great insights to share on the challenges of raising kids in these interesting times.
Response has been great. The show dominated iTunes New & Noteworthy's Kids & Family category during the launch period, as well as in Society and in Education. It was the subject of CBC radio interviews from coast to coast. The New Family has also been featured in
The Toronto Star, Huffington Post
,
Parents Canada
and on numerous other sites and podcasts.
I love creating this podcast. It's been incredibly rewarding. However, it could easily be a full-time job. I put a great deal of research and preparation into finding great subjects and preparing for those interviews. I act as my own producer and outsource the audio editing to an expert so that it's worthy of your eardrums. While we've have a few sponsors, I've found acting as my own marketing manager difficult while also producing the show and building the audience. The result is that the show currently costs me money to produce.
Ensuring sustainability
I want to ensure the podcast and website remain sustainable so I can continue to offer great content for free. I do numerous consulting, writing and editing jobs to pay the bills, and that means I'm often working on the podcast and website in the wee hours. I'd love to cut back on outside work once the the site and show are generating more income so I can focus on serving my community (including my free, 1000+ member
co-parenting support group
), pushing the agenda of family diversity, and empowering people to define their families however they damn well please.
I would never expect anything of my readers and listeners other than to show up and enjoy the content. But if you're game to get more involved, I'd be forever grateful to welcome you to join me on my mission. Your support will secure what we do and help to make us better. I'd like to improve the podcast by adding some documentary-style episodes to the mix, and those cost many times more to produce than regular interview episodes. I'd also like to produce live events, such as podcast-recordings in front of an audience, plus and real and virtual seminars on the state of family.
Every listener and reader makes a big difference, and I thank you from the bottom of my heart for every post you click on and episode you play. The New Family is available to anyone who wants to listen, read and enjoy. You can help simply by showing a friend how to subscribe and listen on their phone, or by asking them to
sign up to get our newsletter
(they'll get a free e-book if they do). But if you find yourself inspired by our missions and able to help us get to the next level, please consider contributing a small amount each month toward the show and website. Maybe your parents always donated to PBS or TVO. This is a little like the 2016 version of that for smaller-scale creators. If you can spare $1, $3 or even a little more each month, you'd blow my sleep-addled mind.
As a patron you'll automatically get access to our member-only feed, where I intend to share some behind-the-scenes stuff, and at various support levels I'll be delivering bonus content like longer versions of some of our most interesting interviews. 
Thank you so much for reading and listening, and for taking the time to learn a little bit more about The New Family.
Brandie Weikle
Host,
The New Family Podcast
Editor & Publisher,
The New Family