The People's Colloquium
is creating education in philosophy and creative writing
Select a membership level
Annual Anthology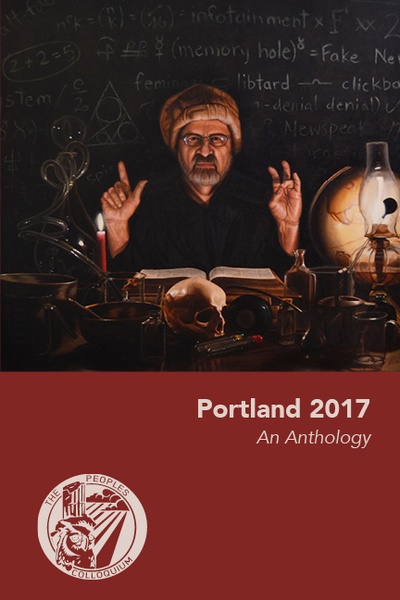 The People's Colloquium releases regular anthologies composed of original prose and poetry written by those participating in our writer's workshops, and accompanied by the artwork of local artists - you'll receive our anthologies as we release them. (Rewards will be given after 6 months of donations.)
Apparel and Anthology
In addition to our anthologies, you'll receive a t-shirt with our logo printed upon it. (Rewards will be given after 6 months of donations.)
Choose a featured speaker!
In addition to receiving our anthologies and t-shirt, you're invited to choose a featured speaker. The People's Colloquium will reach out to that individual and invite them to speak either in person or by teleconference at a People's Colloquium event. (Rewards will be given after 6 months of donations.)
About
What is The People's Colloquium?
The People's Colloquium is a 501(c)3 community-based nonprofit. We offer free education in the arts and humanities, with a focus on creative writing and philosophy. At The People's Colloquium, participants are provided with opportunities to read, write, critique, be critiqued, speak, listen, debate, and learn – which is exactly what we believe a colloquium should be! To find out more about us, please visit our website: PeoplesColloquium.org
What is the Colloquium's mission?
increase knowledge in philosophy and creative writing
prepare participants for future education and careers
create meaningful and supportive communities
save participants money on programs that would be costly elsewhere
Why raise donations?
All our educational offerings are free and open to the public, and we believe that it's important they remain this way, but there are also costs associated with running a nonprofit and our various programs.
What does philosophy at The People's Colloquium look like?


What do writer's critique groups at The People's Colloquium look like?
Thank you!
Together we're building a resource for all those living in the greater Portland metropolitan area, visitors to our wonderful city, your friends and loved ones, and - you!
Remember, because The People's Colloquium is a registered 501(c)3 nonprofit, all your donations are tax deductible.
To find out more about The People's Colloquium, its mission, and its educational ecosystem, please visit PeoplesColloquium.org, or contact us at
[email protected]
Month by month expenses vary, but generally our funds are allocated to the following:


featured speaker payments
nonprofit business costs such as licenses, purchasing of materials 
paying startup debt 
advertising, website updates, and web hosting
donor rewards
printing and design of materials

Any funds left over will be used to throw parties once or twice a year, and do other fun things for the community. :-D

1 of 1