The Pocalypse
is an interactive, animated webcomic/series started in 2010 by me, Joe Pendon. The story revolves around a group of extraordinary people in a post-apocalyptic world full of your run-of-the-mill zombies, superhuman mutants, man-eating plant monsters, backstabbing vampires, heartless machines, and hybrid mixes of all the above :D Featuring a hero that you'll love to hate from the first scene right up to where we are now.
Catch up to the story by checking out the 
Story Recaps
!

I've always been super appreciative and blown away by the support I've received from viewers throughout the years. All of your support has kept my little story going :D 
I'm using Patreon as another means of support. It's another way I can give more of my time and focus into The Pocalypse - from the story itself to site improvements to games. The Pocalypse is not my full-time job but I believe that it can be and I would absolutely love it to be :D
I love telling this story and I love all of you for reading! Even if nothing comes from Patreon, I'll completely understand and it won't affect The Pocalypse schedule or my desire to keep the story going. I want to know what happens just as much as you do!

I made it so that you only get charged once a month and I guarantee to put up 4 scenes in a month. If I miss a week, I'll put up 2 scene the next week :D
Pledge $1 or more per month
 A huge thanks for supporting me! Every dollar goes a long way :D You also get access to my Patreon activity stream for any The Pocalypse stuff that I want to post there - sketches, story ideas, concepts, exclusive streams, etc.
Pledge $5 or more per month
You get your own sprite on the site's Patron's Bar! And, all of the above rewards!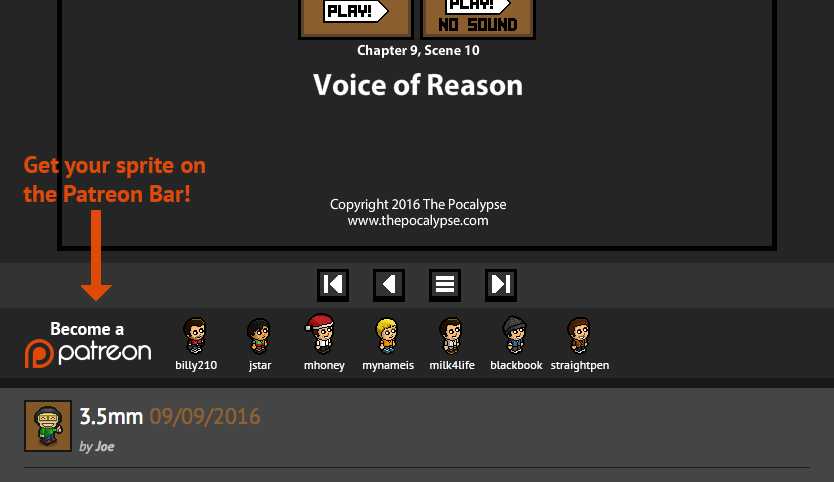 Pledge $10 or more per month
Get your Patron's Bar sprite to say a message! Be it a quote or anything else you wanna say (with my approval :D). And, all of the above rewards!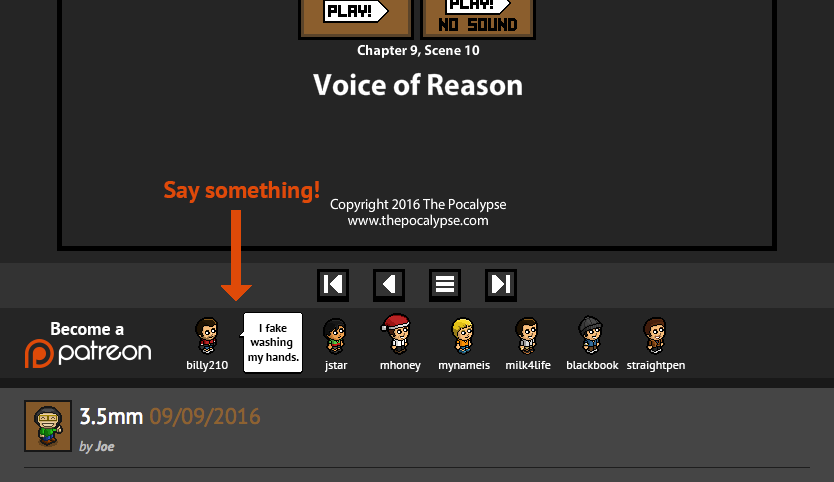 Pledge $25 or more per month
Your sprite will make a cameo in a scene once a month! Depending on the story, you could be a colonist, zombie, vampire, corpse - anything, really! And, all of the above rewards!
Thank you all again and again for all your support! I'll keep making The Pocalypse happen!