The Poet's Lair
is creating a learning community for poets & creative writers.
Select a membership level
Get exclusive patron-only merch
The Poet's Lair – Lobby Dwellers
Lobby Dwellers are ready to learn more about poetry and nurturing their creative selves. Members of this tier get the exclusive The Poet's Lair Patreon Newsletter.
Become a part of the Poet's Lair community
Get access to The Poet's Lair Patreon page.
Learn about poetic devices.
Learn about famous poets & poems.
Get inspirational materials. Be a part of the Keep Poets Healthy movement of The Poet's Lair.
Get the weekly The Poet's Lair newsletter.
Lobby Dwellers get a  free The Poet's Lair sticker.
Official The Poet's Lair sticker
The Poet's Lair – Quill & Inkers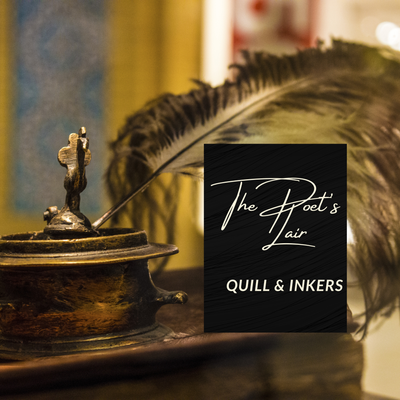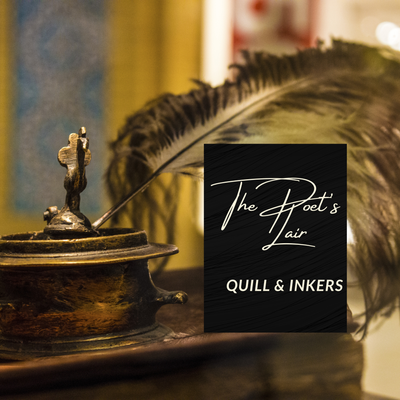 Quill & Inkers are the clerks of the Lair. They are heads down, working, dedicated to their craft. They want to learn, grow, and have access to helpful tools and tricks. They take their work seriously and press on into the wee hours of the night. They burn their candles down to the nub, all for the craft of poetry. Get your quill, dear poet, and let's do this poetry thing.
Quill & Inkers get the newsletter & all benefits of the Lobby Dwellers, but in their dedicated Lair of working, they also get:
Monthly curated tips, leads, & strategies for poetry contest entries, magazine submissions, and getting pieces published. NO preferences of one platform over another but best placement for poems & short fiction! Get serious about your entries and get your work out there with leadership & the support of The Poet's Lair community.
Lair Library Roundtable. Each month we'll cover one book that is carefully selected to help you build poetic and creative skill. Reading schedule is posted in the newsletter. Members of this tier are invited to the Lair Library Roundtable each month to discuss the book of the month.
Quill & Inkers get a free The Poet's Lair print.
Exclusive content About Publishing Poems
Includes
Exclusive Mini Print -

Official The Poet's lair Print

Exclusive Sticker -

Official The Poet's Lair sticker
The Poet's Lair – VIP Castle Keepers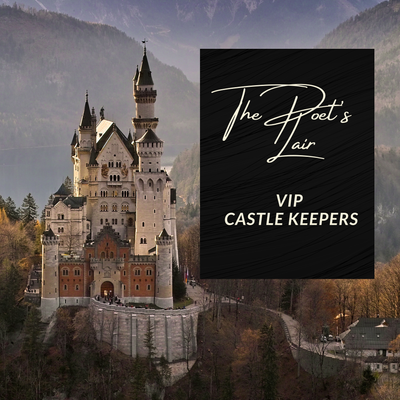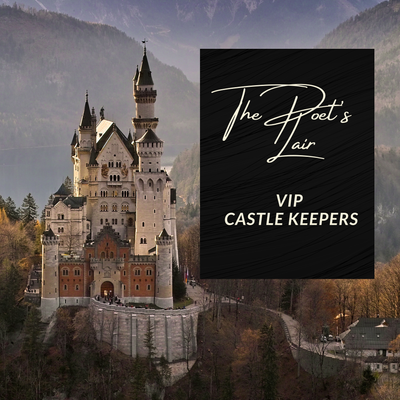 VIP Castle Keepers are the royalty of The Poet's Lair. They are ready to call themselves, declaratively, a poet. They take charge of their poetic talent, treasure its nurturing, and they are looking to edit, polish, publish. Castle Keepers are dedicated, focused, and they have intentions for their work. They may have already published a poetry collection – or they want to do so! This elite community welcomes any level of talent and applauds the commitment.
Members of the VIP Castle Keepers receive all of the benefits of the Lobby Dwellers and the Quill & Inkers, but they get more engagement and hands-on help from The Poet's Lair Community.
VIP CASTLE KEEPERS PERKS
Discounts on the author's editing services and published materials. (This will apply to certain applicable materials. Some digital downloads will be offered free to VIP Castle Keepers only.)
The Poet's Lair workshopping events. (Quarterly)
Group video calls | meetings for manuscript development assistance (Quarterly)
VIP PUBLISHING ASSISTANCE
Learn manuscript production from the beginning to the end. A different aspect will be covered each month. Through this program, you'll go step-by-step and develop your collection from vision to production.
Curated publishing discussions on various publishing routes for manuscripts. Tips & leads for Chapbook and poetry book entries to contests.
VIP Castle Keepers get a free The Poet's Lair mug!
Curated Publishing Tips – Manuscripts & Collections

Discounts on editing services or digital materials by the author.
Includes
Exclusive Mug -

Official The Poet's Lair mug.

Exclusive Sticker -

Official The Poet's Lair sticker

Exclusive Mini Print -

Official The Poet's lair Print
About The Poet's Lair
The Poet's Lair is a special place. An almost secret place – only for poets and creative writers of very short fiction, flash fiction, for example. The Poet's Lair is a place for you to climb into, get serious with your poetry and argue with your own poetic voice when it takes a turn, a dip, or hides from you. This is where you come to learn something new (like how to get your first poetry collection done and published!), get inspired with thoughtful and engaging prompts, and participate in events, workshops, or video calls. It's not a spammy place where you'll be advertised to, or taken advantage of, but a space created just for you – a space where your needs, the poetic needs of your heart, can be met with bravery, support, and guidance.

Welcome to The Poet's Lair. We've been waiting for you.

Your Hostess:
Christina M. Ward

Christina first studied poetry in high school, where she demonstrated quick talent with both composing and analyzing poetic works. Some of her early work was published as early as the 1990s and as recent as 2021. She then took courses in community college where she continued drawing the attention of publications, professors, and peers for her poetic voice, remarkable use of imagery, and keen attention to poetic detail and rhythm. Christina's studies continued with poetry, literature, and the completion of a Minor in English with a concentration in writing (alongside her Bachelors of Science) at Catawba College, Salisbury, North Carolina. Her work was featured in collegiate publications, chosen as the short prose winner for 2004, and Christina was asked to speak at year-end college functions to demonstrate her academic achievements in poetry. Her first chapbook was created in college and since then, her work has been featured in dozens of online poetry publications.

Christina has published 3 poetry collections on Amazon. Her first and second collections attained Best Seller status for poetry about nature and other categories within the first few weeks of their release. Currently, Christina works as a professional SEO content writer for business to consumer clients and as a poetry editor, both privately and as a Level 2 Seller on Fiverr. Christina has edited poetry collections from all over the world including the USA, England, UK, Canada, Philippines, Africa, Singapore, Israel, Netherlands, Japan, and South Africa. Christina is a leader and mentor in the poetry community, inspiring others with her nature-based themes, her dogged grit, and her propensity for child-like curiosity.

Christina's favorite poets are Robert Frost, Walt Whitman, Rumi, Mary Olliver, Gary Snyder, Elizabeth Bishop, Maya Angelou, Pablo Neruda, Shel Silverstein, Alfred Lord Tennyson, and, of course, Sylvia Plath.




By becoming a patron, you'll instantly unlock access to 14 exclusive posts
By becoming a patron, you'll instantly unlock access to 14 exclusive posts
Recent posts by The Poet's Lair
How it works
Get started in 2 minutes