The Studio Door
is creating Contemporary Art Exhibits
Select a membership level
Friend of The Studio Door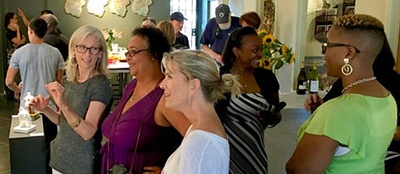 Instant reward:
• Invitation to private receptions & special events
• 10% discount in TSD Store
Champion of the Arts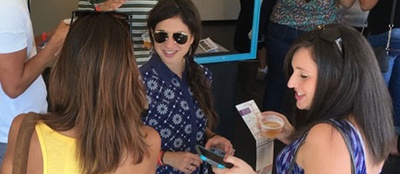 Instant reward:
• Invitation to private receptions & special events
• 10% discount in TSD Store
Six month mark:
• The Studio Door Coffee Mug
The Studio Door Insider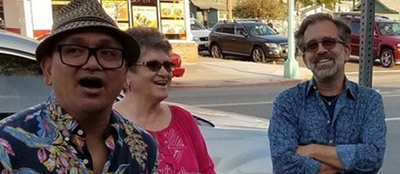 Instant reward:
• Invitation to private receptions & special events
• 10% discount in TSD Store
Six month mark:
• Exhibition Catalog of most recent exhibit
• The Studio Door Coffee Mug
About
In action.

The Studio Door continues its commitment to showcasing visual arts. Our calling is to create opportunities for San Diego's dedicated artists as well as bring much needed attention to the region's place in the larger arts community.
Specialty Programming.

Uptown After Hours
– Every month the gallery hosts local jazz musicians. Musical evenings have been headlined by
 A New High, Charlie Arbelaez, Paul Combs, Mikan Zlatkovich, Irving Flores, Matt DiBiase, Jamie Shadowlight and Peter Sprague.

Artist Almanac
– Eight weeks of essential workshops, classes and presentations by San Diego's Art Authorities. Fall's premiere almanac included collaborations with
Michael James Rocha [San Diego Union Tribune], Larry Baza [California Arts Council], Kris Finch, Theresa Vandenberg Donche, Chris Padilla, Crisinda Lyons, Katya Mezhova and Maxx Moses.

Creative InnerView
–
Art Guide San Diego
,
Dusty Dawn Productions
and The Studio Door concluded its first season of 13 arts interviews with support from studio artists Holly Jane Sutor and Chris Smith. Season One highlights include
Qais Al-Sindy, Randall Christopher, Eleanor Greer, Alessandra Moctezuma, Lauren Siry, Optimus Volts and Melissa Walter
. A special expanded edition featuring American Master Hyacinthe Baron is in the works for release in Spring of 2020.
Watch the current season on Youtube now.

Hillcrest Art Stumble
– Artists, organizations and businesses in Hillcrest are celebrating the arts with the premiere of this community program.
Thanks to Lash Bar for producing the neighborhood event.
Other recent programs have included live figure drawing workshops, The Sand Box drag instruction & show, Cancer Survivor's Art Group, Neighborhood Mixers, Artist Talks, Printmaking Workshop, Mural Workshop, "Make Me An Offer" alley art sale, Concierge Industry Mixer, Business of Art Scholarship, Art Organizations Retreats and Studio Artist Receptions. Gallery Art Exhibitions.
We have an incredible line up of returning juried exhibitions including the 6th annual THE CROW SHOW juried by Judy Gradwohl of The Nat - San Diego Natural History Museum; 4th edition of 50 To Watch juried by Megan Pogue of Timken Museum of Art and the annual PROUD+ juried by Hunter O'Hanian of Stonewall National Museum & Archives.
Scheduled featured artists include Scott Bruckner, Molly Paulick, Tim Weedlun, Renee Tay, David Thor, Dennis Dizon, Roy de Vries and Pierre Bounaud. Expect more coming to the gallery throughout 2020.
Studio Artists.
One of the most important parts of the gallery is the men and women who creative 24/7 in the studios located off the gallery.  
Current studio artists include 
Farah AJOODANIFAR
, 
Leah Sarah BASSETT
, 
Dania BRETT
, 
DESOLINA
, 
Claudette FARAH
, 
Angela GONZÁLEZ
, 
Crisinda LYONS
, mara, Judy E. MANDEL, 
Atul PANDE
, 
Christina SCHULZ
, 
Chris SMITH
, 
Holly SUTOR
, 
Tim STOCKTON
, 
Patric STILLMAN
, 
Stefan TALIAN
and 
CLAY ARTISTS OF SAN DIEGO
.
Your support is an act of good citizenship. Your monthly assistance helps The Studio Door continue to innovate and support San Diego's creative community. It offsets the rising costs of doing business in San Diego where gentrification continues to eat away at our beloved arts scene. The creative spectrum needs your support. The Studio Door is asking for your support.
With your membership, you will play an integral role is helping us to continue to vary our programming so that we can educate and support working artists, including those that don't always have the opportunity to participate in a professional gallery setting. In the first five years, we have had the honor to work with 1,800 artists. We held 50 gallery exhibitions as well as partnered in another 50 community events. Your support sends a message that you believe in the benefits that are created by the work we do in collaboration with visual artists. It reminds us that creativity matters.
Keep living art,
Patric Stillman
Founder of
The Studio Door
www.TheStudioDoor.com
With the start of a committed group of patrons, like yourself, we understand that you see the value in what we do.  Your encouragement is inspirational.  Artists + Galleries + Patrons make a strong trifecta.  When one of us rises, we all rise. Together, we can be an unforgettable force in the arts.  

1 of 1
By becoming a patron, you'll instantly unlock access to 3 exclusive posts
By becoming a patron, you'll instantly unlock access to 3 exclusive posts
Recent posts by The Studio Door