The Woke Salaryman
is creating more Woke Salarymen
Select a membership level
Bragging rights
Limited (933 of 1,000 remaining)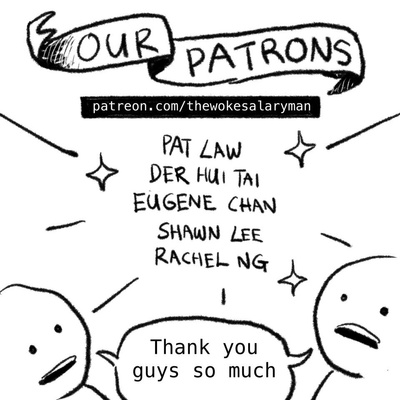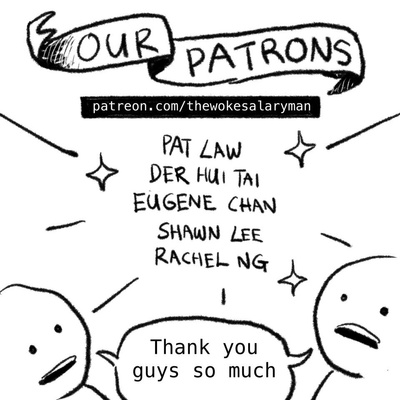 By giving up one latte a month, you'll be helping over 12k people make better life and financial decisions. 
Well, indirectly – when you support our page and allow us to create content in a sustainable way.

To show our appreciation to you, you'll get: 
Your name on our credits page on our weekly comic strips 
Good karma 
Bragging rights.
(Sorry, this is all we can provide so far, but we're working on it)  
[THANK YOU FOR SUPPORTING US – the first 42 people from this tier from us will get a gold marshmellow pin for supporting us right from the very start.

IMPORTANT: If you are reading this, we are no longer giving out the  gold marshmallow pin for this tier – do scroll down and check the next tier!] 
About The Woke Salaryman
Working 9-9 in the world's most expensive city is hard. It's also the default choice for the majority of Singaporeans. That sucks, because being a wage slave forever sucks pretty hard. 

The Woke Salaryman creates educational content for the average Singaporean earning the median salary of 4.5k.

We want to help you make a better life and financial decisions. Through ridiculously easy-to-understand content. 

Why do we need a Patreon page? Well, contrary to what many people think, creating content takes time. Lots of time, time that we could have spent hustling and earning $$ for ourselves. 

But here's the deal. We don't wanna guilt you into contributing to our Patreon. This page won't die if you don't contribute to it. Not at least for 2019. But it will probably grow at a slower rate, and there will be less content for our measly 47k followers. 

Why contribute to our page? Because we'd like to remain very very selective of our sponsors – the day we ask you to buy Bubble Tea because you've got $5 off with a 'WOKESALARYMAN' promo code is the day we've failed our readers. 

The more we are less reliant on sponsors, the more objective we can be. The more helpful we can be. And the more honest we can be. 

And you can be sure as hell that more than ever, the world needs more of that.


By becoming a patron, you'll instantly unlock access to 9 exclusive posts
By becoming a patron, you'll instantly unlock access to 9 exclusive posts
Recent posts by The Woke Salaryman
How it works
Get started in 2 minutes