Barb Carey and Angie Scott
is creating The Woman Angler & Adventurer Podcast
Select a membership level
The Tip Jar
You want to support The Woman Angler & Adventurer podcast in some small way. Every little bit helps us keep this thing going! We really appreciate your support!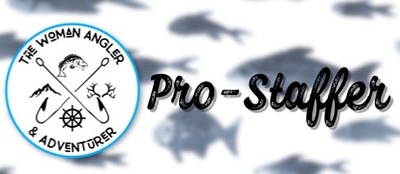 Pro-Staffer
We all know most pro-staff positions just get you a 10%-20% discount on product these days. We've taken it a step further! You have to pay us $10 a month to be on our pro-staff team!

In all seriousness- if you support what we're doing at this level you'll get:


An exclusive Woman Angler & Adventurer pin
A shout out on the podcast
Permission to add that you have a Pro-Staff position at The Woman Angler & Adventurer on your Facebook profile
Access to our Patron-only chat forum
Sustainer
You want to make sure The Woman Angler & Adventurer can continue putting out amazing content with 2 episodes a week and the Insider Weekly email which is full of tips, recipes and stories of women accomplishing amazing things in fishing, hunting, and other outdoor adventures!


You get everything in the Pro-Staffer tier PLUS:


Early, ad-free access to all of our episodes
A Woman Angler & Adventurer decal
About Barb Carey and Angie Scott
Have you ever picked up the latest catalog from your favorite outdoors store to find only images of, and products targeted only for men?
Have you ever gone to a seminar to learn something new but walked away feeling lost & confused, like you've been "mansplained?"
Have you ever wanted to join a fishing club but felt intimidated because there weren't any other women involved?
We have too!
In fact, Angie Scott is currently the only female angler in her local Bassmasters club in Nashville. And Barb Carey saw how much money women were spending on ice fishing gear yet not being included in advertising or product offerings by the major brands so she started the Women Ice Angler Project media event several years ago.
You just want to be seen, heard, and understood.


That's why we created The Woman Angler & Adventurer podcast. We're sharing 
YOUR
stories and showing the industry that women need to be taken seriously.
It quickly became more than just a podcast. It's a growing community of like-minded women supporting each other through our Facebook group. It's turning into a
movement
and the industry
IS
taking notice!
We believe:
Women deserve to be better represented in the fishing and outdoors industry.
We're better together.
If she can do it, I can do it.
We should enjoy the outdoors 5 days and work 2.
Always leave it better than you found it.
America is beautiful. Let's restore what's been lost and improve what hasn't.
Respect the fish.
We need support from amazing people like you to keep this going and hope you'll consider joining us!
Come be a part of the movement!


When we reach $500 per month, we will start a new episode series where we interview 1 patron each month!
1 of 1