Who Am I?
Hello everyone, my name is TheZombieNoodle (or just Noodle for short) and I do videogame commentary, lets plays and walk-throughs. But why am I here on Patreon? Well, because I really enjoy making videos and I think this will not only help take the stress about money off my life, but also help improve the videos you guys receive.
I began making YouTube videos since 2013 and have love doing it since the very first one I put out. Oh boy how the quality sucked, the audio was off and it ended up looking like I did all my recording with a toaster. But over time I've gotten better and got a nice little group of supportive fans and now we're looking to give back to the community a bit more. We hope that Patreon will allow us the freedom and opportunity to do just that.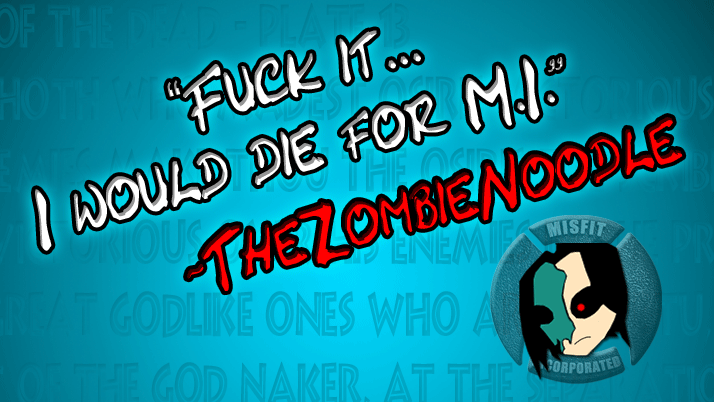 Why are you doing this?
The simple answer is: To give back to the community! There are lots of things I would like to do but simply lack the funds to do so. Some of these things are buying the latest games to debut on my channel. Working full time and juggling a family life does not always afford me the opprotunity to spend money like crazy on new titles and I'm not nearly big enough to get free codes from developers just yet. So... if I want to stay in the here and now, then I'll need additional funding to put out the newest quality videos you all crave. That and I used to have competitions every now and then where we would give away free games to subscribers. I would love to bring that back. Free t-shirts, mugs, swag and games or codes!

This is a good example of what I love to do:

What happens if I don't want to donate?
Nothing will happen, lol. This is purely just for people who would like to leave a tip or help support in any way they can. This is by no means a requirement nor will videos become exclusive for only people who donate. If you really don't want to give anything, are anti-donation or just don't have the means to donate then please, enjoy all my content the way you have been enjoying it since the day you discovered you liked me enough to subscribe.
I always appreciate everything you guys do for me, even it's it's just watching the latest vid that came out.