Think Twice
is creating a Magic: the Gathering Podcast
Select a membership level
Bolas's Citadel
By pledging $1 per episode, you'll get 24 hour early access to audio versions of each episodes! You're also granted exclusive Patreon-only Discord channel for as long as you're a supporter at this tier level. 
After $4 of support at this tier, you'll be shipped a pair of Ali and Justin Think Twice tokens!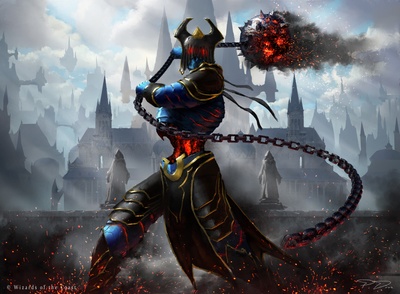 Dreadhorder Butcher
By pledging $3 per episode, you'll gain access to exclusive posts and decklists from Parnell's Commander Journal! Included all rewards in lower tiers. 
Finale of Revalation
By pledging $5 per episode, you'll gain access to exclusive decklists from Ali's Brew Book! All decks Ali plays will displayed in easy to read (and print!) form and updated regularly. You also get a shout out for your initial support! Includes all rewards in lower tiers. 
About Think Twice
What is Think Twice?
Think Twice is a weekly Magic: The Gathering and pop culture podcast hosted by Ali Aintrazi and Justin Parnell, two best friends with over 40 years of Magic knowledge between them. Ali and Justin discuss all formats of Magic, cover Magic lore, and dive deep into discussions about movies, music, TV shows, board games, and more. If your interests and hobbies extend beyond cardboard, you'll love Think Twice. 
Think Twice is directed and produced by Jonathan Choi, the mastermind behind Commander VS. Check out episodes and descriptions at 
https://soundcloud.com/think-twice-120683625
.
Where is my Patreon support going?
Since the inception of the Think Twice in July 2017, Patreon support has allowed for the creation of exclusive tokens (foil and nonfoil), and exclusive playmat, an additional short, NSFW podcast (Flashback), as well as Twitch and YouTube content from both Justin and Ali. Future support will allow us to create more content and merchandise, and over time, upgrade our equipment to give you the best content experience possible.
Team Think Twice
Justin Parnell's world has revolved around Magic since opening a Might of Oaks from an Urza's Legacy booster pack in 1999. Justin loves almost every Magic format, and has provided over ten years of content in the casual formats of Cubers Anonymous article series and Commander VS video series for StarCityGames.com, making him one of the most knowledgeable and practiced figures in each format. When he's not making Magic content, Justin is watching his Duke Blue Devils and Green Bay Packers, discovering new board games, managing his life in the form of spreadsheets. Justin currently resides in Roanoke, VA and is the Acquisitions Manager at Star City Games.
Ali Aintrazi has been around Magic for almost twenty years. He's a professional magic player with multiple SCG Open wins, a SCG Invitational win, earning his own angel token, he's played in the Player's Championship and he was the last player to win US Nationals making him our "forever national champion." Ali is known for his innovative decks, finding and playing the cards that others tend to look over. He is the creator of such decks as "Five color Door Control", "Naya Dragons", "Turbolands ", "Loam Pox", "Sanity Grinding" "UB Heartless Summoning", "Grand Architect Control" and many more. If it's insight into exciting new decks/cards or just deck building in general, Ali has you covered. When Ali is not playing Magic he is spending time with his family, walking his Dragonite on Pokemon Go, or being an all-around bad ass.
Once we hit this goal, we'll be able to upgrade some of our equipment! This could mean a better cameras, microphones, editing software, or even funds to put towards streaming!
4 of 5
Recent posts by Think Twice