thotscholar
creating low end theory and art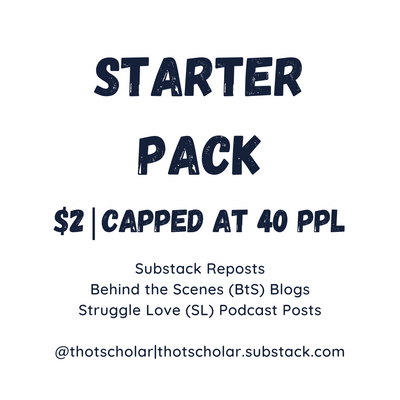 Limited spaces - SOLD OUT
Your heart is willing but your wallet is light. No big deal, this is the tier for you. I capped this tier at 40 ppl, so get it while it's hot! With this tier you get to support a struggling artist-writer-mother, and you'll get to see all the free blogs and the Struggle Love podcast videos (which are also posted on Youtube), as well as cross-posts from my Substack, cotqueanity.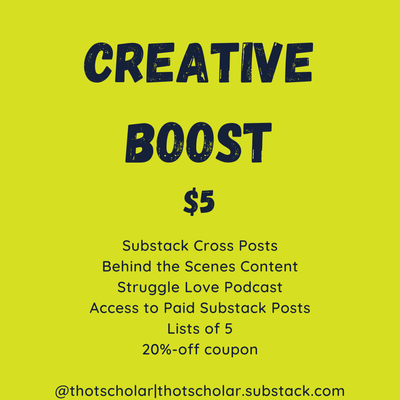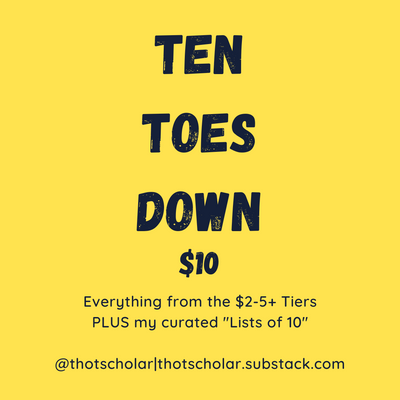 You smart, and you loyal. Plus you like a little sum'n extra, so you decided to sign up for the $10 tier so you can read my curated Lists of 10. Ten what, you might be wondering. Ten books, ten thoughts, ten songs, etc. Ten things, and a paragraph for each thing. It's worth it, I promise. Plus everything from the $2-5 Tiers.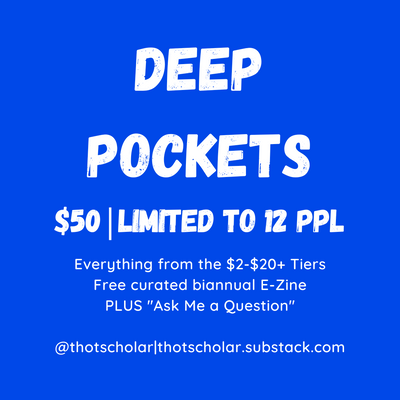 This tier is limited to 12 people. Each one of y'all can ask me a single question (not about my personal life), and I will answer one question per month. I will post the answer for everyone to see, but I will NOT disclose who asked the question, so don't worry about that. Plus everything from the previous tiers.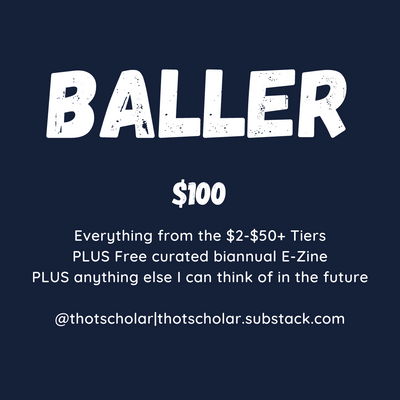 You are clearly the G.O.A.T. Thanks so much for the support! This is buying diapers, office supplies, paying self-employment taxes, etc., and your investment means the world to me. You get everything from the $20 tier and up. If I can think of any other reward, I will add it later on!
By becoming a patron, you'll instantly unlock access to 107 exclusive posts
By becoming a patron, you'll instantly unlock access to 107 exclusive posts
Recent posts by thotscholar