Tigrilla Gardenia
is creating research with plants to help heal and unite the world.
Select a membership level
Get The Latest News
 Thank you. You have my undying gratitude for your support! 
As a Get The Latest News member you receive:
-- Updates on exclusive research projects. 
-- News on the latest trends and info on plant intelligence, biophilic design, etc. 
-- Patron first news
Early Access
 Thank you so much for giving that little bit extra each month to support  my research and the results I am sharing with the world! I am very grateful.
 As an Early Access member you get all the benefits as the Get The Latest News members and:
--  10% off one-to-one mentoring.  
Early Access and Contribute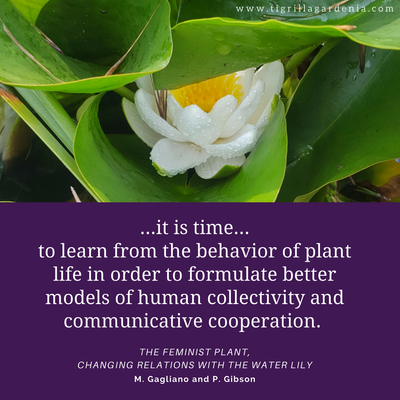 Thank you so much for giving even more each month to support  my research and the results I am sharing with the world! I am very grateful.
 As an Early Access and Contribute member you get all the benefits as the Early Access members and:
-- Exclusive early access and join the discussion - e.g. suggest ideas for future research direction. 
-- Sneak peak on my project proposals and behind the scenes info on collaborations I am working on.
-- Your profile and photo on my website.
About
Hi, I am Tigrilla Gardenia and I've devoted my life to the scientific* and spiritual** exploration of plant intelligence. Think of me as a World Ambassador for Plants.

Donations from patrons enable me to fund cutting-edge research into how we can co-create thriving ecosystems with the plant kingdom. There is so much we can learn from the way plants coexist and create relationships.

I strongly believe that this research can be put to good use, allowing humans to live more fulfilling lives and creating a basis for diverse, harmonious environments in which we can flourish alongside plantlife.

I also study how plant music can assist in our personal development, leading to improved emotional and physical health and wellbeing.

In return for your support, I will share the results of my research with you. Depending on the tier you decide to join, you'll get exciting news and trends in the world of plant music, biomimicry, biophilic design, and plant intelligence, exclusive access to results and discoveries, discounts for my courses and workshops, plus more.

Your support allows me to buy new equipment, invest in new technology, conduct and publish important natural research. It also helps me to continue my role as an advocate for connection to nature as the basis for long-term health, wealth and happiness.

Your patronage will help us to expand our knowledge of plant intelligence and communication and implement it in our daily lives..

There is a real and urgent need for this kind of research at the moment. 88% of the biomass of our planet is plantlife. But this percentage is decreasing due to deforestation, pollution and our rapant consumer-driven society.

The separation between humans and plants has become a chasm. Re-connecting to nature can heal our relationship with our planet, and consequently, ourselves.

Here, you will find easy-to-understand research results, discoveries about the plant kingdom, and advice on how to implement these findings in everyday life.


* Tigrilla has studied with some of the greatest minds in bio-inspired sciences, gaining a masters degree in Futuro Vegetale (Vegetal Future): plants, social innovation, design under Stefano Mancuso, University of Florence. She has also studied Biomimicry for Social Innovation and Product Development under Dayna Baumeister, co-founder of Biomimicry 3.8.

**Tigrilla is a teacher of Kabbalah, an ancient philosophy that explains the relationship between the unchanging and eternal, the mysterious "Infinite", and the mortal and finite universe. She lives in Damanhur, Italy, one of the largest spiritual eco-communities in the world.

Our medical research into the effects of plant music on human health is in full swing! Each of the 30 participants has been subject to a number of medical exams and blood work. Your contributions are what makes that possible. Next step will be to purchase the necessary software to analyze the data.

1 of 3
By becoming a patron, you'll instantly unlock access to 41 exclusive posts
By becoming a patron, you'll instantly unlock access to 41 exclusive posts
Recent posts by Tigrilla Gardenia