Tiller & Wheel
Creating a sustainable future for Thames Sailing barges
Select a membership level
Ahoy there!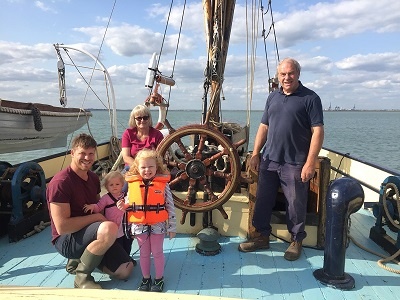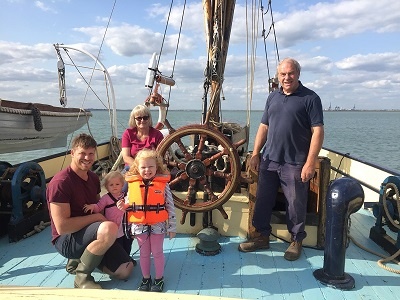 Thank you for your donation!

You are helping to feed our volunteer's addiction to dark chocolate digestive biscuits...

This tier is for those who just want to contribute a little to help us achieve our aim of creating a sustainable future for these craft.

For this, we are extremely grateful and wish to offer you a most sincere thank you.


Good karma and a high five!
3rd Hand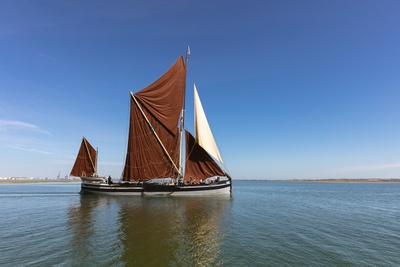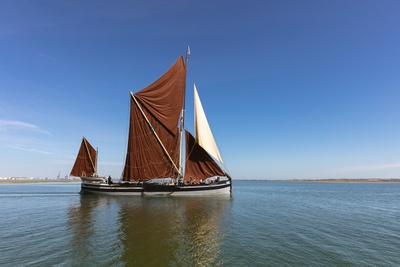 Welcome aboard!
You are now officially a part of the crew.
Barges were designed to be sailed by two people but would occasionally take along a third hand to share the work load - this is you!
By choosing this option, you are supporting our vision of free sailing trips for all and helping us to create the online content which will be crucial in educating the next generation.
Not only are you an ace supporter, you also get the following benefits -
Early bird access to our standard sailing schedule, before it goes on general release.
Invitations to our special events held on board, including Christmas carol concerts and music nights.
Invitation to join us for special events

Early access to sailing schedule and posts
The Huffler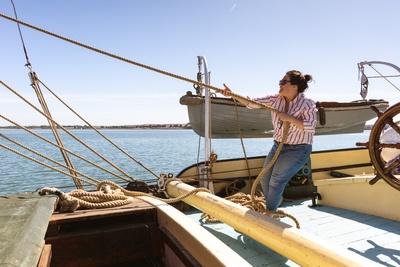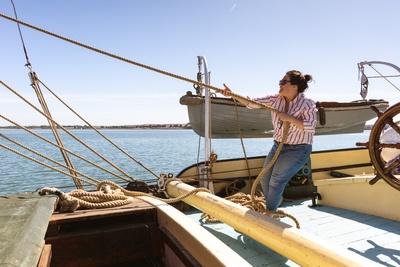 Wow! You are going above and beyond and we are humbled you're helping us, thank you.
Back in the day, when a sailing barge was approaching an obstacle like a bridge, the 90ft mast could be a bit of a problem, the Skipper would call ashore for a huffler. Someone strong who didn't mind coming on board, pulling their sleeves up and getting their hands dirty, well you're a modern day 'Huffler' for sure! 
You're really helping us move forward with our restoration and education programmes. Today's 10 year old is tomorrow's Skipper - your contribution allows us to create opportunities for these young people that they would not normally have.
In addition to the benefits in the lower tiers, you'll be given; 
Early bird access to a broader sailing schedule, with more river explorations and adventurous sailing experiences.
Invitation to join us for special events

Access to a more adventurous sailing schedule

Early access to sailing schedule and posts
About Tiller & Wheel
Hello!

I'm Ed, one half of Tiller and Wheel CIC, a family business based on the River Medway, Kent. For all of the 34 years of my life, I've been raised around old boats, particularly the Thames sailing barge - watched them, restored them, sailed them, restored them again...
After a while, they get in your soul and you love them more than most humans. These old tubs and the sailing grounds of the East Coast of Britain are magical and simply great fun.
The problem is, they are dying. The skills of sailing and maintaining them are dying. Within my lifetime, I can see that there won't be any of these old sailing boats about and even if there are, there won't be anyone to sail them.
For me, this has to change and so, in 2020, having had plenty of time to think in the year of Covid, we've decided to do things differently.
Thames sailing barges, of which my family restored a beautiful example called 'Edith May', built in 1906, finished carrying cargoes of bricks and bombs and bags of grain around the coast in the 60's. Back then, when old sailing barges were ten a penny, you could pick one up and re-rig it for a few hundred quid. Great stuff.
These days, there are only 23 active barges left, from a fleet of thousands.
It costs around £20,000 a year just to ensure your barge stays afloat – restoration, insurance, restoration, equipment, licence fees, restoration, mooring fees, equipment, and did I mention restoration? The never ending maintenance of a wooden boat leaves you on the back foot to start and then throw in the cost of a bit of planking from time to time and pretty soon you are working full time and wondering how to pay the bills. Getting paid for our time is a distant dream, for the past 20 years me and the crew have worked as volunteers to restore and maintain the Edith May.
Since 2010, we've been chartering the Edith May, charging customers to come sailing. We can only take 12 people a time and so most of our trips were exclusive charters, charged at premium prices.
Clearly, this priced out a lot of people and goes against our main aim of introducing these historic craft to as many people as possible.
So.
Here's the BIG idea...
We're taking away the ticket price through the power of crowdfunding.
One of our life motto's is "you don't have to have a rich bank account to have a rich life".
For us, the value of what we do has never been in the price of the ticket, but in the experience - and we want everyone to experience the river.
We want to teach people how to sail, we want to show you how beautiful the estuary is, and we want you to fall in love with these boats. If you believe in what we're doing you can get involved - by spreading the word, volunteering, or becoming a Patron. And every now and then, one of you might be mad enough to save your own piece of maritime history.
If you scroll down you'll see we've started with 5 goals; starting with a sustainable plan to continue the preservation of our Thames barge Edith May, going all the way up to the ultimate goal of saving all the remaining barges and teaching the next generation about them.
We offer a whole range of experiences, for all ages - young adventurers to old sea dogs and everything in between. Our sailing season is April - October, and the rest of the year we focus on our restoration work. 
I hope you buy in to our vision and even more than this, I hope to see you on the river.
200 Patrons will ensure that the ongoing fixed costs of running the sailing barge 'Edith May' and Whitstable oyster smack 'Thistle' will be met (including insurance, licences, mooring fees and basic maintenance). We can better support our volunteers and apprentices with dedicated time and better tools. 
2 of 5
By becoming a patron, you'll instantly unlock access to 56 exclusive posts
By becoming a patron, you'll instantly unlock access to 56 exclusive posts
Recent posts by Tiller & Wheel
How it works
Get started in 2 minutes