TinyHat Studios
is creating saucy adult games and images
About TinyHat Studios
What is Spooky Starlets?
Spooky Starlets is a multi-media project currently consisting of a videogame, a series of adventure charts, and erotic art. In the future, we would also like to work on a comic.
Our project answers the question-
"What if there were porn studios in a modern-era world consisting entirely of monsters, undead, and other spooky creatures?"
The Spooky Starlets videogame is a management simulation game about creativity, experimentation, and risk vs reward. Create your own unique adult films featuring your favorite characters and see how successful you are able to make your studio!
We are working to add things in the future such as a story and mission based challenges!
STARLET & Higher Patrons will have access to the latest builds of the game, featuring all of the newest characters and content.
PLAY THE LATEST PUBLIC BUILD ON 
NEWGROUNDS
!



The chart that inspired the game! The Spooky Starlets Adventure Chart is a traditional pen-and-paper game which provides players with a number of options in order to create films based off of your own unique combinations of choices.
Gameplay can be expanded through additional charts and mechanics which affect the core chart.
Patrons will be given access to all additional bonus charts as they are made.



Of course, our girls' films don't just live inside of our audience's imagination- every month will create new SFW and NSFW illustrations featuring them performing "on set."
STARLET & Higher Patrons are given access to high quality downloads of NSFW variations of every single Starlet's film scene, as well as access to new images as they come out- roughly two images every month.

PRIMADONNA Patrons also gain access to various flavor sketches, both of the humorous and sexy sort- in addition to WIP sneak peeks at new Starlet designs and film scenes.


Every month we aim to release-
ONE New Animation, showing off each of the girls doin' what they do best
Regular Game Updates, increasing polish, quality of life, and adding new content.
Regular Chart Updates, improved balance tweaks, bonus charts, additional content.
Flavor Sketches & Gags, we make some wacky shit for fun on the side sometimes.
In order to ensure a steady long-term stream of content, content releases will be batched out as "Seasons," one planned for every six to eight months.
The base game will contain 12 Starlets.
Additional seasons will add new batches of themed content, consisting of 4 Starlets and other miscellaneous mechanics and upgrades such as new animations and film aesthetics.
One perverted piece of pudding! Flynn's a pilgrim of all things lewd, a (figurative) student of the arts. He works to bring content creators in the adult community together. 
-Twitter-
The creator of the Italian (and now Global) fantasy webcomic series, 
Fantasy X Grounds
! He has joined us to work on character and CG illustrations. 
-Twitter-
Creator of many lewd things, lover of tokusatsu. Miscon's other works include his Pinku comic series, his OC, Owlgirl, as well as plenty of other steamy works. 
-Twitter-
An exceptional character designer who has also worked on the character designs for the webcomic, Fantasy X Grounds, alongside Wolfrad. Check her out! 
-Twitter-
-Instragram-
A talented musician and skilled card game player! He's helping us balance our gameplay systems and made our snappy theme song!
An industry professional who has contributed many voices to the adult community. She's voicing many of the Spooky Starlets singehandedly, thanks to her amazing range! 
-Twitter-
A fan beloved artist known for his community contributions to Towergirls, namely the unofficial outfit variations. A long time supporter of TinyHat Studios, he has contributed our Patreon tier icons.
Select a membership level
Fluffer
Check Out Our Charts!
Check out the latest Starlets! Add to your core adventure chart experience with expansion charts!
Development Updates
Bonus Graphics
Starlet
Be A Part Of The Experience!
Get the latest game build! Enjoy images from their adult films! Vote on the next Starlet!
Latest Digital Game Builds
Game Downloadable Client
Steamy NSFW Images
Bi-Weekly Starlet Voting 
Theme Song Download
Discord Role
PLUS
Development Updates 
Bonus Graphics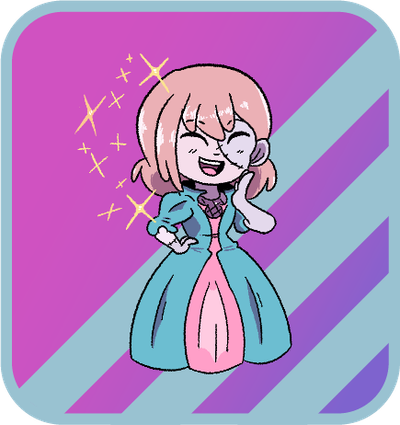 Primadonna
Behind The Scenes Access!
Get the latest work-in-progress sketches from our team! Chat with us as provide feedback before content releases! Have a larger say in what we make next!
WIP Art Posts
Sneak Peek Channel
 3x Vote Power Starlet Poll 
 Special Discord Role 
PLUS 
Latest Digital Game Builds
Game Downloadable Client
Steamy NSFW Images
Bi-Weekly Starlet Voting 
Theme Song Download
Discord Role
AND ALSO
Development Updates 
Bonus Graphics
Story Segments




Presented in a visual-novel like fashion, players will be able to unlock snippets of story in the game depending on the rewards they unlock and the paths they take.
4 of 13
Recent posts by TinyHat Studios