Torbjørn Lien
is creating Chez Cuckoo and other comics
Select a membership level
Fellowship
Join my fellowship, and this is what you'll get
(Bli med i fellesskapet og få dette)
:
Early and exclusive access / Tidlig og eksklusiv tilgang
Read the latest Chez Cuckoo comic strips here before they go online anywhere else. Get access to behind the scene pictures, sneak peeks and news! 
(Les de nyeste Kollektivet-stripene her på norsk, før de publiseres andre steder. Få tilgang til bak scenen-blder og sniktitt på kommende serier og prosjekter!)
Comics and exclusive sketches & drawings / Tegneserier og eksklusive skisser & tegninger
Get comics, sketches, and printable and funny Chez Cuckoo drawings in black and white, made for you.
(Få tegneserier, skisser, og utskriftbare og morsomme Kollektivet-tegninger laget for dere som støtter meg her.)
Thank you so much for joining. / Tusen takk for at du vil være med.

Inner Circle
Become a part of the inner circle, and this is what you'll get
(Bli en del av den indre sirkel, og få dette)
:
Wallappers / Mobilbakgrunner
Get a couple of new wallpapers for you phone or tablet every month!
(Få et par nye mobilbakgrunner hver måned!)
Free comic books / Gratis tegneseriehefter
Get all my self-published comics on PDF for free, previous and future releases. In addition you get a 30% discount on available printed copies. 
(Få alle mine selpubliserte digitale tegneseriehefter gratis, både tidligere utgitte og alle som utgis mens du holder abonnementet. I tillegg får du 30% avslag på trykte serier jeg utgir.)
A digital high-res Chez Cuckoo strip every month / En digital høyoppløst Kollektivet-stripe hver måned
Choose whatever strip you want and get it as a hight-res CMYK-color TIF-file. This can be printed out and framed on the wall.
(Velg hvilken stripe du vil, og få den som en høyoppløst TIF-fil i CMYK-farger. Denne kan skrives ut og henges i ramme på veggen.)
Plus everything mentioned in the previous tiers / Pluss alt som er nevnt i de forrige nivåene
This is just great. Thank you for supporting me like this. / Dette er fenomenalt. Tusen takk for at du støtter meg på denne måten.
Master Patron
Step up among the finest, become a Master Patron, and see what you'll get
(Stig opp blant de beste, bli en Master Patron, og se hva du vil få)
:
NSFW stuff: Pinups and single-panel comics  / Usensurerte ting: pinup-tegninger og vitsetegninger
Get exclusive printable NSFW pin-up drawings in color of the characters of Chez Cuckoo, male and female. And read the single-panel comic "Chez Cock-OH!"
(Få eksklusive og utskriftbare pinup-tegninger i farger der figurene i Kollektivet, både mannlige og kvinnelige, poserer nakne. Og les enrutersserien "Chez Cock-OH!" Dette er såkalt NSFW, så forvent det meste...)
Sponsor listing / Oppføring som sponsor
Be listed as one of my sponsors on both Chezcuckoo.com, Kollektivet.no, and in self-published comics. 
(Bli ført opp som offisiell sponsor både på Chezcuckoo.com, Kollektivet.no, og i alle mine selvpubliserte tegneserier.)
Plus everything mentioned in the previous tier / Pluss alt som er nevnt i forrige nivå
I thank you so much for this support. This means a lot to me. /
Tusen takk for denne støtten. Dette betyr svært mye for meg.
About Torbjørn Lien
Hi, and welcome to my Patreon page!
(Norsk tekst under denne!)

If you enjoy my comic Chez Cuckoo on
Chezcuckoo.com
, or on social media like
Twitter
and
Instagram
, this Patreon page is made special for you!

Here you can support the comic with a small amount every month, and get lots of fun stuff in return. For example, you'll be able to read all my new comic strips several days before they go public online. I also make a weekly Chez Cuckoo comic page, Chez Cuckoo art, and I do commissions for my patrons only. You can even become a character in the comic!
I am a cartoonist living in Norway. Working on Chez Cuckoo and other comics is my full-time job. All support from you allow me to continue making comics that I hope you'll enjoy.
Last year I started on a completely new project, called
Interitum
. This graphic novel will be published late 2020. As my patron you'll get to follow the process, and be the first to see the art and read the final comic!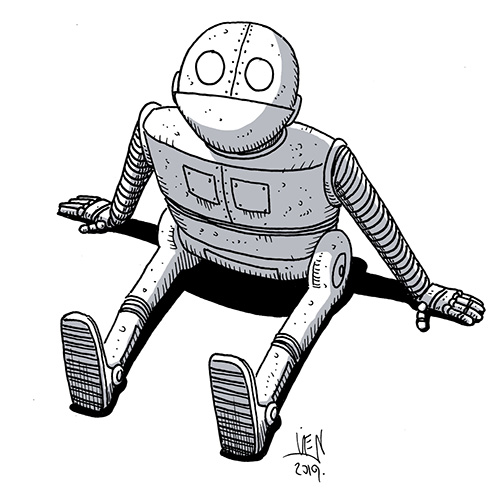 But what is Patreon?

Do you know Kickstarter? There you pledge to support a single project or a product. Here on Patreon you pledge to support your favourite artist every month, and in return you get a bunch of rewards.

This Patreon is a monthly subscription, and you can change or withdraw your pledge at any time.

NOTE: You will be charged upfront for your first pledge, no matter what day of the month it is. This unfortunately means that if you sign up at the end of the month, you will be charged again when the next month starts. This may feel a bit unfair, but please understand that this is to prevent people from signing up to swipe exclusive content and then leave again before they have to pay. This has happened to me several times. On the positive side, you get immediate access to everything I've already posted since I started this Patreon!
Thank you for considering becoming my patron!

Hei og velkommen til Patreon-siden min!

Dersom du liker tegneserien Kollektivet, er denne siden laget spesielt for deg! Her kan du nemlig støtte Kollektivet med et lite beløp hver måned, og få masse gøy tilbake.
Kollektivet har vært hovedprosjektet mitt i snart 20 år. Siden våren 2018 har jeg oversatt serien til engelsk under navnet Chez Cuckoo, og du kan lese disse engelske stripene gratis på
Chezcuckoo.com
,
Instagram
og
Twitter
.
I fjor begynte jeg også å jobbe på tegneserieromanen
Interitum
, som du kan lese alt om her.
Dersom du begynner å abonnere på Patreon-siden min vil du være blant de første som kan lese de nyeste Kollektivet-stripene (to nye hver uke), du får tilgang til ukentlige Kollektivet-episoder på en hel side, eksklusive Kollektivet-tegninger, og andre ting som jeg lager spesielt for dere som støtter meg her. Dette vil for eksempel være det eneste stedet på nett der du kan lese de aller
nyeste
Kollektivet-stripene på norsk.
Alt jeg legger ut vil være både på engelsk og norsk. Dette gjelder også tegneserier jeg legger ut.
Sjekk under der det står "Tiers" eller "Become a Patron" for å se hva du får på de ulike betalingsnivåene.
Men hva er Patreon?

Har du hørt om Kickstarter? Der støtter du et prosjekt eller et produkt. På Patreon derimot støtter du kunstneren bak prosjektet. Tenk på det som en abonnementstjeneste: Du betaler et fast beløp den første hver måned til en kunstner, artist, eller andre som lager kreativt innhold. I dette tilfellet meg. Til gjengjeld får du tilgang til en mengde materiale som ingen andre får.
Når du tegner et abonnement, velger du hvilket betalingsnivå ("Tier") du foretrekker. Hva slags materiale du får tilgang til avhenger av nivået du velger. Husk at du også får alt som gis på nivåene UNDER det du velger. For eksempel: Velger du å betale 5 dollar i måneden, får du også tilgang på materialet som hører inn under 1 og 3 dollar. Velger du et av de øverste nivåene får du med andre ord tilgang til SVÆRT mye hver måned!
OBS! Du må betale med én gang du tegner abonnement her, uansett hvilken dag i måneden det er.


Dette betyr dessverre at abonnerer du mot slutten av måneden, vil du bli trukket igjen den første neste måned. Dette kan virke urettferdig, men jeg håper du forstår at dette er gjort for å hindre folk i å tegne abonnement for å få tilgang til masse materiale, for så å kansellere igjen før de har betalt. Dette har dessverre skjedd en del ganger for min del.
Men se positivt på det: Du får øyeblikkelig tilgang på alt som ligger her så snart du abonnerer!
Du kan når som helst avslutte abonnementet, så det er ingen forpliktelser. Med unntak av en liten avgift jeg må betale til Patreon, går alle pengene du betaler direkte til meg, ikke til noe forlag.
Tusen takk for at du vurderer å abonnerer på siden min!

I will start working on an exclusive Chez Cuckoo episode, at least 10 pages long, published for free as a digital comic book for ALL my patrons!

Jeg vil begynne arbeidet på en eksklusiv Kollektivet-episode, minst 10 sider lang, som vil bli publisert gratis som et digitalt tegneserieblad for ALLE som støtter meg her på Patreon!
3 of 3
By becoming a patron, you'll instantly unlock access to 552 exclusive posts
By becoming a patron, you'll instantly unlock access to 552 exclusive posts
Recent posts by Torbjørn Lien
How it works
Get started in 2 minutes