Tom Collins
is creating Banjo Quest
Select a membership level
The Hero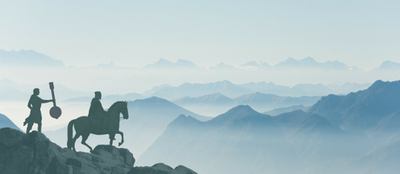 The world needs a hero. By supporting independent traditional acoustic music you are one.
Becoming a Hero of the Quest grants you access to mysterious missives, scrolls and communiqués that will deepen your understanding of the Quest, and strengthen your skill and resolve.
The items that are open to you are as follows:
"The Banjo Quest Diaries", super secret ad-free video uploads, episode tablature downloads! 
The Captain
Every Quest needs its Captains. You ride the crooked path with conviction and purpose, while your armor gleams in the sun...
You get all of the rewards from the previous tier...
PLUS!
Access to a live monthly online Banjo Quest Barbecue (BQBBQ?) livestream hang where you can interact with me, ask questions about the BQ material and shoot the breeze in general!!
At the BQBBQ we can discuss past and future episodes of Banjo Quest. With enough conviction, mayhaps you could influence the direction the Quest takes. Only time will tell...
The Captains will also have access to high resolution downloads of past and future songs recorded for both Banjo Blitz and Banjo Quest.
The Keep
A towering wreck of stone, vines and labyrinthine passages stands before you.
For your dedication, you are rewarded with a key to the winding corridors of The Keep. Strangely, as you run your hands over the slick stone walls you notice your own name was carved there...long ago... 
You get all of the rewards from the previous tiers...
PLUS!
Your name will appear in the closing credits of every Banjo Quest video that is released during your time in The Keep. Once a name is written, it cannot be undone...until the end of time (or the internet, whichever comes first!).
Once a month, a wanderer of The Keep will be selected to provide a video of their playing for review by me and the rest of the Banjo Quest Patreon community. Think of it as a crowd-sourced mini lesson with direct feedback of your playing. This is totally voluntary of course! Only submit a video if you wish to!
Additionally, if you'd like to just submit the video to me for feedback on your technique, that works too!
About
Thank you!

I know...strange way to start an introduction to me and my Patreon channel. The truth is, I'm here because of you. So I'd like to start this next project with one word: gratitude.

A year ago I had a crazy-silly idea. I would take over 10 years of my experiences as a clawhammer banjo instructor, and distill this experience down to 52 lessons focused on essential technique. 

I called this series "Banjo Blitz", and it took off. Every week I posted a video, and every week you watched it. You watched it, and told your friends about it. Now my YouTube channel is closing in on half a million views.  

When I concluded the series, you wanted more. It was incredibly inspiring to hear from people all over the world who improved their own playing by watching my videos. The more I thought about "Banjo Blitz", the more I realized that I was just scratching the surface. By the end of the series, I felt like I was barely getting started.

So now it's time to go both deeper and broader into the world of clawhammer banjo, old time music and the meaning of life.

You see, I'm one of those idiots who truly believes that when you learn the banjo, you change yourself, and the world around you for the better. For me, learning an instrument is an "all the way down" endeavor. It affects you from root to branch to forest.  

So why am I on Patreon? One thing I've learned in producing "Banjo Blitz" is that making better content is directly proportional to time spent creating that content. So if we can build a successful Patreon campaign, I can bring you better content more often. One thing that really set Banjo Blitz apart was the high production values. I want to keep increasing these values as I move through the Banjo Quest universe, and your pledges will go directly to helping the videos and downloads to look and sound incredible. 

The Banjo Blitz community has been such a huge inspiration for me that I've written them a poem:

Music makes the world better,
Banjo makes it best. 
This next adventure is for you.
Join me on the quest.

Banjo Quest. 

Let's do this.

Tom Collins
Misery Island Sound
Salem, MA
June, 2018


Become a patron to
Unlock 289 exclusive posts
Connect via private message
Recent posts by Tom Collins