Franziska Wenzel
is creating fanart and original art. Also animal mascots
Select a membership level
All animals are equal; no "but"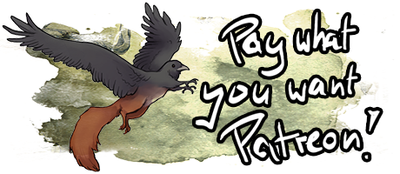 Rewards for everyone no matter how much money they pledge. I will constantly feed my Patreon with patron-only posts, such as:
-extra WIPs and sketches that I do not post elsewhere
-layered, full size .psd-files for digital artwork
-an ask box where you can ask all your art-related questions
-A suggestion box. I'll make a post for it every month and pick ONE prompt to draw a sketch from all the suggestions in the comments. You're basically crowdfunding sketch ideas.
About
Hello friends! You can call me Fran if you want! I'm a freelance artist, and if you enjoy what I'm doing, then this is a place where you can follow what I'm doing and/or support me so I can continue freelancing and don't have to clean toilets.
What do I do?


At this point, I'm mostly a digital artist with a love for the looks of classic 2D animation, so that's what I do! …Usually a tad more detailed than what traditional 2D animation looks like. But only a tad.
Occasionally, I still do traditional art, mostly for animal and nature themes!
I love doing fanart!
You can find out about me on and the things I draw on
my personal website
(which also gives you links to other social media) or this
Carrd.
You can follow me and my art on
tumblr
(I have separate blogs for reblogs, and for JRPG fanart, too),
Pillowfort
, or
Twitter
, or
Instagram
. I'm most active on Twitter.
I sometimes also still post on
deviantART
and
Artstation
, too, for the record (but that is only for the most desperate who acoid actual social media).
If you like what I do, you can help me fund my and my cat's living expenses. I'm happy, for I'll have something to eat (and I can take singing lessons), and you'll hopefully be happy, too, because I will create something (hopefully beautiful) for you in return. The more funding you can afford, the less I have to rely on my family for help. Which means I can draw and paint more. Because I have more to eat (and so has the cat).
How does that work?
If you choose to support me (or any other creator on Patreon), you pledge to us your money every month. How much is entirely up to you – the minimum is only 1$. You can also drop out anytime if you cannot or do not want to support us any longer. You can also change the amount of money you want to pledge every month.
This is a "Pay What You Want" Patreon. That means that the rewards are the same for everyone; a list of rewards can be found on the right hand side where it says "rewards"!
Any questions left?

If you have any questions regarding me, my work, rewards, or anything else that strikes your mind, please do not hesitate to ask!
That's it from me, have a lovely day, and see you on the road!
Let's fool around no longer: my ultimate goal is to live entirely on art. If Patreon was a substantial part of my monthly income, it would save me a lot of time that I would usually have to spend on other commissions, or on administrative freelancing tasks like networking, writing bills, etc. I'd live full time for Patreon (and would most likely finally start drawing the comics that keep spooking in my head as vague ideas).

1 of 1
By becoming a patron, you'll instantly unlock access to 419 exclusive posts
By becoming a patron, you'll instantly unlock access to 419 exclusive posts
Recent posts by Franziska Wenzel