Toronto Prisoners' Rights Project
is creating a network of support and safety for all
Select a membership level
Get exclusive patron-only merch
TPRP Solidarity Patron ($5 and up PWYC)
$5 can help a prisoner purchase soap or protein bars on canteen. This Pay What You Can tier allows patrons to contribute anywhere from $5-$24 per month.
Monthly Patron Recognition
TPRP Defund Patron
$25 could support a prisoner with one 20-minute phone call.
Defund & Abolish! 12x18" art print designed by TPRP.
TPRP Dismantle Patron
$50 could support a former prisoner to purchase groceries or clothing, or support a current prisoner to make two 20-minute phone calls.
Exclusive to Patreon TPRP T-Shirt
We Keep Each Other Safe! Abolish Police and Prisons t-shirt.
TPRP Build Patron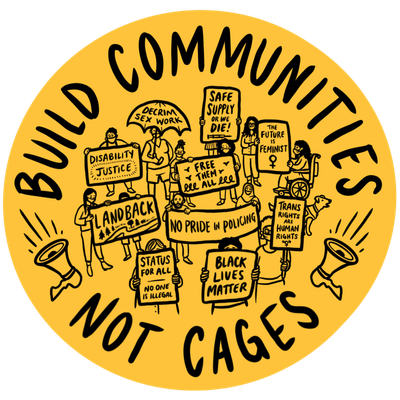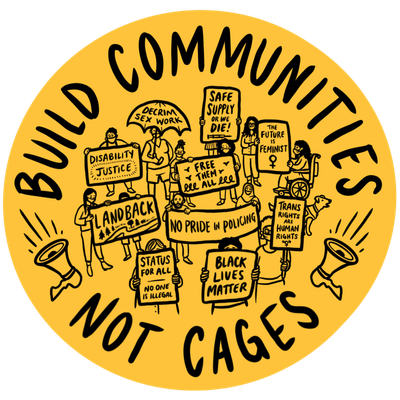 $100 could support a former prisoner with a bus ticket or a night in a motel.
Exclusive to Patreon TPRP hoodie
Exclusive design, TPRP hoodie, shipped to you after 3 months
About Toronto Prisoners' Rights Project
The Toronto Prisoners' Rights Project is a multiracial, grassroots volunteer organization of former prisoners, people with loved ones inside, activists, front-line workers, artists, researchers, educators and students. We engage in direct action, public education, and mutual aid to shed light on the harms caused by incarceration and connect prisoners with social, financial, legal and health supports. We are committed to abolition and building sustainable communities rooted in community care and transformative justice.
Our work has involved:
Fundraising over $180,000 to support more than 800 prisoners and people exiting the system with $225 stipends throughout the course of the pandemic
Starting a jail hotline to accept calls from the Toronto South Detention Centre, MapleHurst Correctional Complex, and the Vanier Centre for Women in order to connect prisoners to essential supports, and conduct essential transparency oversight as to conditions in Ontario prisons and jails.
Support and publicization of more than eight prisoner-led hunger and labour strikes
Creating popular educational resources about prisons and jails in Canada through our series of webinars, workshops, toolkits, and our social media accounts.
Creating partnerships with other Ontario-based organizations to provide material and social supports to current and former prisoners (ie. Good Food Box partnership)
We have been conducting this work for over a year on a purely volunteer basis, and through a variety of fundraising efforts. However, to sustain this work it has become increasingly necessary to develop a more reliable revenue stream. As a patron of the TPRP you will be helping us to continue this essential work. Proceeds will help us to cover our overhead costs and directly support prisoners through initiatives like the Prisoner Emergency Support Fund. 
How it works
Get started in 2 minutes