Tracks To Relax
is creating Guided Sleep Meditations
Select a membership level
Bronze Patron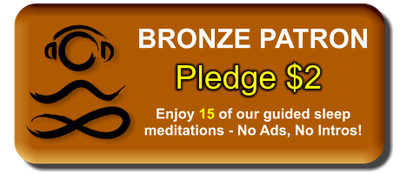 Silver Patron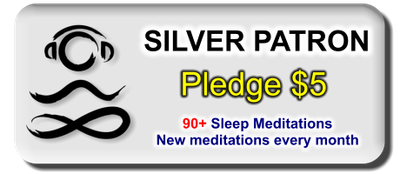 Includes
Our Love and Appreciation!
2 new sessions each month (up to 30 min in length)
Listen to 95 sleep meditations!
Access to our Patron only website at https://www.MyTracksToRelax.com
Download the MP3s using the Patreon App
Private RSS feed to listen or download sessions using iTunes, the Apple Podcast App or Android Podcast Apps
Upgrade to GOLD at any time
Browse our Silver Patron meditation episode covers at: https://www.mytrackstorelax.com/category/premium/silver/
Gold Patron!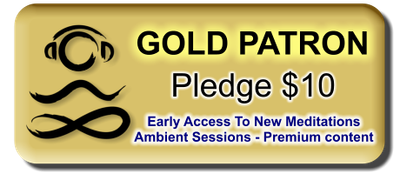 Includes
3 new sleep meditation each month (up to 1 hour long)
Bonus sessions and Fables as the are released
Listen to over 140+ sleep meditations
Archived sessions for Gold & Platinum Patrons
Search and enjoy all our the meditations multiple ways at https://www.MyTracksToRelax.com
Ambient nature sessions with no speaking
Private RSS feed to listen or download sessions using iTunes, Apple Podcast App or Android Podcast Apps
Download and listen offline using the Patreon App
Suggest and comment on what meditations we create with our monthly poll for Gold Patrons only!
Browse Episode Covers available for Gold Patrons at: 
https://www.mytrackstorelax.com/category/premium/gold/
About
Welcome to Tracks To Relax on Patreon!

We know you are stressed and we are doing our very best to provide our Patrons with powerful Guided Meditations that offer comfort, stress relief and a welcome distraction from reality so you can get the sleep you need. It's time to take care of yourself and you mental state! We hope you'll choose to become part of our caring online family.

We're turning bedtime into "me time" by providing our supporters with super relaxing sleep meditations (now offering over 140 meditations with Gold Membership) that are designed to help you fall asleep faster and stay asleep longer.


At bedtime, when we stop doing things, our minds have a tendency to race. Some people worry about things while other people go over lists of things they need to do. It seems that sometimes our mind becomes more active when we are trying to get to sleep.

For many people, the harder they TRY to relax and fall asleep, the more difficult it becomes to get to actually get to sleep! We think that you shouldn't have to TRY to fall asleep. Bedtime should be something you look forward to. When you listen to one of the many sleep meditations we offer, you'll feel yourself begin to relax quickly, your worries, problems and stresses will melt away. Your mind and body will become calm and at some point, you'll relax so much that you drift off into the wonderful sleep you deserve.
Start listening to our premium sleep meditations with a membership of just $2.00 by becoming a Bronze Patron. You'll get instant access t our previous releases for Bronze Patrons and a new meditation every month!
Want more?
Support us at the Gold level, you'll get access to over 140 powerful sleep meditation sessions. Bronze, Silver and Gold Patrons all receive new session(s) each month! You'll be able to play and download them on your computer or on your mobile device or tablet using the free Patreon app. ( available at
Apple App Store
or
Google Play
)
Once your a Patron, stream all the meditations easily, search episodes and use our online MP3 player by logging into www.MyTracksToRelax.com using your Patreon Account! Or download them using the Patreon App or your private RSS Feed with the Apple Podcast APP!

Recent testimonials from our Patrons:
"I first heard of Tracks to Relax while searching for sleep podcasts on the Apple Podcast app. I just fell in love with the voice and the soothing stories that I had to become a Patron. Tracks to Relax has helped me so much through my pregnancy, and the first couple months of my new son's life. Instead of fretting over every little thing, I can turn my mind into peaceful mush and drift off quickly and easily. Thank you!" - Kaeli D.
"I listen at night to soothe my bedtime anxieties. My mind races at night thinking of everything I need to accomplish or haven't accomplished. I worry about loved ones and flip through a rolodex of faces, mistakes and regrets when I try to go to sleep in silence. Track to Relax gives my mind something to focus on and gives my body relaxation cues so I can truly rest and wake up feeling replenished. Thank you 💕" - Elle N.
"Recently I had a medical issue where I had to end my medication abruptly, which resulted in insomnia and anxiety. It was a really rough 3 months of my life as I couldn't fall asleep without medication, and then would proceed to only sleeping for a few hours and then be wide awake at 4:30 am. I was anxious and exhausted and it was having a serious impact on my role as a stay at home mom. When I discovered your meditation tracks, I was elated that it put me at ease even if I wasn't able to fall asleep completely, and then eventually I was able to fall asleep with the help of your tracks. I still use it almost daily and look forward to hearing your soothing voice. Thank you again for being a life saver!" - Sue W.
Become our Patron on Patreon using
Paypal or your Credit card
. You'll get instant access to our sleep meditations.
OUR GOALS


Welcome to Tracks To relax! By becoming a Patron and supporting our creations, you're helping make our dream of making a living while helping others come true!

We've now set a new goal of 1250 Patrons as we continue to create new relaxing guided sleep meditations for you!  We have also just moved to a new location and are constructing a recording studio so that we can get more meditations to you sooner!

All of our guided meditations are written by a Master NLP Practitioner & Certified Master Hypnotist, so you know they are going to be effective at helping relax and fall asleep fast!

Thank you for becoming a Patron and supporting us in our goal to help people relax, de-stress and get quality sleep. We truly appreciate your support!!!

1 of 1
Become a patron to
Unlock 190 exclusive posts
Connect via private message
Recent posts by Tracks To Relax