Tracks To Relax
is creating Guided Sleep Meditations
Select a membership level
Bronze Patron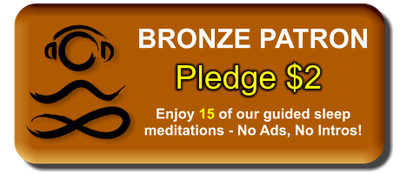 Includes
Our thanks for your support!
1 new sleep meditation each month
Download meditations using the Patreon App
Access our Patrons only website! Just login with your Patreon Account at https://www.MyTracksToRelax.com
Private RSS feed to listen through your favourite podcast player
Monthly Newsletter and new release schedule
Upgrade at any time to $5 or $10 level anytime
View available bronze meditations here:
https://www.mytrackstorelax.com/category/premium/bronze/
Silver Patron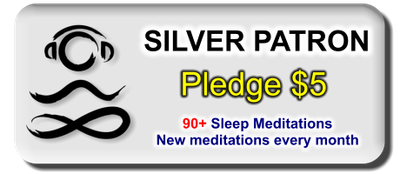 Includes
Our Love and Appreciation!
At least 2 new sessions each month
Listen to 120+ sleep meditations!
Access to our Patron only website at https://www.MyTracksToRelax.com
Lsiten or download the MP3s using the Patreon App
Private RSS feed to listen or download sessions in your favourite podcast player
Monthly Newsletter
Upgrade to GOLD at any time
Browse our Silver Patron meditation episode covers at:
https://www.mytrackstorelax.com/category/premium/silver/
Gold Patron!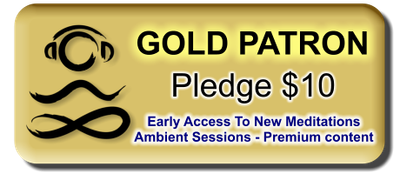 Includes
Our incredible gratitude for your support
4 new sleep meditation each month
Listen to over 160+ sleep meditations
Search and enjoy all our the meditations multiple ways at https://www.MyTracksToRelax.com
Ambient nature sessions with no speaking
Private RSS feed to listen or download sessions using your favourite podcast player
Download and listen offline using the Patreon App
Monthly Newsletter
Suggest and comment on what meditations we create with our polls for Gold Patrons only!
Browse Episode Covers available for Gold Patrons at: 
https://www.mytrackstorelax.com/category/premium/gold/
About
Welcome to Tracks To Relax on Patreon!
Our mission is to help you get to sleep and get better quality sleep so that you get rest you need. Choose from up to 160 guided sleep meditations and get new sessions every month!
Our sleep meditations can help you turn your mind off and relax your body so you can fall asleep more easily. With a soothing voice and wonderful background music/sounds you'll find yourself in dreamland in no time.
Our collection includes Sleep Meditations, Nap Meditations, Back to sleep and Morning Meditations so you can enjoy an uplifting meditation anytime of the day or night!
No matter what level of membership you choose, you'll also receive your own Private RSS Feed which allows you to listen to all the sessions at your membership level in your favourite podcast player. You'll also be able to listen using the Patreon APP ( available at
Apple App Store
or
Google Play
) or by logging into
www.MyTracksToRelax.com
using your patreon account.

We are looking forward to having you join our online family! When you do, it supports our work and allows us to continue impacting people's lives in a positive way.Thank you for becoming a Patron and we look forward to providing you with the very best sleep meditations available online.

Recent testimonials from our Patrons:

"I first heard of Tracks to Relax while searching for sleep podcasts on the Apple Podcast app. I just fell in love with the voice and the soothing stories that I had to become a Patron. Tracks to Relax has helped me so much through my pregnancy, and the first couple months of my new son's life. Instead of fretting over every little thing, I can turn my mind into peaceful mush and drift off quickly and easily. Thank you!" - Kaeli D.

"I listen at night to soothe my bedtime anxieties. My mind races at night thinking of everything I need to accomplish or haven't accomplished. I worry about loved ones and flip through a rolodex of faces, mistakes and regrets when I try to go to sleep in silence. Track to Relax gives my mind something to focus on and gives my body relaxation cues so I can truly rest and wake up feeling replenished. Thank you 💕" - Elle N.

"Recently I had a medical issue where I had to end my medication abruptly, which resulted in insomnia and anxiety. It was a really rough 3 months of my life as I couldn't fall asleep without medication, and then would proceed to only sleeping for a few hours and then be wide awake at 4:30 am. I was anxious and exhausted and it was having a serious impact on my role as a stay at home mom. When I discovered your meditation tracks, I was elated that it put me at ease even if I wasn't able to fall asleep completely, and then eventually I was able to fall asleep with the help of your tracks. I still use it almost daily and look forward to hearing your soothing voice. Thank you again for being a life saver!" - Sue W.

Become our Patron on Patreon using Paypal or your Credit card. You'll get instant access to our sleep meditations.


Wishing you a good night's sleep,
Alan & Nikki
OUR GOAL

Our goal is always to help you fall asleep and get the rest you need. The more people that we reach with our guided sleep meditations, the more people we are helping and that makes us feel good and motivates us to create more meditation sessions every month.

Getting 1250 people supporting what we do is pretty exciting and we truly appreciate you support of our work!!!

We look forward to having your as a Patron and to providing you with the very best sleep meditations available!

Wishing you Peace & Love,
Alan & Nikki
1 of 1
Become a patron to
Unlock 198 exclusive posts
Connect via private message
Recent posts by Tracks To Relax