Tracy Kasiah at Happy Day
is creating Oil paintings
Select a membership level
Support Living Artists!
Access to donor-only content including promo codes, videos, bonus snapshots of my work, first access to upcoming sales,
AND the Phenomenal Satisfaction of knowing you are supporting the arts!
Let's change the culture and create a world where artists can be artists. 

Support Printing Costs
Limited (17 of 25 remaining)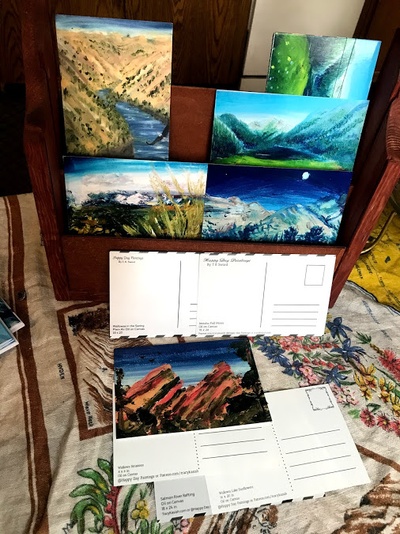 REAL LIVE Snail Mail List!
I will send you a postcard each month featuring a print of my artwork in postcard form!
Every post card print is hand written and soon will be printed on eco friendly paper with non-toxic vegetable inks! 

This tier gets fun, small, but functional, prints sent to your door monthly! It also helps me get set up for selling those post card prints elsewhere. 

Many Postcard Prints are limited editions based on resale, meaning you might get a card in the mail not available in stores! Gotta Catch 'em all!
[Select design postcards available at Copper Creek Mechantile, Joseph, OR]

Postcard Painting Print- 1 High Quality Print!

Mug Club - Supporting Art
Limited (24 of 25 remaining)
Exclusive Patrons Only Club Mug!
Sign up today and earn yourself an exclusive 15 ounce fine art covered mug (dishwasher safe!) and my appreciation sent straight to your door!
Patrons at this tier also receive exclusive patron content, promo codes, first access to upcoming paintings for sale, and a monthly post card!
About
Well, HOWDY!
Gosh, am I glad you are here!
Thanks for making it, and considering contribution to the arts!
You being here brings hope to the paradigm shift I'd like to see; the idea that "being an artist" is NOT synonymous with destitution and a brief, tortured existence*.
Thank you for helping us shift the cultural paradigm together!

I'm an oil painter, sometimes river guide, and generally adventurous type.
What is the last biggest frontier I perceive? Living as a "Successful Artist".
The only industry I know that immediately following introduction people feel compelled to inquire about your finances. ¯\_(ツ)_/¯

With your help I hope to build a business selling prints that allow me to further my art, my development, and positively impact in the perception and reality of living artists. Prints available as tier rewards and for purchase at HappyDayPaintings.com .
I create, and always will.
Turns out everything is better with the help of community!

With your help I am building a business that can make a lasting difference.

I am passionate about painting, wild land preservation, and the preservation of natural ecosystems while moving toward balanced and sustainable living.

Fundamentally I think Fair Trade is key to world peace. If I had a dollar for every person who ever told me they "can't paint" or "could never be an artist" I would have paid off the 4 years of University debt I acquired while studying dead artists.

I believe life is too short for me to be doing anything other than painting, and sharing my love of paint and nature with the world.
That's where you come in, amazing matron/patron!
My family have been creative makers for generations. Painting was something I first formally studied in high school and was lucky enough to pursue at the University of Idaho. Now I've taken a business class to help fill in the things the University doesn't teach art kids. Turns out prints are the key to this business model!

By signing up today your contribution at the first of each month goes straight into an account for ordering more inventory. This allows me to save money in the long run, repackaging larger orders into smaller retail sizes. You get one, and there are more to sell, Win win win!
Local Main Street shops like Copper Creek (Joseph, OR,) buy prints in bulk for resale, obviously we split proceeds closer to a gallery model but similarly easy stress-free set up. Not to mention they have all the cutest stuff... Where was I?
Oh yeah, we're building a business!
Printing, packaging, shipping, advertising, and *quality* professional pictures of my paintings are where most of the budget will live. Much as I would love to paint all day every day it looks like a lot more inventory will have to be sold online which includes content and followers and time!
Who am I?

My name is Tracy Kasiah Sword.
Not married, by choice. If you see "Happy Day Paintings", that's also me. Kasiah, a family name on my maternal side, means "Happy Day" and my neuvo impressionism, or whimsically bright paintings, have such a sunny disposition I thought it appropriate.
I hope you like it too!
Artist, oil painter, chocoholic, and adventurer.
Currently I am midway through a thousand day challenge of painting "at least a little" every day. I started February 1, 2019 when I was just almost 30 years old and should be done a few weeks after my 33rd birthday! Inspired by Nas Daily, I don't post daily, or complete an entire painting daily, but I do try to share some of the fun stuff along the way. *Almost to 500 days!
Why am I on Patreon?
Painting takes time. Passion takes time. Life is time!
I know what I want to do with my short life! Now I'm asking for your help to do it.
Painting various places I've been, with a written story for each makes me want to compile one of those big coffee table books with 'maps' of each compiled place and a legend pairing the pictures with their respective written [=Ahh!] stories. Would be a fun show too!
Hopefully with your help there will be more time to paint and get this together!
What am I going to do with the money?

WHY, Support a living artists, of corse!
*Buy supplies; paint, brushes, canvases, oil, soap, food, etc, as needed. Fair trade and sustainably sourced as available, works of other artists as appropriate.
*Print things; Prints for YOU! [matrons&patrons]!! For general sale, include prints of all the paintings, their storied histories & reproductions for shows.
*Perhaps a venue for the show when I get the maps done and subsequent printed things
*
Rent a studio! Let's be honest, it's not so much the place to paint I need, but the place to keep all the canvases while they dry.
*Having running water is a beautiful luxury I hope to continue to affording and likewise very handy, bathrooms.
*Health care for me and the dog is long game goals.
With your help I am creating a print based business that allow me to further my art, my development, and positively impact in the reality of living artists and the value of wild land preservation.
Originals Currently on display at:
+Orange Restaurant Chicago, in Roscoe Village, IL
+Friends Restaurant, Enterprise, OR
+The Peace Pipe, Joseph, OR
+HappyDayPaintings.com
+
Instagram @ Happy Day Paintings

+
Facebook @ Happy Day Paintings
and prints available at
+Copper Creek, Enterprise
More stories at
my website.
BUT Patrons get first dibs on new stuff!
Thank you so much for reading this far, and for all of your support for the arts!
Best wishes, and really, thank you, thank you, thank you!!!
SUPPORT A REAL LIVING ARTIST TODAY!
*
$283.44 of $400
per month
Studio rent for my easel, paints, brushes, and massive amount of canvases. With your help I will have 3-4 more days per week to paint more things!

1 of 2
By becoming a patron, you'll instantly unlock access to 53 exclusive posts
By becoming a patron, you'll instantly unlock access to 53 exclusive posts
Recent posts by Tracy Kasiah at Happy Day
How it works
Get started in 2 minutes