Tracy Osborn
is creating really friendly beginner tech books and zines
Select a membership level
Sneak peeks and updates
Access to private updates on progress and sneak peeks of upcoming projects.
Reviewer status
Get early access to my new books, zines, and projects, plus: 
Private updates and sneak peeks.
Official book/zine reviewer status. I'll send the drafts over for your review/feedback.
I'll send over digital copies of all current zines when you sign up.
Paper Zine Club
Get all of the above benefits (reviewer status, digital products) AND physical past and future zines shipped to you.
About Tracy Osborn
I'm the author / designer / self-publisher of Hello Web Books.
Most intro-to-tech books are overburdened with too much theory and not enough examples. My passion is writing beginner books that are project-based, really friendly, focused, more about shortcuts and quick explanations than a full deep dive into the subject.
Want to learn just enough about a tech topic? My books and resources are for you!

Way back in the day I entered university for a Computer Science degree, and quickly rage-quit and changed my major into Art. I thought I hated programming. Years later, I wanted to launch a project, and tentatively started learning how to code, and quickly realized I
loved
to code but hated how it was usually taught.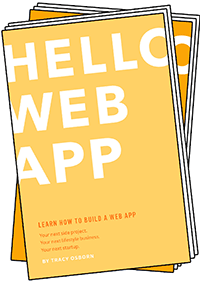 I wrote Hello Web App to teach folks how to build a web app using Python/Django in 2015
, teaching coding the way that I wish I were taught. 
Today it boards over 5,000 readers and two major updates, and I've run workshops in the US and Europe helping folks launch their first web app quickly.
In 2017 I released its counterpart, Hello Web Design, teaching  web design for non-designers.
Same format as
Hello Web App: 
super friendly, quick explanations, and tons of shortcuts.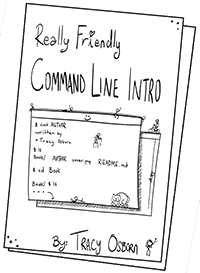 Since I've written these two books,
I've started experimenting with creating zines/booklets teaching tiny bits of information for free.
Really Friendly Command Line Intro
 is my first one and I'm hoping to launch more. And that's why I am on Patreon! 🎉

I'm working on a big update to HelloWebBooks.com — moving payments internally using Stripe, hosting my own videos, and setting up community features.
I'm finishing up the PC/Linux version of the Command Line Zine.
I'm working on content for a Git zine.
Unrelated to tech! I'm working on a personal project, a cookbook with lightweight, veggie-rich backpacking recipes.
Book-wise, I'm exploring ideas for my next book. Very possibly/maybe on beginner marketing for developers.
Why Patreon?
I'd love to release more free content (like my command line zine), but since my first one, I haven't had time nor the funding to keep working on them since I've had to focus on revenue-generating projects. I'd really love a stable source of revenue so I can finally sit down and focus on writing more! This source of revenue should also stabilize my income in general between book/video launches.
I also want to write more project updates, keeping them short and sweet but informative, and Patreon seems like a great place for me to put those (as compared to Twitter/blog/etc.) The goal is weekly updates (slower on weeks where I am traveling.)
Thanks friends!
You can email me any time at 
[email protected]
. 🎉
When I reach $200/month, I'll be able to dedicate enough time to release a new zine per month.
1 of 2
By becoming a patron, you'll instantly unlock access to 2 exclusive posts
By becoming a patron, you'll instantly unlock access to 2 exclusive posts
Recent posts by Tracy Osborn
How it works
Get started in 2 minutes