Trail Sisters
is creating a Women's Trail Running Online Journal and Community.
Select a membership level
Trail Sisters Fan
Virtual high fives and hugs! Thank you so much for your support, and being an awesome advocate for women on the trails!
Trail Sister
For your generosity of
$3
per month you will receive:
Personalized Thank You Note
Trail Sisters Vinyl Sticker
Access to our Patron-only feed which includes a variety of discussion topics, questions, advice, and more.
Inspire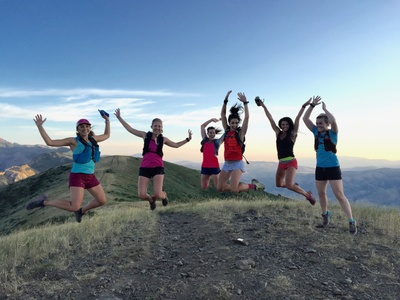 For your generosity of
$5
per month, you will receive:
Personalized Thank You Note
Trail Sisters Sticker Pack (4 stickers)
Access to our Patron-only feed which includes a variety of discussion topics, questions, advice, and more.
About
Hiya! Gina Lucrezi here, founder of 
TrailSisters.net
and the Trail Sisters Community (TS). First off, thank you so much for visiting our Patreon page! I excited to share how TS started, its purpose, and how your support can make a difference. 
I'm of the mindset that if you don't like something, don't complain about it, but instead, actually DO something about it. In April of 2016 this was the "mantra" that kept going through my head while sitting at my kitchen table tinkering with functionalities for a new Squarespace site. After years spent working in the outdoor industry, for outdoor media outlets, and participating as a trail runner, I couldn't help but notice the extreme lack of encouragement and representation of women within the sport. It wasn't right and needed to be changed. That April evening at my kitchen table is where TrailSisters.net was conceived. 
The TS online journal is a hub for inspiration, education, and empowerment. A place where any and every woman can share her story or experience, and in turn, help to generate representation and awareness 
of participation and opportunity for others.  
As you may have guessed, the excitement and appreciation for the journal was (and continues to be) incredible. This triggered the thought, "What else can Trail Sisters do to help women and the sport of trail running?"
In 2018, we launched the 
TS Community team
(640 members and counting), an opportunity for women to represent TS in races, events, or just because :) There are no requirements or standards to be a team member, it's for any woman wanting to "fly the flag" and share the TS values with others.
We also started our 
TS Local Groups program
. In a little over a year, we now have 95+ groups across the globe with approx. 15k members! These groups are volunteer lead with support from HQ. All runs are women-only, no-drop and accepting of all paces and abilities. We take pride in being inclusive and welcoming to any woman interested in getting on the trails.
Since opportunity is a much focus for TS, we provide a 
Trail Run Adventure Grant
that awards six women with $500 and a sweet gear package for their dream adventure. In both 2018 and 2019 we have had over 250 submissions for the grants. Awardees are asked to write about their experience to further inspire others to chase and conquer their own trail run adventures.
Most recently in 2019, we have added a Resource section, and also a 
Race Calendar
. Our resources include a page dedicated to promoting 
female coaches
(over 100 listed), and another page hosting 
films
about various female trail runners (great for pre-race motivation). Our calendar contains both short and long-distance trail races, includes race reports, and also outlines Trail Sisters Approved events...just to name a few features.
We've definitely been busy these past few years, but feel as though we are only scratching the surface for what is possible. This is where you come in... :)
If you are enjoying the content and the community, or if Trail Sisters has made an impact in your life, consider making a monthly donation (or one-time donation via our site). Any little bit helps and will go farther than you think. Keeping the wheels rolling on this fast-moving train is super exciting, but also takes lots of resources. Help us to stay on the tracks and keep pushing forward with future projects and opportunities for the community. 
Thank
YOU
for your consideration, and for supporting TS in our goal of creating a better sport for all. 
-Gina Lucrezi
On trend with site upgrades, when Trail Sisters hits 150 patrons, I'll invest in faster speeds and build new additions to the site. I'll also assign two cornerstone articles for the site. These articles will be decided on by our TS Patron family.

2 of 5
By becoming a patron, you'll instantly unlock access to 48 exclusive posts
By becoming a patron, you'll instantly unlock access to 48 exclusive posts
Recent posts by Trail Sisters