Traveling Shamans
is creating Ceremonies & Experiences
Select a membership level
Friends of Traveling Shamans
 Friends of Traveling Shamans will receive 
* Postcards from Shamans
* Encounters of the Shamanic Kind 2nd & 4th Thursdays
* Membership in the Experience Exchange
* Invitations to ceremonies monthly  
*  Invitations to live broadcasts & Open Mic

Wisdom Teacher
Wisdom teachers are listed in our directory and invited to make presentations throughout the year.  Benefits include:
 
* All the benefits of the previous level as well as 
* Listing in the Shamanic Arts Network Directory
* Membership in Online Experience Exchange

Shamans Camp Patron
Limited (19 remaining)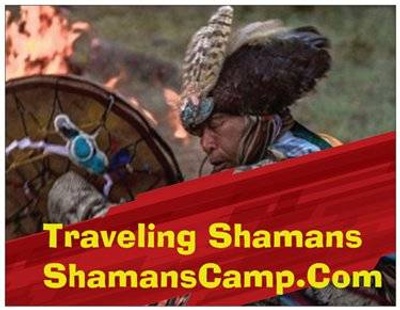 Shamans Camp Patrons receive 
*  All benefits of previous levels
* Vouchers equal to your donations toward special events & workshops @ the annual Traveling Shamans Camp.
About
Call to the Shamans of the World
. We are asking shamans, visionary artists, & wisdom teachers to travel to isolated areas (like the Shamanic Arts Center in Hotchkiss, Colorado) because we recognize that spiritual knowledge is best passed, transmitted and preserved by direct contact and experience. If you can not travel to us, we humbly ask to be mentioned in your prayers and ceremonies. We honor and respect your answer to our call. Mahalo
The Traveling Shamans
is a group of shamans, wisdom teachers, & visionary artists each of whom has agreed to travel to areas around the world to provide shamanic programs as a method of preserving and transmitting both modern and ancient traditions while providing ceremonies and shamanic services to individuals, schools, and other cultural preservation groups who want them. 
We are so grateful for
Patrons
who provide not only material, but also vital spiritual and energetic support to the Traveling Shamans to Shamans Camp and to the Shamanic Arts Center in Hotchkiss, Colorado. Patrons may also provide lodging and food, protection rituals, help shamans with travel by providing plane tickets or other transportation from their homes for themselves and assistants. Elderly shamans may also require physical assistance, drivers and technical assistance with technology and social media during ceremonies or travel.  If you have resources you'd like to share with the
Traveling Shamans
, please contact Julia Widdop at 970-200-LOVE. 
Wisdom teachers, interested hosts or potential patrons or volunteers
 can contact shaman whisperer,
[email protected]
to discuss your plans for working with us.
The Traveling Shamans' goal is to preserve and exchange shamanic practices of shamanic artists and wisdom teachers in and for communities and programs that request them. The funding provided by patrons will help pay for meals and transportation for the traveling shamans, maintaining the official website, and promotions for these cultural events. Sponsor patrons will receive recognition on the official website and at any festivals we produce or attend. Thank you for your support, Julia Widdop  970-200-LOVE. www.ShamanicArts.Center

4 of 4
Become a patron to
Connect via private message
Recent posts by Traveling Shamans