travis hanson
is creating Comics and artwork...
Select a membership level
If you are joining the adventure thank you. I am grateful and honored.  This tier you will get the full pdf version of the coloring pages as i collect them into their own books. Each time a book is collected you will receive a copy.
Thank you for keeping us going.
trav


1st tier reward- New coloring page,   plus a special monthly map for gaming

About
My Patreon will now be dedicated to two unique projects that I am working on. Yup, I am involved in two big comic projects. The first is Bean, I am still coloring and adding to that book and I am excited with the progress. The second, if you have not seen the updates is that I am drawing a daily comic called Life of the Party.  Life of the Party is a daily fun comic strip about the pros and cons of adventuring in a fantasy world. It has been going on for more than a year and it is getting bigger and bigger. 


I will continue to update the look and feel of this project as well. I will be adding new exciting rewards and interacting more with those that support. One addition will be  downloadable content for gaming, including custom maps, character npc, etc. I want people to enjoy the adventure. (more information will be coming in the next month

Am I stopping the Bean?
Nope- I am still dedicated to coloring that incredible story
.



What is Life of the Party? 

Life for the party is a online comic about the realities of adventuring from a characters point of view.  It's fun and full of humor and it's audience is growing. 
So Who am I?
My name is
Travis Hanson
and I create graphic novels original artwork, and fantasy prints that stretch the imagination and encourage people to follow their dreams. Over the last 6 years I have worked on a webcomic series called
"The Bean"
(over 750 pages and growing) as well as a daily comic strip called
Life of the Party
-.(almost 300 pages) 
The Passion to create and the reality -
This has been a labor of love for many years. Unfortunately, it has been a hobby and I have not been able to focus on more than one page a week. There are bills to be paid and mouths to be fed. Yet I still believe in the dream and even in the tough times, I have always updated and given Bean's story to the world for free, as well as the comic Life of the Party.

I want to finish Bean's story and have it be read and loved. I want people to be able to imagine themselves there with Bean in his adventures in full color, just how I first envisioned it. A full color epic story about the transformation of a young boy into someone more than he ever imagined himself to be.


So why am I here on Patreon?
.
As the campaign grows, I will be able to dedicate more time to finish
"The Bean"
books and go back and produce color versions that will inspire and delight the readers. I will also continue to offer a daily comic about adventuring in the form of
"Life of the Party."
Your part in this journey, starts with the first step to become involved with Patreon. You can help make a difference in this project with your generous support.
I am committed to telling the stories of inspiration and hope, illustrating them with imaginative artwork, and helping people to find their own happiness and joy through service and imagination.


What and When are the updates?Life of the Party Updates:

There will be a Life of the Party update every single day. I am giving this comic away for free. The rewards will begin to match the RPG gaming world- including npc's, new monsters and Maps. 

The Bean Updates:
With the help of flattener Darne Lang, we will update the color pages from the beginning of Book 1 once a week.  The more money that is contributed, the more pages will be completed. My ultimate goal would be to update Bean's story in Full Color 5 times a week.
Bean and Life of the Party will always be free to read online, but to those special people who become patrons, in addition to helping complete this project, will also have special access to special contests (free art) and opportunities to comment, chat and be the first to preview the story pages before everyone else get to see them. Your feedback, as a patron of the arts, is very important to me and many times the story has incorporated the ideas that you have shared with me. As you contribute, there will be opportunities for you to be able to receive a copy of each new book as it is printed, depending on your level of contribution.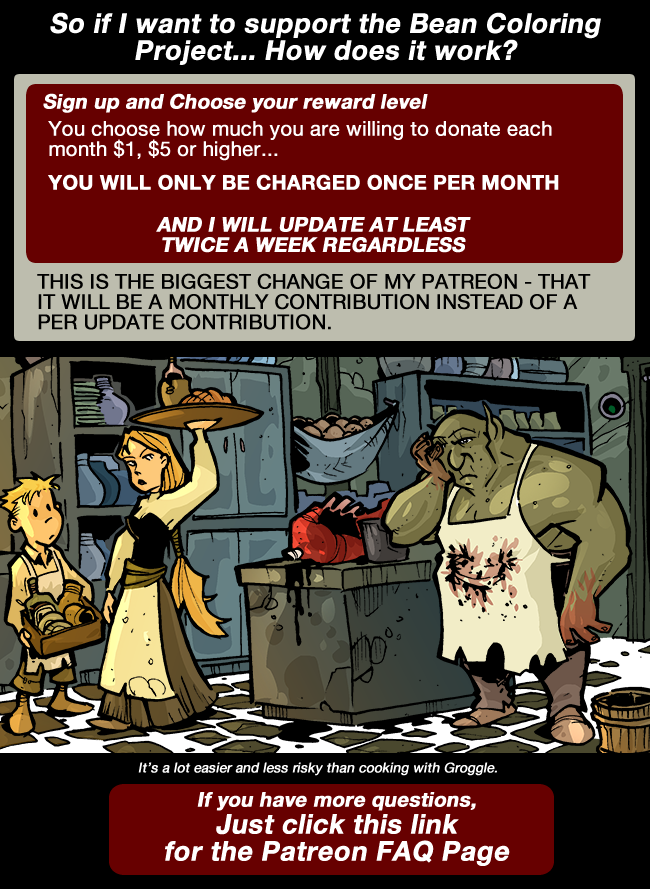 Thank you so much for your support in Bean's story over the years. I have appreciated that you have shared his story, contributed to the funding and strengthened me to keep moving forward. I am very excited to finally be able to see Bean move in such a positive and incredible direction. I could never have come this far without your help, your encouragement, your financial support, and your belief in the power of changing the world through following your dreams. I promise to continue to make this adventure of a humble dishwasher an incredible ride. Please commit your financial support today to keep this dream alive. As little as one dollar can get you started as a Patron of the Arts.
Keep creating, keep dreaming and keep believing.
Travis Hanson
$861.27 of $1,000
per month
Once we hit this goal - I will be able to go back to 2 days a week. Everyone will get a digital pdf of books as I release them

3 of 4
Become a patron to
Unlock 154 exclusive posts
Connect via private message
Recent posts by travis hanson